ASUS Eee PC 901 Gets HSUPA High-Speed WWAN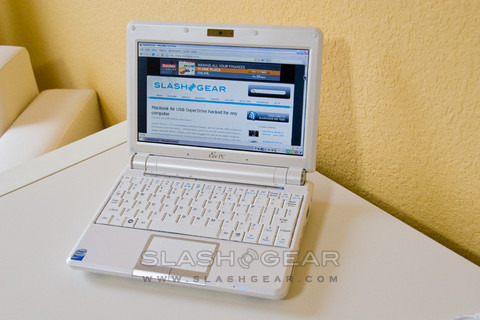 ASUS have announced an HSDPA/HSUPA option for the Eee PC 901 series of netbooks, which will enable the ultraportables to access high-speed cellular data networks when on the move.  The Eee PC 901 with 3.75G will be able to access download and upload rates of 7.2 Mbps and 2 Mbps respectively, network dependent.
Battery life is rated at up to 7.5hrs from the 6-cell pack, though that might take a hit if you're constantly using the WWAN connection.  While there's no specific confirmation, ASUS appear to have fitted a 3G modem with worldwide band support, as they're marketing the netbook as suitable for "providers around the globe".
No pricing details for the HSUPA option as yet, but it will begin appearing in the 901 series from October 2008.  The particular model will have an 8.9-inch display, 1.6GHz Atom CPU, 1GB of RAM, a 16GB SSD and WiFi a/b/g/n.