ASUS Eee PC 900 reviewed: 'staggering' value for money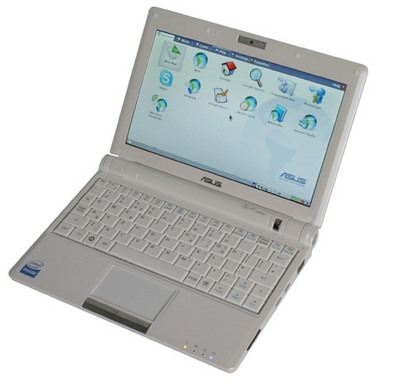 ASUS' original Eee might have impressed many with its super-budget price tag, but the relatively small 7-inch screen dissuaded others from considering it as a "proper" laptop.  While the new Eee PC 900 might only have 1.9-inches more, it means the ultraportable now musters 1,024 x 600 resolution; UK site Trusted Reviews took a first-look at the 900 and found that the extra pixels – among other things - are enough to make the laptop into a true contender.  Not as slick as a MacBook Air or Sony TZ, perhaps, but a fraction of the price.
"Asus has done a brilliant job of updating an already great product. The engineers have clearly listened to all the comments regarding the original Eee PC and attempted to put them right. The 1,024 wide screen makes the Eee PC 900 a joy to use, especially if you spend a lot of your time in a browser window. The extra memory and storage are also very welcome additions, and help make this version of the Eee PC a real alternative to a fully featured notebook" Riyad Emeran, Trusted Reviews
In fact the only real criticism was the battery life, which has not seen the improvement it could have warranted over the original Eee.  ASUS quote 2.5hrs, where Trusted Reviews' sample managed almost 2hrs with WiFi on and the screen at full brightness.  Riyad wants to see four hours from future models with the same battery size; it's possible that the upcoming change in CPU will help achieve that.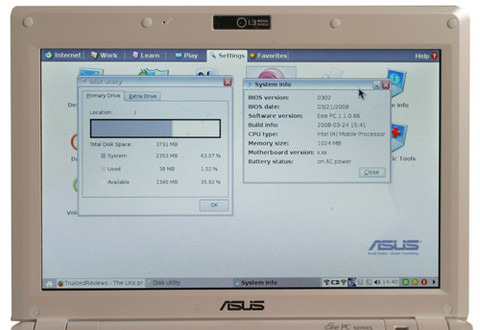 Of course, it's a small device and the keyboard won't be to everyone's tastes, but while the 7-inch Eee was, to my mind, interesting but not quite persuasive enough, I find myself eyeing up this grown-up version a little more seriously.  Comparing it to the Air or the TZ seems unfair – on all three machines – but it also seems unfair to leave all the fun to kids using an Eee in school.  I might wait to see how Windows XP performs on it – Riyad had the Linux version – but I can't argue with his final opinion: that the Eee 900 is "staggering" good value for money.