ASUS Eee Pad Transformer and Eee Slate EP121 officially priced & dated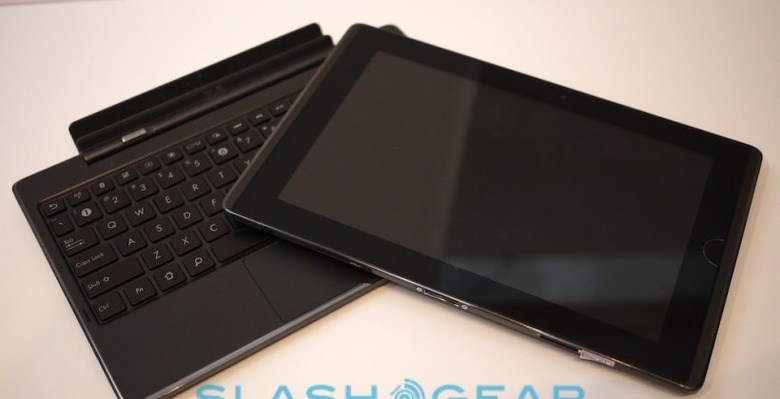 We may receive a commission on purchases made from links.
ASUS has confirmed availability and pricing of the Eee Pad Transformer and the Eee Slate EP121, the company's two new tablets. The Tegra 2 based Android 3.0 Honeycomb Transformer will drop on April 6 – pre-orders will kick off today – priced at £379 ($608) for the 16GB version and £429 ($688) for the 32GB version. Throwing in the optional keyboard – which also has an integrated battery that boosts runtimes to 16hrs – bumps the 16GB model to £429. A 3G model will follow on in around two months time.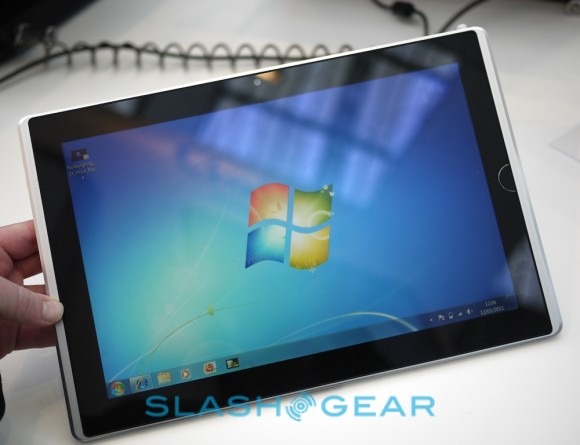 As for the ASUS Eee Slate EP121, that will arrive on April 10 as an Amazon exclusive in the UK (until May 1). It will be priced at £999 ($1,602) complete with a 12.1-inch touchscreen with active digitizer and stylus, Intel Core i5-470UM processor, WiFi b/g/n and a 64GB SSD.
We're at ASUS' London press event today, and will be grabbing hands-on with the Transformer and EP121 as soon as they let us. Keep reading SlashGear for more!
Update: ASUS Eee Pad Transformer hands-on is now live!Press Release:
Transform your life at home, work and beyond with the ASUS Eee Pad tablet

ASUS launch Eee Pad Transformer tablet with Android 3.0 Honeycomb and unique hybrid docking design

ASUS have today announced the launch of the hugely anticipated Eee Pad Transformer tablet – the first to market with Google's Android 3.0 Honeycomb operating system.

Boasting a unique design and up to 16 hours' battery life* the 10.1" Transformer can be used as an independent pad or can be docked with the fully functional keyboard base for a traditional notebook approach.

The Eee Pad Transformer is fun-sized and lightweight – perfect for bags and big pockets. It features a non-slip lid and Corning® Gorilla® scratch-proof screen for a safe and worry-free way to keep connected and entertained in every situation.

With stunning picture and sound quality and Adobe Flash 10.2 support this intuitive tablet offers the means to enjoy a mini-cinema experience, whilst two high quality cameras provide instant support for video conferencing.

What's more – unlimited online storage and access to Android Market opens the door to thousands of applications with one for every need, whilst the ASUS Waveface interface brings a host of utilities to the fingertip including remote access and a personal library for both books and multimedia.

The Eee Pad Transformer will be available from 6th April 2011 at a price of £379 inc VAT for the pad only, or £429 for the pad and keyboard dock.

Key benefits:

* Unique two-part design with docking keyboard

* Android 3.0 operating system & ASUS Waveface Interface

* NVIDIA Tegra 2 dual core processor for optimum performance

* Up to 16 hour battery life for all-day computing (pad + keyboard dock)

* 10.1" LED backlit high resolution, scratch-proof screen

* Lightweight, non-slip design for practical portability

* Front and rear facing high quality cameras

* Access to thousands of home and work applications via Android Market

* 10 Finger Multi-touch support and sensors including GPS

* Preloaded utilities including remote access, work suite and library

* Mini HDMI output to extend stunning visuals to external devices

* 3D Stereo audio quality with SRS sound technology

A world of entertainment, productivity and online content available at your fingertips:

Google's Android 3.0 (nicknamed 'Honeycomb') is a long-awaited new operating system which has been tailored especially for tablets, and brings an uncompromised combination of performance, entertainment and mobile diversity to your hands – whether you are at home, at work or on the move.

Honeycomb and the ASUS Waveface user interface are geared to enrich and make life easier, fun and more productive, with an ASUS Launcher toolbar offering the means to experience a host of applications, online content and services through just a few taps.

56% of users want more applications on their tablet device**, and the Eee Pad Transformer is the perfect solution with access to Android Market; an ever-growing service which offers thousands of applications to download including many for free. The apps database covers a multitude of topics such as home & garden, learning, games, business or shopping.

Applications as complex as piano-playing or multi-player games can be experienced to the max thanks to the 10 finger multi-touch support. Internal sensors such as the gyroscope and G-sensor make movement-based games possible whilst the added GPS and compass modules mean you need never lose your way again.

ASUS Waveface also plays host to a set of helpful and unique utilities:

* MyNet: In 3 simple steps you can wirelessly stream media content between devices around the home including desktops and TV.

* MyLibrary: A clever way to consolidate your must-read books and magazines into one easy-to-navigate profile. Supporting PDF and ePub formats, it offers global content including Googlebooks, and a set of handy utilities to make reading easier including a dictionary, translator, bookmarker, notes and even text-to-speech (requires app download).

* MyCloud: Easy access to cloud content including WebStorage and the ASUS @Vibe media library (which offers downloads of a huge range of music, video and games to enjoy wherever you are).

* MyDesktop: A secure remote log-in application which lets you control files and applications on your other devices via the Eee Pad Transformer – including Android, Windows or Mac computers. So, if you forget to email an important file to work and it's still on your home computer, you can connect to Desktop and do it from where you are.

Android 3.0 is also preloaded with Polaris Office 3 – a professional standard productivity suite which supports the viewing and editing of popular document formats including PowerPoint (.ppt), Excel (.xls) and Word (.doc), making it easier than ever to keep on track with work outside the office.

Switch between a tablet or a notebook to suit your mood and style:

The Eee Pad Transformer does exactly what it says on the box – it transforms. Thanks to a unique docking keyboard, the modernistic device can be used either as an independent tablet when you want a lightweight option to carry around the home or whilst travelling, or with a simple clip-in-place action it transforms into a traditional netbook perfect for longer typing demands or recharging. With such freedom of design you can perfectly tailor the Eee Pad Transformer to suit your tasks at hand.

The portable docking attachment boasts a fully functional QWERTY chiclet keyboard making it comfortable and intuitive for longer use and a obliging response to demand – 33% of users wanted larger keyboards in tablets**.

Additional Android function keys provide a one-click way to control media, brightness and volume or toggle wireless options on or off with ease.

A whopping 16 hour battery life* mean you can stay connected and efficient all day long:

The standalone pad offers up to 9.5 hours of battery life, and charges when docked to the keyboard station. When docked, this already-impressive battery life extends to up to 16 hours – more than enough to keep those active kids quiet on long car journeys. Even the slim-line AC mains adapter (which connects to each half of the device) has been thoughtfully designed so that when you need more time you can still travel light.

A tablet designed for real life: non-slip, bump-proof, scratch-resistant and as light as a feather:

Given the extraordinarily wide range of uses for an Eee Pad Transformer, ASUS have thoughtfully designed it to laugh in the face of life's demands.

Measuring 271 x 177 x 12.98mm and weighing a mere 680g, the curvy pad is barely larger than an A5 piece of paper and lighter than a bag of sugar. Such a portable size means the Eee Pad Transformer is ideally placed to fit into backpacks, handbags, large pockets or even just carry around – the textured lid gives some grip and means it won't slip out of your hand.

The IPS panel screen is made from Corning® Gorilla® glass – a super-strong material which is bump and scratch proof yet still reassuringly lightweight, so when the kids get hold of it to check out the latest homework hints, you can smile and stay worry-free.

Store, share and synchronise with no fuss:

ASUS WebStorage offers unlimited online storage (free for 1 year) to complement the 32GB internal space and provides a reliable and secure means of accessing your data from anywhere, anytime.

What's more, with the inclusion of high-speed wireless (802.11 b/g/n), Bluetooth 2.1, SD/eMMC card-readers and a port to connect and synchronise your PC, it's reassuringly effortless to back-up, store and share your favourite photos and important documents without any additional hardware.

The Eee Pad Transformer is designed for sharing, and even supports 10 finger multi-touch gestures to allow more than one person to play multi-player games on the same device.

Front and rear cameras make sure you can capture the moment in high quality:

The Eee Pad Transformer features two built-in cameras; one on the front (1.2MP) and one on the rear (5MP). With auto focus technology and the ability to record movies in high definition quality, this double-helping of practical technology will make sure you don't miss the best moments in life for sharing.

Not only that, but the Eee Pad Transformer makes it easier to stay in touch with long distance friends and family or work colleagues through video conferencing and to experience the latest virtual reality-based applications and games on the Android Market.

Powerful hardware with spectacular video and sound for versatile, outstanding entertainment at home and on the move:

The Eee Pad Transformer integrates an array of powerful hardware, including 1GB of memory and the super-speedy NVIDIA Tegra 2 – a Dual Core processor which delivers uninterrupted web browsing and fast response times even whilst multi-tasking.

Supporting Adobe Flash 10.2 for rich HD content streaming alongside fast graphics support, the device delivers outstanding mobile game playability for console-quality gaming, alongside a visually engaging and highly-responsive user interface.

The 10.1" LED backlit screen (1280 x 800 resolution) provides the perfect balance between portability and a respectable size for working and watching movies. Visuals are crisper and harbour a 50% more accurate colour range in comparison with other tablets available today, and with a generously wide viewing angle of 178°, it's never been easier to gather friends and family around to share your favourite content in astonishing clarity.

With a mini HDMI port integrated into the keyboard dock, you can also connect external devices to stream photos, video and other content onto a larger HDTV or projector, making this the must-have versatile gadget not only for home entertainment but for professional work presentations too.

Discrete speakers radiate a superior 3D stereo audio experience thanks to the built-in SRS Sound Technology with 5.1 channel, maximum bass response and a wide sound field. Movie and music fans will love the ability to hear every sound in the finest detail, from the creaks and rumbles of horror and action movies to the rhythmic notes of your R&B or pop stars.

A video of the ASUS Eee Pad Transformer can be found on the ASUS Youtube channel at www.youtube.com/asus

Pricing and Availability:

Tablet, 16GB, WiFi, unlimited ASUS Webstorage: £379

Tablet & keyboard dock, 16GB, WiFi, unlimited ASUS Webstorage: £429

Tablet, 32GB, WiFi, unlimited ASUS Webstorage: £429

UK-wide range of retailers including PC World, Currys, Comet and Carphone Warehouse – pre-order online at Amazon.co.uk and Ebuyer.com from midnight today (30th March 2011).

In stock from April 6th (first units will be available in stores and pre-orders will be delivered shortly afterwards)

About ASUS

ASUS, the world's top 3 consumer notebook vendor and the maker of the world's best selling and most award winning motherboards, is a leading enterprise in the new digital era.

ASUS designs and manufactures products that perfectly meet the needs of today's digital home, office and person, with a broad portfolio that includes motherboards, graphics cards, displays, desktop PCs, notebooks, netbooks, servers, multimedia, wireless solutions, networking devices and mobile phones.

Driven by innovation and committed to quality, ASUS won 3,268 awards in 2009, and is widely credited with revolutionizing the PC industry with the Eee PC™. With a global staff of more than ten thousand people and a world-class R&D team of 3,000 engineers, the company's revenue for 2009 was US$7.5 billion.
Press Release:
Eee Slate EP121: The Intuitive Way to Work, Learn & Play

ASUS Announce Eee Slate EP121 with Intel Core i5 Processor and Windows 7 Home Premium Operating System

ASUS have today announced the launch of the Eee Slate EP121 – a handy slate computer which combines the freedom of a tablet with the functionality of a notebook.

With Windows 7 Home Premium and a range of input options including a Bluetooth keyboard and Wacom Digitaliser, the Eee Slate EP121 is an intuitive, easy-to-use option for a range of uses from home entertainment to learning in the classroom, through to working on the move to presenting at the office.

The Eee Slate EP121 is also the first tablet to feature a full-power Dual Core Intel Core i processor, providing a wealth of power and performance to ensure a smooth, responsive environment for the multi-tasking users who demand it.

The Eee Slate EP121 will be available to buy from Amazon.co.uk at a RRP of £999 inc VAT (http://amzn.to/hBGp6C).

A product video and additional information can be found at:

Key benefits:

* Multiple input options: fingertip, Wacom Digitaliser stylus or fingertip

* First tablet with Dual Core Intel Core i processor (Intel Core i5-470UM)

* Intel GMA HD graphics and Adobe Flash 10.1 support

* Windows 7 Home Premium (64-bit)

* Highly durable and scratch-proof Cornel Gorilla 12.1" LED Backlit screen

* 64GB SSD drive for robust data storage

* Front facing 2MP camera for video conferencing

* Lightweight and slim profile for travelling – just 17mm thick

* Mini HDMI output for connecting to external HD devices

Multiple input options to suit you in every working scenario:

The Eee Slate EP121 offers three clever ways in which data can be inputted into the device:

Bluetooth Keyboard: Using the bundled Bluetooth keyboard, users can easily input large quantities of text with speed, ease and comfort over long period of use. The slate boasts Bluetooth 3.0 technology ensuring a smooth, uninterrupted typing experience.

Stylus: When out and about, the active stylus accessory with Wacom Digitiser will make a lighter option to travel with whilst still providing a high level of precision, thanks to the intelligent palm rejection function to improve accuracy. What's more, built-in pressure recognition technology makes the stylus a particularly useful tool for creating graphics and artwork, and those in the design industry or even just those with a creative bug, will appreciate the pre-loaded Art Rage graphics application.

Fingertip: With a multi-touch screen, fingertips can be used to pinch, scroll, zoom and manipulate data on screen. Not only does this provide an incredibly intuitive and natural way to navigate (especially for younger children), it supports multi-user input, providing a collaborative interface for sharing media, games and work projects with friends and colleagues.

A reassuringly durable design provides protection against loss both inside and out:

In such a portable form (it boasts a profile only 17mm thick) it is inevitable for the Eee Slate EP121 to be used in a range of demanding scenarios both inside and out – glaring sunlight, rough journeys or even just excited kids. ASUS have thoughtfully designed the device both inside and out to ensure damage and data loss is kept to a minimal risk.

Inside, data is stored on a Solid State Drive (SSD) which, with no moving parts, is much more robust against physical bumps and shocks than traditional hard disk drives. With a 64GB capacity there is plenty of space to keep your most prized documents and photos safe.

On the outside, the Eee Slate EP121 features a 12.1" Cornel Gorilla screen, which is highly durable and scratch-resistant. Optical bonding ensures reduction in condensation and sunlight reflection, making it far easier to read and see the screen in a range of external environments – whether it's on a sunny day in the garden or on a dimly lit plane journey for meetings.

Perfect for sharing media and staying connected with friends, family and work:

The Eee Slate EP121 plays host to a range of features which make sharing files and staying connected a breeze.

The 12.1" LED backlit screen with AFFS boasts a 175 degree viewing angle which means it can be turned and rotated and still be easily viewed by a big audience – a feature great for sharing videos with friends or showing a project outline with colleagues or classmates.

With a mini HDMI port included, users can easily connect an external HD display and enjoy movies and presentations in full 1080p HD quality for a rich cinema experience.

A high quality front-facing camera (2MP) means users can take advantage of video conferencing tools – whether it's for staying in touch with long distance friends or conducting a last minute work meeting across the miles.

Integrated fast wireless (802.11b/g/n) alongside Bluetooth 3.0 and a built-in card reader means it is fast and effortless to copy files between your devices or to share across networks with friends or colleagues.

High performance technology provides a smooth environment for work and play:

As the first tablet to feature a full-power Intel Core i processor, the Eee Slate EP121 surpasses performance levels previously possible in a slate form and can handle high demands responsively.

The Intel Core i5-470UM processor in combination with Intel GMA HD graphics allows users to enjoy a rich multi-tasking environment for work, learning and play without compromising performance. Support of Adobe Flash 10.1 means the Eee Slate EP121 is readily compatible with a huge range of video, animation and gaming content online.

What's more, the processor integrates Intel Turbo Boost Technology 2.0 alongside Hyper threading technology – essentially this combination means that the Eee Slate EP121 distributes power and performance to applications which need it most at the right times, giving users a speedy and uninterrupted experience whether they are enjoying movies with family or preparing an important work presentation.

Windows 7 Home Premium provides a convenient and familiar environment to use:

Many users don't have time to learn a whole new operating system just to take advantage of the mobile benefits of tablets.

The Eee Slate EP121 with Windows 7 Home Premium (64-bit) provides a familiar, convenient way to work and play, with a huge range of compatibility and support for files and applications already in existence.

Microsoft Office is supported by the system, and users can easily navigate their working environment by organising windows side by side, viewing previews of open applications from the taskbar or viewing lists of recent documents.

Plug-and-play is recognised so users can easily connect a variety of external devices such as cameras, printers and scanners without the need to install extra software.

Windows Live Mesh enables synchronisation between other computers, with easy access to the latest version to avoid working on an older document – making it a superior option for those who often work away from the office/home, or for collaborative groups who share working documents.