ASUS add WiFi-N, quick-boot Linux to P5E3 motherboard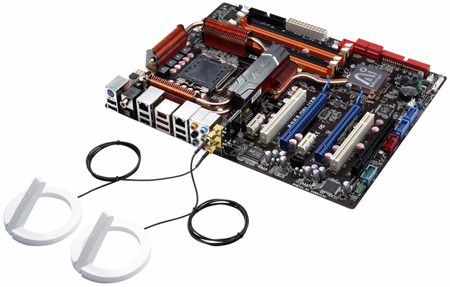 In ye olden days your motherboard was made of cheese and was really just a place for the RAM to sleep; now you can't move inside a computer without bumping into dual-channels, PCI-express slots and random little surface-mounted chips with their own tiny fans.  ASUS have stepped up the game (if the game you're playing is "build a complicated circuitboard") with their P5E3 Deluxe WiFi-AP@n motherboard, which not only boasts such niceties as Intel's X38 chipset, Dual PCI Express 2.0 x16 lanes and support for DDR3 1800MHz dual-channel memory, but integrated 802.11N wireless and embedded Linux.
That last part is perhaps the most interesting; ASUS are calling it Express Gate, but it's basically a fast-boot alternative that, in just five seconds, bypasses Windows and gives you a web-browser running in a custom Linux OS.  They're also proud of "third generation 8-phase power design" which apparently leads to 95-percent power efficiency compared to rivals; coupled with the hardware-based CPU current throttling (that can cut up to 58.6-percent of the CPU power when it recognises you're not really using full capacity) it seems you can finally have a kick-ass motherboard without a kick-in-the-guts electricity bill.
Prices and availability are yet to be announced, but I wouldn't imagine it'd be cheap.
Hardware Zone [via PClaunches]