"ARK: Survival Evolved" lets you ride a dinosaur in VR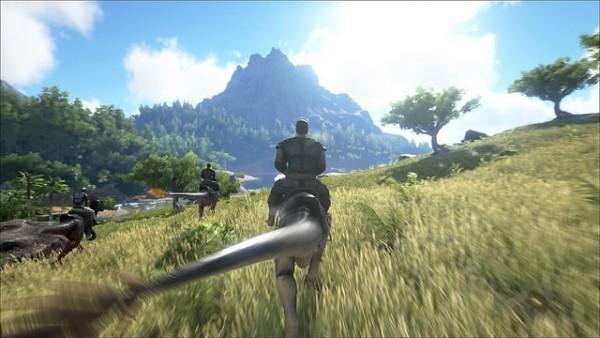 The dinosaur-filled "ARK: Survival Evolved" MMO has been announced today with plans for virtual reality involvement on PlayStation 4. This game will be played from a first-person perspective and will have users walking around an ancient landscape with futuristic tools. You'll have "about 60 distinct species" of ancient Earth creature in "a real place that you can walk through, explore, and truly experience in your own way." This is the dinosaur age of video games starting in earnest. This is really happening, and it's happening on the PlayStation 4 with Project Morpheus, Xbox One, and Steam for both PC and Mac systems.
If there's a more perfect use of virtual reality than for riding dinosaurs, I challenge you to find it. What better way to experience the all-encompassing transportation of your mind to a different reality than on the back of our ancient lizard-like companions.
In ARK: Survival Evolved, you'll be entering the virtual realm with Project Morpheus, Sony's virtual reality headset made for PlayStation 4. As neither Project Morpheus nor ARK have release dates yet, we can assume that one will portend the other.
BINGO: Dino DNA!
Straight from Jesse Rapczak, founder and technical art director at Studio Wildcard, the creators of ARK, comes this:
"All creatures in ARK have their own living ecosystems, predator hierarchies, and an autonomy that exists outside of the players' influences."
"Their interactions with each other intertwine with the way that players might use them, because almost every one of our creatures will be able to be tamed and used for peace or for war."
It's like Pokemon but 1000x more awesome.
This game will be available for Alpha testing later this year. June 2nd, 2015 through Steam, as it were. We'll be there!