Archos Phone Tablet tipped imminent by case manufacturer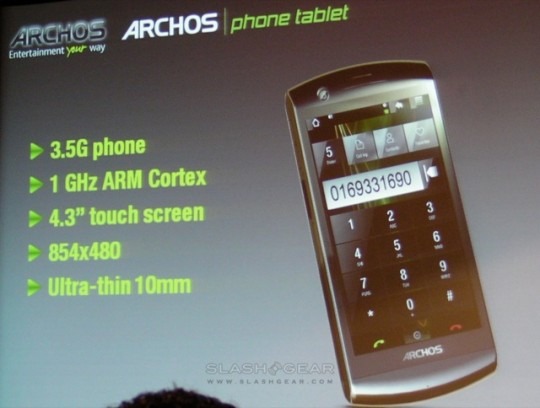 One of the devices we'd hope might see a CES 2010 debut but which failed to materialize was the Archos Phone Tablet.  The 3.5G cellularly-equipped version of the Archos 5 Android Internet Tablet, it was first tipped back in September 2009 and promised for 2010, but so far the French company have been no more specific about when we can expect the Android smartphone/tablet hybrid.  Now, a listing for the Archos Phone Tablet has been spotted on the "coming soon" list for case manufacturer Noreve, prompting speculation that its launch could be relatively close.
Right now the link (which you can find right at the bottom of the Noreve homepage) takes you to a generic holding page, which claims the case is "either in the manufacturing process or out of stock. It will be available on-line very soon."  Obviously that doesn't necessarily mean that Archos are definitely preparing to drop the Phone Tablet, but most of the other devices Noreve mention in their coming soon list are either on the market or imminent to it.
It's possible that Archos could be ramping up for a launch at Mobile World Congress 2010 in Barcelona next month, with the cellular-themed European expo an ideal location for the company's first smartphone.  More details on what specifications we know for the Archos Phone Tablet here.
[via Pocketables]