ARCHOS 80 G9 Review [Video]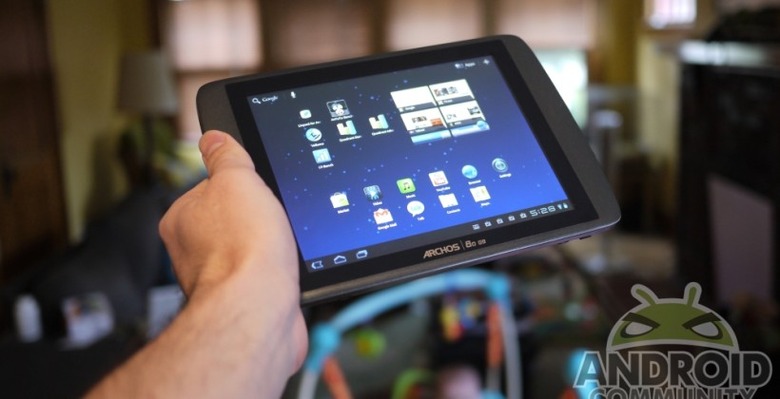 It's time for the G9 series of Android tablets from ARCHOS, a Texas Intstruments OMAP4 dual-core 1GHz processor toting set of unique-looking pieces of hardware set to hit the streets of North America soon. What we've got here is the smaller of the two, the 80, the more enticingly sized tablet while the 101 version, at 10.1 inches, sits kindly in a stream of 10.1-inched tablets that appears never-ending. Both tablets have essentially the same set of specs, other than the screen size, so come with us here on a journey that'll reveal what you'll be getting out of either.
Hardware
This is one of the first devices you'll find on the market using the Texas Instruments OMAP4 dual-core processor (running here at 1GHz) and the first tablet you'll see running the processor (other than developer units, of course). This is Texas Instruments first dual-core processor on the market and one we first saw up and running all the way back at MWC 2011 in Barcelona. We first got out hands on these devices (prototype versions, at least), back in June of 2011 where we saw both versions again. Have a look first here at the video from that session:
[vms 516dd643ba67b4c447d3]
ARCHOS 80 G9 and 101 G9 prototypes hands-on
Next have a look at our most recent re-introduction to these devices courtesy of ARCHOS themselves just this past week:
[vms 7225a6f6c7d802dc6abb]
ARCHOS 80 G9 and 101 G9 final release hands-on
If you haven't just watched the videos above, you should know that the ARCHOS 80 G9 tablet has a kickstand. It's got a microSD slot, an HDMI port, headphone jack, power/lock button, and microUSB port, and that's all on the same side – the left-hand side if you're holding the device in landscape mode which, if you've not noticed by now, is the way ARCHOS intends you to hold it (or set it on the tablet, as the kickstand would suggest). Unfortunately the kickstand itself is not as strong as we'd like, especially given the fact that this one will be holding up a whole tablet. It's constructed of plastic and won't survive very long if a child (or a clumsy adult) gets ahold of it. While it is in tact, on the other hand, it works very nicely to give this unit a unique ability to hold itself at exactly the angle I use tablets at every day.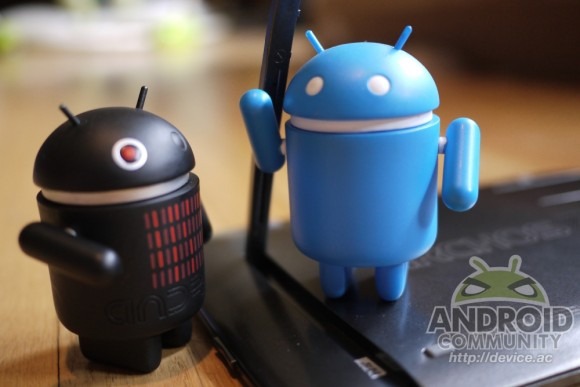 The ports (ports galore!) make this device one of the most versatile tablets right out of the box, right after the Toshiba THRIVE which prides itself on being able to plug in anything. Having basically every kind of port that I'd ever need certainly ads to the out-of-box experience that many of the higher-priced tablets simply do not. They've got converters and 3rd party cords that need to be purchased to make it all happen. ARCHOS scores big points for this.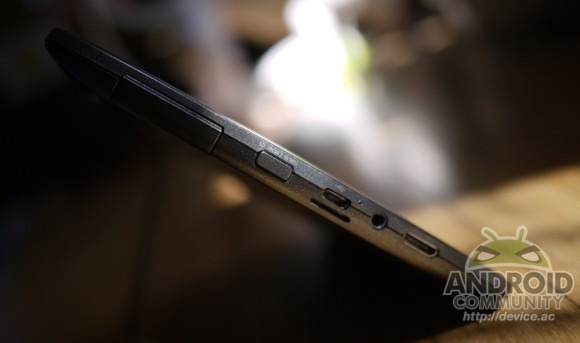 Along those same lines is the construction of the tablet. We've not yet seen a tear-down of either of the G9 tablets so we're not aware of the innards, but outside it appears that this is the nicest set of tablets ARCHOS has yet presented. They're a real big-time effort, this tablet able to be placed amongst the rest of the Honeycomb tablets we've reviewed here on SlashGear, not low quality like some of the similarly priced units we've come across.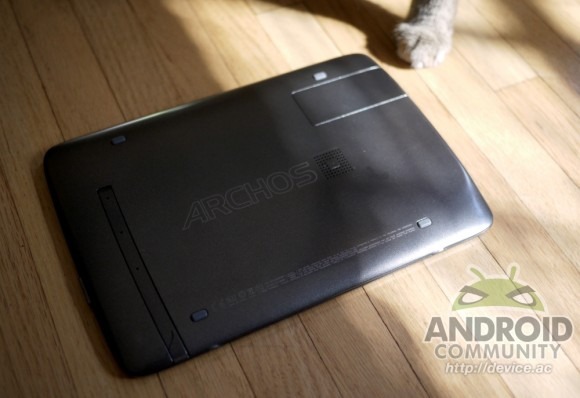 The 80 G9 is nice to handle, has a unique shape to it, and has a relatively decent display on it. Where previous ARCHOS tablets suffered from some not so perfect viewing angles, here we get at least 90 degrees of good color and alignment, where you're not QUITE able to see perfectly when you've got the device nearly flat, it's alright, because why on earth would you be looking at it like that anyway? The tablet is light, it's thin enough to run with the big dogs, and again, it feels very nice to handle.
Before we go on, let's catch some unboxing and hands-on action courtesy of yours truly, opening the box and handling the device like a pro:
[vms 2632813f9e35f4ba53d6]
ARCHOS 80 G9 hands-on and unboxing
Note that there's a bit of an issue with the music in this video – turns out the song file happened to be corrupt – there doesn't appear to be anything wrong with the speakers, the playback, the music app, any of that. Just the file that you'll never ever come in contact with for the final release. No worries!
Software and Performance
Devices that also run the same processor as you're seeing working here in the G9 series are the LG THRILL 4G glasses-free 3D smartphone and the Motorola DROID BIONIC, a 4G LTE device and the first to have both a dual-core and LTE connectivity. What this should tell you is that this processor, the Texas Instruments OMAP4, is no small cookie. This device should feel unique running it, especially since ARCHOS now has the only two Android tablets on the market with a dual-core processor not made by NVIDIA. Is that a good thing? It's certainly a unique thing.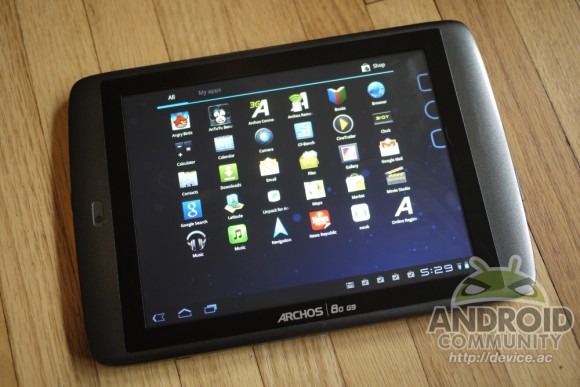 In the above photo, the apps Antutu Benchmark (the bunny in the upper right) and CF-Bench are the only two apps that do not come with the tablet right out of the box. You'll see all the different apps you get with the tablet in the hands-on videos above.
Inside the tablet you'll find a unique range of apps (that, again, you can see listed in the hands-on and unboxing video above. Best of all is the fact that ARCHOS didn't do TOO much to change Honeycomb at all. This appears to be a trend amongst tablet producers since Android 3.0 Honeycomb was released, not changing it very much at all (with a few big exceptions) leaving a Vanilla experience for Android users across the states. Will all this change with Ice Cream Sandwich? We shall see. For now, the bees continue to buzz.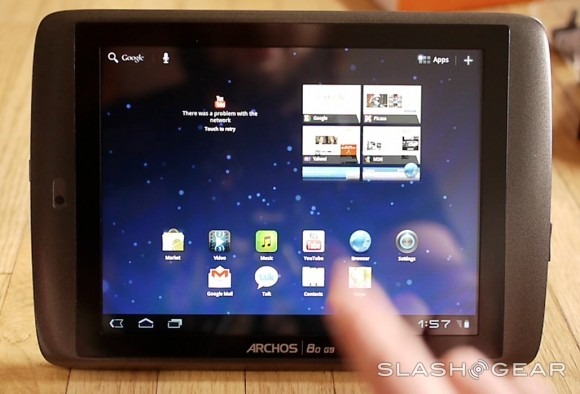 We can run any number of high-flying apps requiring the full processor power of a dual-core chip, and most of them run just about as well as they can on either of the other two devices running the same OMAP4 right this moment. This is a tier-one device and you can tell by the quickness in the running of every app. The smallest amount of disappointment comes from the space right around the rim of the display where the border begins – it's here that touch responsiveness appears to wane just the smallest amount, and this is certainly not because of the software, but because the hardware leads our fingers past the border. Strange? Yes. Will I get used to it after a few weeks of work and play? Certainly I will.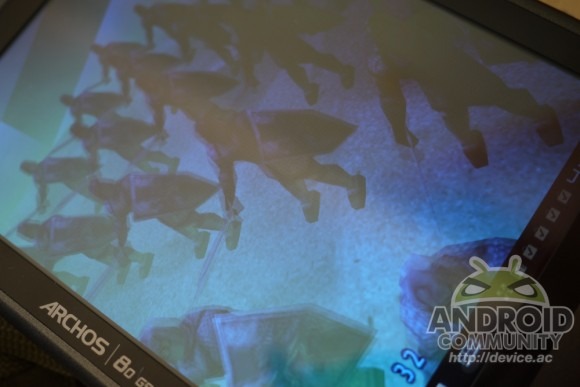 Viewing angles are much improved from past ARCHOS tablets
For benchmarks, you'll have to note that we've got the 1GHz version of the 80 G9 tablet here, where we still understand a 1.5GHz version to come out as well. Have a glance at what this 1GHz version of the OMAP4 can do:
Camera
There's but one camera on this device, and it's forward facing. Here we've got a brief video and a photo or two to show you the quality. More than likely you'll be using this device's camera for video chat and that's it.
Battery
As you can see here, there's been some major optimization done with OMAP4's processor conserving energy while the device is in sleep mode. It looks as if this device could survive essentially forever if we'd simply let it stay at home in bed. In use, we get less than a day's work out of the device before we need to charge, but that's with movie watching, HDMI outputting, high-demanding games, and the like. Normal users should expect right around a full day's use.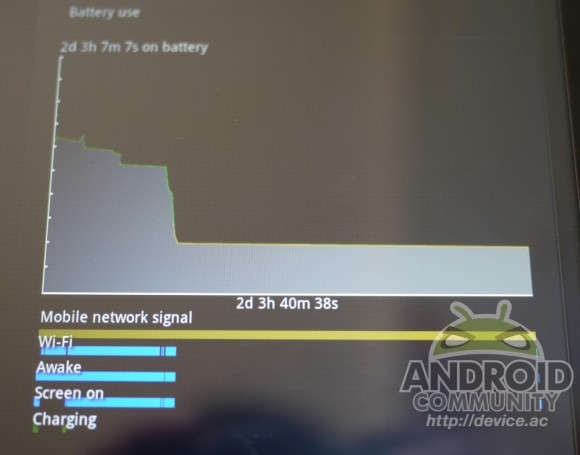 Wrap-Up
This is the first Texas Instruments dual-core 1GHz OMAP4 processor-toting Android tablet on the market, and it's pretty decent. The kickstand, being as large and obviously important as it seems, is a bit of a disappointment as it's made of plastic and isn't very sturdy. Even if it should fail, though, you've still got four rubber nubbins on the back of the device to sit flat for some excellent tablet-top action. This tablet is uniquely sized, has the ability to plug in many devices and cards, and is reasonably priced at $299 at the ARCHOS online store right now with a 1.5GHz version on the way for an increased price. At this price, I think we've got a winner. At least for those students looking to purchase a tablet computer without dropping their whole week's wages on one.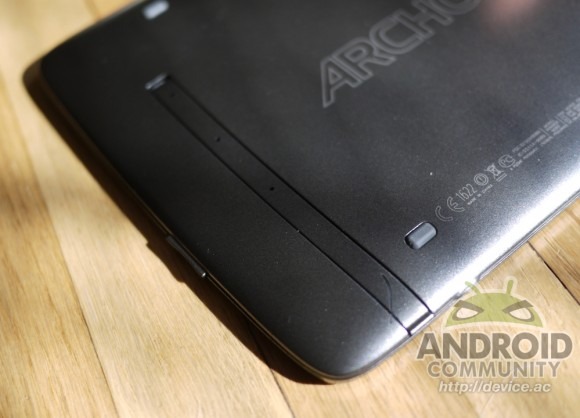 As far as the software goes, it's your basic Honeycomb experience with a few awesome app bonuses right out of the box. I hesitate going too far into out-of-box app experiences since unless it's a unique app to that device, you can download them yourself no matter what device you buy. Here we've got a few from column B, and a few from column A, this second column being ARCHOS and apps that we can only get here. These apps are certainly decent and definitely a selling point (or it should be) for retailers and ARCHOS online.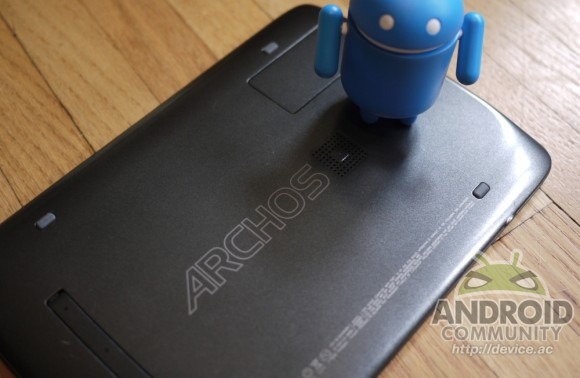 Is this the tablet for you? It's a strange time to be purchasing a tablet since we know that before the end of the year, we'll be seeing quad-core processors on the market. That said, we've seen single-core devices out-perform dual-core devices in the past, it all depends on what software you're running. ARCHOS, you did a pretty decent job here making a tablet that's going to be accessible by the masses. People will buy it and love it if you include replaceable kickstands. The rest of the tablet is good to go!