Archos 70 and Archos 101 hands-on [Video]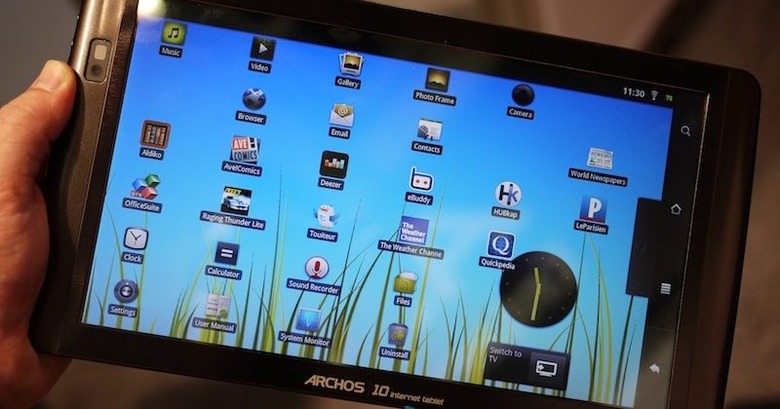 Archos weren't short of
for
, though it's their Archos 70 and Archos 101 which stood out when we stopped by their booth earlier today.  Measuring in at 7- and 10-inches respectively, the two Android slates (running 2.1 right now, but set to launch with 2.2 Froyo) are certainly thin and reasonable feature-packed, each toting a 1GHz ARM Cortex A8 processor, 3D OpenGL ES 2.0 graphics accelerator and WiFi b/g/n.
Video demo after the cut
Both use capacitive touchscreens – 800 x 480 resolution on the Archos 70, 1024 x 600 on the Archos 101 – with multitouch (that proved more than a little glitchy in the photo viewer app) and have HDMI outputs for squirting 720p video out to your HDTV.  As you'd expect from Archos, there's plenty of codec support too, including AVI, MP4, MKV, MOV, WMV, MPG, PS, TS, VOB, FLV, RM, RMVB, ASF and 3GP.
Archos 101 and 7 Internet Tablets hands-on:
[vms 3847419bb3de39a609af]
The Archos 101 is an interesting beast; at 12mm thick, it's very flat and, at 480 grams, surprising light, though the French company's choice of plastics mean it doesn't feel cheap.  It also doesn't flex as you hold it, and there's a two-position kickstand on the back: first, it props it up for video viewing; second, it lowers the angle for more comfortable on-screen typing.  Archos demonstrated a number of games on the slate, and the CPU could certainly keep up, using the accelerometer to navigate in racing titles.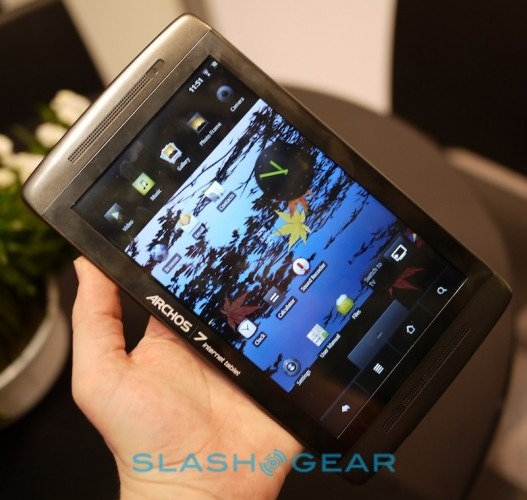 As for the Archos 70, that's a more pocketable model, measuring in at 201 x 114 x 10/14 mm (the 250GB hard-drive unit is thicker than the 8GB flash version); that makes it longer but narrower than the
, with the Samsung slate slotting in-between in terms of thickness.  The touchscreen felt more responsive than that of the Archos 101, though things like webpage rendering and pinch-zooming weren't as slick as on the Samsung.  The Archos 70 lacks the two-stage kickstand, too, only having a single arm for video viewing.  Unfortunately, there's no rear camera on either model, only the VGA webcam.
Unfortunately, Archos has decided to abandon the multimedia docks of previous models, and there's no DVR dock option for either.  That, on early internet tablets, allowed for direct audio and video recording straight to the slate's internal storage, but from now on you'll have to sideload content.
Given the pre-production hardware and non-Froyo software, we won't draw too many conclusions about the Archos 101 or the Archos 70, but we have to say the price tags for each slate are encouraging.  The French company expects the Archos 101 to retail for $299.99 when it lands midway through next month, while the Archos 70 will be $274.99.  That certainly keeps them competitive against the other Android tablets we've seen at
this week.