Apple's Spaceship Campus Is Larger Than The U.S. Pentagon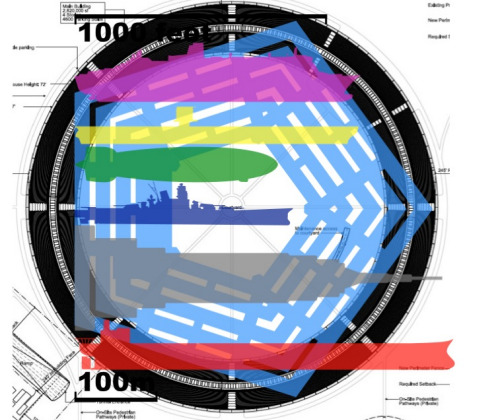 Apple's massive "spaceship" campus will have a footprint that's larger than the U.S. Pentagon and a diameter wider than the New York City Empire State Building laid on its side. The Mac Observer took the recently released floor plans and overlaid them with various monumental objects to reveal just how massive this 2.8-million square-foot circular office building will be.
The graphic shows the Apple campus overlaid with the Pentagon, the Empire State Building, a cruise ship, a U.S. nuclear aircraft carrier, a blimp, a World War II battleship, and a super tanker. The supertanker is the "Seawise Giant," which at 1,504 feet was the longest ship ever built in history. And yet, the Apple campus is till wider in diameter at 1,615 feet. In comparison, the Pentagon's diameter is 1,566 feet and the height of the Empire State Building is 1,250 feet.
The City of Cupertino released the renderings and floor plans recently to make more information available to the public, as the project still requires approval by the city. The council and neighboring cities have given positive responses so far and the Cupertino Mayor Gilbert Wang has publicly said that there is no chance of it not getting approved.
The building will sit on a 150-acre property owned by Apple in Cupertino and will support up to 13,000 employees. Completion is expected for 2015.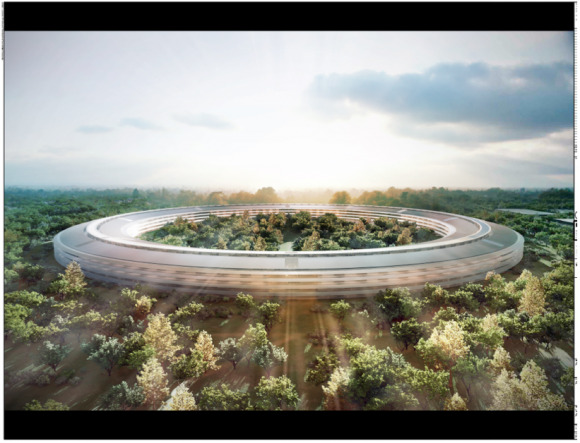 [via Apple Insider]