Apple's New Subscription Policy Upsets Readability App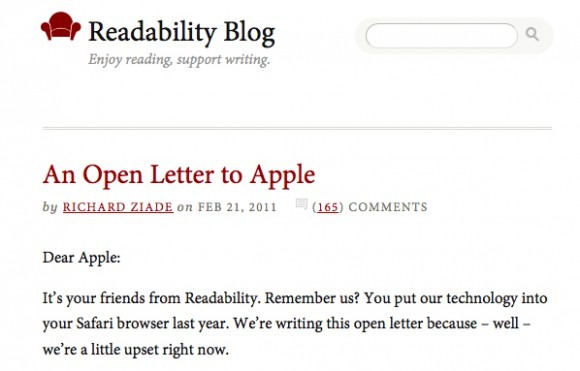 Another app maker is displeased with Apple's new subscription policy it announced last week. Richard Ziade is a co-founder of Arc90, creator of Readability, and posted an open letter to Apple about how much he dislikes Apple's new policy on both Arc90's and Readability's blog.
The problem stems from Apple's rejection of a Readability app for iOS because Apple's iOS guidelines state, "Apps utilizing a system other than the In App Purchase API (IAP) to purchase content, functionality, or service in an app will be rejected," says Ziade. Readability already has to pay a 70% revenue cut to publishers and with the new subscription policy Apple charges another 30% revenue cut on top of it.
Readability essentially lets users read an article on a web page, but only shows the text. It pulls the words from the page and formats it into text-only viewing with no ads or videos. The two companies are not unfamiliar with each other because Apple uses Readability in its new feature on its Safari web browser called Safari Reader.
Ziade says the policy "smacks of greed" but he does offer a compromise to Apple. Readability still wants an iOS app and is willing to offer it with in-app purchasing, but only if Apple agrees to give 70% of its 30% cut back to writers and publishers like Readability does. I'm not sure how well that is going to sit with Apple, so we'll just see who will concede in this stare down.
[via LA Times]