Apple's 'Best of 2014' list includes old favs, new artists, fun apps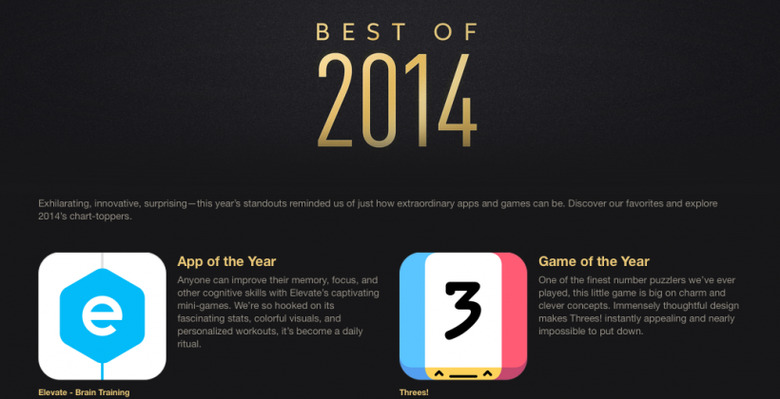 With so much media floating around their platform, Apple has once again rolled out their year-end, best-of awards list. They've announced their favorites from 2014, along with a few fun surprises for us. Frozen dominated, with its album being iTunes' best seller in 2014. Theme song Let It Go was the eighth most downloaded song all year, and two Frozen-themed apps were among the most downloaded of 2014. For the rest of apple's favorites in 2014, keep reading!
For music, Apple distances itself from Rolling Stone, and calls Taylor Swift's 1989 the best album of the year — not their free U2 giveaway, as Rolling Stone claim. Best New Artist honors go to Sam Smith, with Iggy Azalea's Fancy winning best song. Everyone's Queen Bae, Beyonce, won best overall artist, likely aided by her iTunes album launch and subsequent videos.
Best iPhone app of the year was elevate, a "brain trainer" designed to improve your head noodle's capabilities. the iPhone game of the year was the ultra-addicting Threes. Oddly enough, Hyperlapse from Instagram was the runner up for app of the year, even though Apple's own camera software also does time-lapse photography.
For the iPad, Apple saw Pixelmator as app of the year, with the impressive Monument Valley taking game of the year honors for the bigger screen.
Apple's best "blockbuster" movie of 2014 was Guardians of the Galaxy, with best family film honors going to The Lego Movie.
Best Podcast honors went to Hardcore History and Serial, and Fargo is your TV show of the year.
For the full list of Apple's favorites, check out the full (exhaustive) list below.
Music

Best Album: Taylor Swift, 1989

Best New Artist: Sam Smith

Best overall Artist: Beyonce

Best Song: Iggy Azalea "Fancy"

Genre (best album)

Pop: Taylor Swift, 1989

Rock: Jack White, Lazaretto

Country: Little Big Town, Pain Killer

Hip-Hop: Logic, Under Pressure

R&B: Jennifer Hudson, JHUD

Alt: The War on Drugs, Lost in the Dream

Dance: Clean Bandit, New Eyes

Electronic: Caribou, Our Love

Latin: Calle 13, MultiViral

Jazz: The Cookers, Time And Time Again

Classical: John Luther Adams, Become Ocean

S/S: Jamestown Revival: Utah

Apps

iPhone App of the Year: Brain Training, Elevate

iPad App of the Year: Pixelmator, Pixelmator

iPhone Game of the Year: Threes!, Sirvo

iPad App Game of the Year: Monument Valley, UsTwo

Movies

Best Of 2014

Best Blockbuster – Guardians of the Galaxy

Best Director – Boyhood

Best Family Film – The Lego Movie

Best Discovery – Obvious Child

TV

Best Of 2014

TV Show of the Year – Fargo

Best Performances – True Detective

Best Discovery – The Honorable Woman

Best Breakthrough – Key & Peele

Books (US)

All the Light We Cannot See, Anthony Doerr (Fiction & Literature)

The Short & Tragic Life of Robert Peace, Jeff Hobbs (Nonfiction)

Best Podcasts

Best Classic – Hardcore History

Best New Podcast – Serial

———–

Top 10 Charts:Best selling songs

1 Happy (From "Despicable Me 2"), Pharrell Williams

2 All of Me, John Legend

3 Dark Horse (feat. Juicy J), Katy Perry

4 Talk Dirty (feat. 2 Chainz), Jason Derulo

5 Fancy (feat. Charli XCX), Iggy Azalea

6 Problem (feat. Iggy Azalea), Ariana Grande

7 All About That Bass, Meghan Trainor

8 Let It Go, Idina Menzel

9 Turn Down For What, DJ Snake & Lil Jon

10 Rude, MAGIC!

Top selling albums

1 Frozen, Various Artists

2 1989, Taylor Swift

3 Ghost Stories, Coldplay

4 In the Lonely Hour , Sam Smith

5 Guardians of the Galaxy: Awesome Mix, Vol. 1 (Original Motion Picture Soundtrack), Various Artists

6 BEYONCÉ, Beyoncé

7 Pure Heroine, Lorde

8 x (Deluxe Edition), Ed Sheeran

9 The Outsiders, Eric Church

10 5 Seconds of Summer (Bonus Track Version), 5 Seconds of Summer

Most Downloaded Films

1 Frozen

2 The Lego Movie

3 The Wolf of Wall Street

4 The Hunger Games: Catching Fire

5 Neighbors

6 Thor: The Dark World

7 Captain America: The Winter Soldier

8 Lone Survivor

9 Divergent

10 The Guardians of the Galaxy

Most Downloaded Indie Movies

1 Dallas Buyers Club

2 12 Years a Slave

3 The Grand Budapest Hotel

4 Snowpiercer

5 Chef

6 Blue Jasmine

7 Her

8 Enough Said

9 August: Osage County

10 Bad Words

iPad Top Paid

1 Minecraft – Pocket Edition, Mojang

2 Cut the Rope 2, ZeptoLab UK Limited

3 Heads Up!, Warner Bros.

4 The Room Two, Fireproof Games

5 Survivalcraft, Igor Kalicinski

6 Notability, Ginger Labs

7 Terraria, 505 Games (US), Inc.

8 Plants vs. Zombies HD, PopCap

9 Hide N Seek : Mini Game With Worldwide Multiplayer, wang wei

10 Card Wars – Adventure Time, Cartoon Network

iPad Top Free

1 YouTube, Google, Inc.

2 Netflix, Netflix, Inc.

3 Calculator for iPad Free, International Travel Weather Calculator

4 Skype for iPad, Skype Communications S.a.r.l

5 Microsoft Word for iPad, Microsoft Corporation

6 Facebook Messenger, Facebook, Inc.

7 Facebook, Facebook, Inc.

8 Candy Crush Saga, King.com Limited

9 Chrome – web browser by Google, Google, Inc.

10 Clash of Clans, Supercell

iPhone Top Paid

1 Heads Up!, Warner Bros.

2 Minecraft – Pocket Edition, Mojang

3 Afterlight, Afterlight Collective, Inc

4 Plague Inc., Ndemic Creations

5 Sleep Cycle alarm clock, Northcube AB

6 Facetune, Lightricks Ltd.

7 Cut the Rope 2, ZeptoLab UK Limited

8 Bloons TD 5, Ninja Kiwi

9 A Dark Room, Amirali Rajan

10 7 Minute Workout Challenge, Fitness Guide Inc

iPhone Top Free

1 Facebook Messenger, Facebook, Inc.

2 Snapchat, Snapchat, Inc.

3 YouTube, Google, Inc.

4 Facebook, Facebook, Inc.

5 Instagram, Instagram, Inc.

6 Pandora Radio, Pandora Media, Inc.

7 Google Maps, Google, Inc.

8 Flipagram, Cheerful, Inc.

9 Spotify Music, Spotify Ltd.

10 2048, Ketchapp

Most Downloaded Shows

1 Game of Thrones (S3)

2 The Walking Dead (S5)

3 Downton Abbey (S4)

4 Breaking Bad (Deluxe Edition: The Final Season)

5 Scandal (S4)

6 Sons of Anarchy (S7)

7 The Big Bang Theory (S8)

8 Mad Men (The Final Season)

9 Homeland (S3)

10 Modern Family (S6)

Books: Fiction

1 The Fault in Our Stars, John Green (Children & Teens)

2 Gone Girl, Gillian Flynn (Mysteries & Thrillers)

3 Insurgent, Veronica Roth (Children & Teens)

4 Allegiant, Veronica Roth (Children & Teens)

5 Divergent, Veronica Roth (Children & Teens)

6 The Goldfinch, Donna Tartt (Fiction & Literature)

7 The Target, David Baldacci (Mysteries & Thrillers)

8 The Invention of Wings, Sue Monk Kidd (Fiction & Literature)

9 The Husband's Secret, Liane Moriarty (Fiction & Literature)

10 Fifty Shades of Grey, E L James (Romance)

Books: Non fiction

1 Flash Boys: A Wall Street Revolt, Michael Lewis (Business & Personal Finance)

2 Unbroken, Laura Hillenbrand (Biographies & Memoirs)

3 Lone Survivor, Patrick Robinson,Marcus Luttrell (Biographies & Memoirs)

4 Heaven is for Real, Todd Burpo,Lynn Vincent (Religion & Spirituality)

5 Duty, Robert M. Gates (Biographies & Memoirs)

6 Killing Patton, Martin Dugard,Bill O'Reilly (Biographies & Memoirs)

7 Killing Jesus, Martin Dugard,Bill O'Reilly (History)

8 Uganda Be Kidding Me, Chelsea Handler (Humor)

9 David and Goliath, Malcolm Gladwell (Health, Mind & Body)

10 The Boys in the Boat, Daniel James Brown (Sports & Outdoors)

Books: Free

1 Private, Maxine Paetro,James Patterson (Mysteries & Thrillers)

2 Pretty Little Liars, Sara Shepard (Children & Teens)

3 Justice League: Origin, Jim Lee,Geoff Johns (Comics & Graphic Novels)

4 Lost in Shangri-La, Mitchell Zuckoff (History)

5 Twenty-Eight and a Half Wishes, Denise Grover Swank (Mysteries & Thrillers)

6 The Swift Programming Language, Apple Inc. (Computers & Internet)

7 Be My Love, Lucy Kevin (Romance)

8 100 Quotations to Make You Think!, Wolfgang Riebe (Health, Mind & Body)

9 Best Jokes 2014, Various Authors (Humor)

10 iPhone User Guide For iOS 8.1, Apple Inc. (Computers & Internet)

Books: Audio books

1 Divergent (Unabridged), Veronica Roth (Kids & Young Adults)

2 Gone Girl: A Novel (Unabridged), Gillian Flynn (Mystery)

3 Insurgent: Divergent, Book 2 (Unabridged), Veronica Roth (Kids & Young Adults)

4 The Fault in Our Stars (Unabridged), John Green (Kids & Young Adults)

5 Allegiant: Divergent Trilogy, Book 3 (Unabridged), Veronica Roth (Kids & Young Adults)

6 Fifty Shades of Grey: Book One of the Fifty Shades Trilogy (Unabridged), E L James (Romance)

7 Unbroken: A World War II Story of Survival, Resilience, and Redemption (Unabridged), Laura Hillenbrand (History)

8 A Game of Thrones: A Song of Ice and Fire, Book 1 (Unabridged), George R. R. Martin (Sci Fi & Fantasy)

9 Mockingjay: The Final Book of the Hunger Games (Unabridged), Suzanne Collins (Kids & Young Adults)

10 Bossypants (Unabridged), Tina Fey (Comedy)

Most downloaded Podcasts

1 NPR Programs: Fresh Air Podcast, NPR

2 Stuff You Should Know, HowStuffWorks.com

3 The Joe Rogan Experience, Joe Rogan

4 The Adam Carolla Show, Carolla Digital

5 This American Life, WBEZ

6 Radiolab from WNYC, WNYC

7 Freakonomics Radio, WNYC

8 The Nerdist, Nerdist Industries

9 NPR: Planet Money Podcast, NPR

10 NPR: Wait Wait... Don't Tell Me! Podcast, NPR