Apple wins Samsung Galaxy Tab 7.7 injunction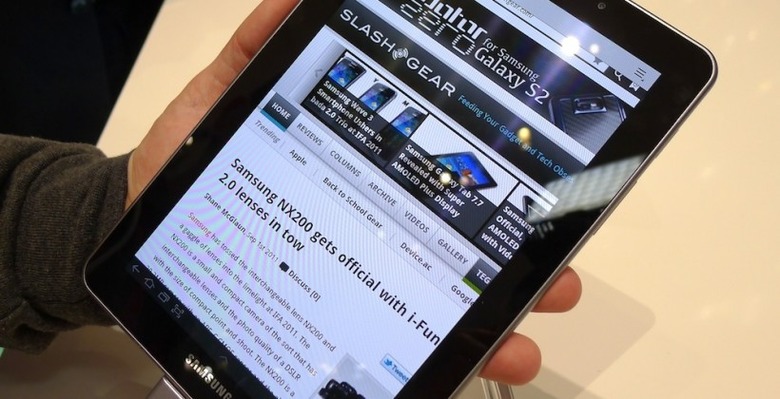 Apple has secured a new injunction against Samsung's Galaxy Tab 7.7 in Germany, forcing the company to yank the tablet from IFA 2011 show stands as we saw on Saturday. The courts in Dusseldorf granted Apple's request for a ban on sales and promotion of the new Android slate, Yonhap News reports; "Samsung respects the court's decision" spokesperson James Chung told Bloomberg, though went on to criticize the ruling as something that "severely limits consumer choice in Germany."
On Saturday, all Samsung staff manning the IFA stand would say was that the company had "voluntarily" removed all of the Galaxy Tab 7.7 demo units, information and promotional information from the show, pending receipt of the court's comments. Before that had taken place, however, each Galaxy Tab 7.7 was already marked with a label suggesting that the design was subject to change, and that it would not go on sale in Germany. Samsung appears to have hoped that the sticker would be sufficient to allow the IFA launch and subsequent demonstration to go ahead without incurring the court's – or Apple's – wrath.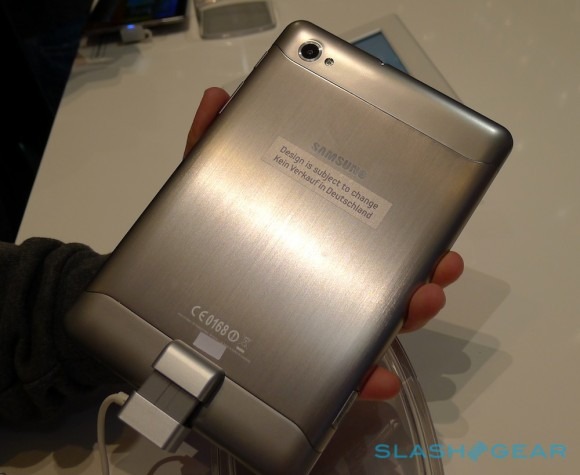 Samsung is now promising to take legal action against Apple in the hope to have the injunction overturned; the company is already prevented from selling the larger Galaxy Tab 10.1 in Germany after a previous preliminary injunction there. If you're curious about the Galaxy Tab 7.7, make sure to check out our full hands-on report.
Samsung Galaxy Tab 7.7 hands-on:
[vms 6f24efd9395aa7662bc7]
[via FOSS Patents]