Apple release iPhone 1.1.1 update; unlocked handsets re-locked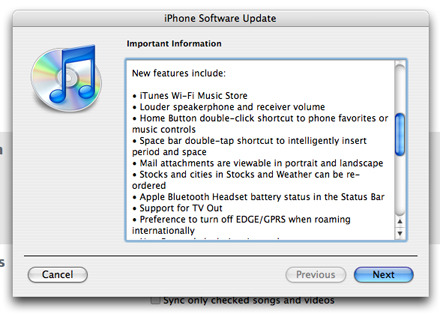 With little fanfare (but a video from Bob) Apple has launched their iPhone 1.1.1 firmware update, and while it doesn't bring such delicacies as Flash support there are nonetheless a few useful updates – not least the iTunes WiFi Music Store – and functionality tweaks to be had. However, in light of Apple's warning regarding modified iPhones and the potential for unexpected bricking following the update, the 152.3mb download comes with some trepidation. Here's the bad news: depending on how hacked your iPhone is, you might end up with a cellphone you can't use.Full update rundown and the latest on the brick situation after the cut...
Functionality-wise, 1.1.1 brings a number of tweaks and changes:
Louder speakerphone and receiver volume
Home Button double-click shortcut to phone favorites or music controls
Space bar double-tap shortcut to intelligently insert period and space
Mail attachments are viewable in portrait and landscape
Stocks and cities in Stocks and Weather can be re-ordered
Apple Bluetooth Headset battery status in the Status Bar
Support for TV Out
Preference to turn off EDGE/GPRS when roaming internationally
New Passcode lock time intervals
Adjustable alert volume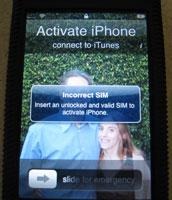 As it stands, though, there are multiple reports of unlocked iPhones refusing to recognise the AT&T SIM once the update has completed. While that doesn't exactly break your iPhone entirely, it does render it unusable until you can get a replacement SIM from AT&T, and right now nobody knows exactly how accommodating the carrier will be.
If you've not gone so far as to unlock your iPhone, but have used Jailbreak to install third-party apps and custom ringtones, be aware that installing the update will block access to any of that content. Trying to re-jailbreak has no effect either, so you're basically stuck with the standard iPhone functionality.
The hacking community is already working on a new version of Jailbreak to open up the handset once more, but right now we'd recommend holding off on installing 1.1.1 unless you really need the new features (or have never bothered hacking your iPhone in the first place).
Keep watching our Apple-obsessed sister site MY iTablet for the latest on the bricked iPhone saga...