Apple OS X 10.6 Snow Leopard coming Q1 2009?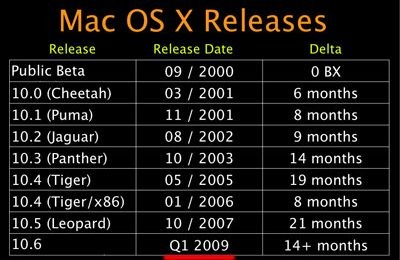 Apple's release plan for OS X 10.6 "Snow Leopard" has been previewed early, thanks to the company's director of engineering of Unix technologies, Jordan Hubbard.  Hubbard gave a presentation about the evolution of OS X at the LISA '08 (Large Installation System Administration) conference last week, and his presentation [pdf link] included the following tidbit about Snow Leopard coming in Q1 2009.
Now that might still seem pretty vague – after all, there're three months to play with – but considering Apple have up until now only confirmed that Snow Leopard would arrive "in about a year" (from the June WWDC) it suggests both a more specific and an earlier release than expected.  The unveiling, or at least a last-minute preview, could even take place at MacWorld 2009.
Snow Leopard will improve multiple-core CPU utilization together with GPU processing, which the current range of Macs have the hardware for but lack tweaked software for making the most of.  Bringing forward the release is unlikely to be a decision unprompted by Microsoft's OS plans.  The media has been full of generally positive talk of Windows 7, which Redmond intend to release in 2009.
[via MacRumors]