Apple Mini DisplayPort to DVI cable delayed until Christmas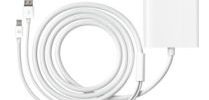 Remember the $99 cable Apple require you to buy if you ever want to use a new MacBook or MacBook Pro with your existing 30-inch Cinema Display?  Scheduled to ship 4-5 weeks after the new unibody aluminum laptops themselves, it was tough for people to decide whether to be most annoyed by the cost, the necessity or the ugliness of the solution.  Now Apple have added a fourth possibility: huge delays.  Those who pre-ordered the Mini DisplayLink to Dual-Link DVI cable have just been contacted to tell them that their adapters won't be delivered until December 23rd.
That's in excess of two months after the MacBook and MacBook Pro began shipping.  The letter from Apple does not explain the reason for the late arrival, aside from calling it "an unexpected delay" and thanking customers for their patience.  Alternatively the order can be cancelled, leaving the Cinema Display and the laptop forever parted (or at least until a third-party begins to make their own version of the adapter).
It's a small issue, probably affecting a minority of people, but it's an example of Apple dropping the ball with their shipping schedules.  I'm curious as to how many people have preorded the adapter?  Are you waiting to use your Cinema Display with your new MacBook?  Let me know in the comments.