Apple LTE iPhone job ad prompts predictable furore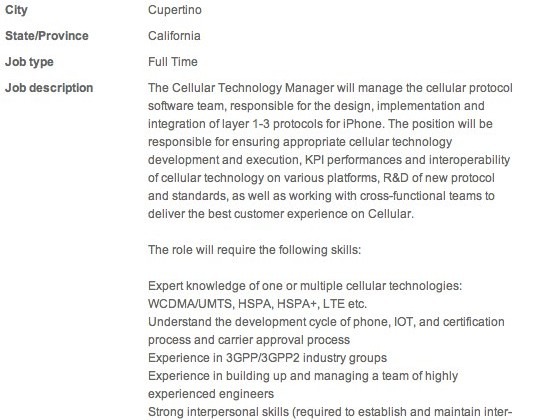 Furore galore as eagle-eyed Apple job trackers spot an iPhone engineering post calling for someone with LTE experience, and make the obvious connection that the company is looking to develop an iPhone HD with LTE connectivity.  According to the listing, the new Cellular Technology Software Manager would be "responsible for the design, implementation and integration of layer 1-3 protocols for the iPhone", which would include managing "R&D of new protocol and standards" such as speedy cellular technologies.
The successful candidate is also expected to navigate carrier approval and device certification and work with "cross-functional teams" in order to push Apple's successful use of cellular technologies.  While it's always interesting to see a company explicitly refer to a next-generation technology like LTE – and exciting to think of the sort of data speeds an LTE iPhone would be capable of – we're not especially surprised that LTE is on Apple's radar.
Just as Apple picked GSM rather than CDMA for their first generation of iPhones, based on it giving them the biggest global audience for the handset, LTE looks to be a pretty safe bet for both North American and European 4G connectivity.  As for whether this means an LTE iPhone is coming any time soon, given whatever networks are being rolled out are fledgling at best, we're more excited by the mention of HSPA+ in the job listing.  At least an HSPA+ fourth-gen iPhone would be usable on the growing networks in the US and across Europe.
[via UberGizmo]