Apple iMac 27-inch (2013) Review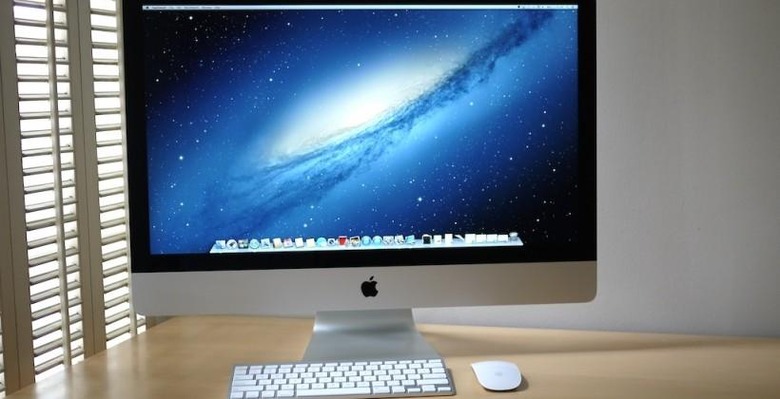 Apple wowed us with the new iMac last year, its incredible design borrowing from aerospace construction methods and the sort of screen lamination only done on smartphones like the iPhone, while inside delivering the sort of power desktop users expected. Now, for 2013, comes the updated version: still visually grabbing, but now brought up to speed with faster processors, beefier graphics, and an extra jolt of speed for Apple's own Fusion Drive technology. So, is beauty still more than skin deep? Read on for our full review.
Hardware and Design
The iMac is, arguably, Apple's most successful design from its entire range. The 2012 introduction of a taper-edge aluminum casing suspended on a slim but sturdy tongue of metal may have been an evolution from iMac models before it, but the combination of visual sleight of hand and minimalistic design still wows.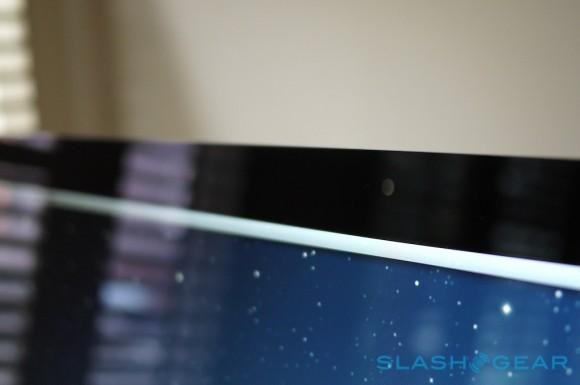 For 2013, outwardly nothing has changed. Apple still offers 21.5- and 27-inch models, with 1920 x 1080 and 2560 x 1440 IPS LED-backit displays respectively, and they still get the antireflective screen coating which noticeably cuts down on glare during use. The 27-inch display of our review model looks incredible, with bright colors and broad viewing angles. Although 4k resolution, as the new Mac Pro 2013 will support, might be a nice addition, the better-than-HD of the existing iMac is still a good balance between specifications and pricing.
As with last year's machine, there's no optical drive – Apple will sell you an optional external SuperDrive if you want one, or you can plug in any third-party USB drive – and the ports are clustered in a row along the lower side of the bowed aluminum rear panel.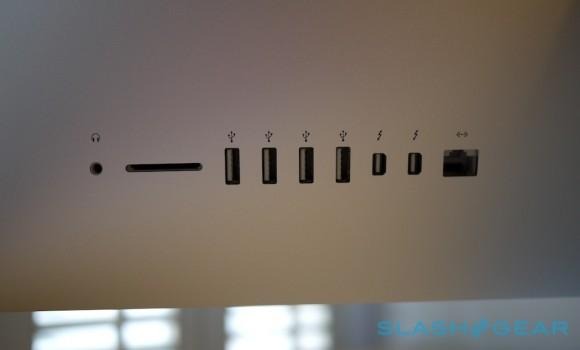 They too are unchanged: a headphone socket, SD card slot, four USB 3.0, two Thunderbolt, and gigabit ethernet, along with the power socket centered behind the cable tidy hole in the stand. The power button itself is a slightly dimpled key on the opposite side. There have been times when we'd wished for side-mounted ports, just for the convenience of slotting in, say, a camera cable without having to look at the back, but that's more down to our not wanting to scratch the aluminum than anything else.
Above the display there's a FaceTime HD camera for 720p video calls, and dual microphones for beam-formed audio. An ambient light sensor hidden behind the glass bezel adjusts the display's brightness automatically, though you can of course tweak them yourself using the dedicated keys on Apple's bundled Bluetooth keyboard. A Magic Mouse is supplied as standard, though you can specify a Magic Trackpad instead as a no-cost switch.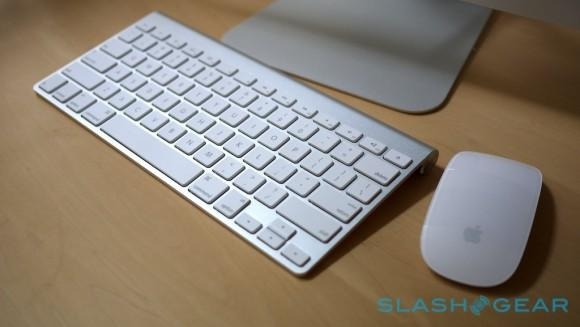 Stereo speakers fire downward, out of the lower edge of the screen, and sound impressively full-bodied given their size. There's no dedicated subwoofer but still a decent amount of bass to play with, aided by the sound reflecting off a wooden or glass desk surface.
Inside, there's now WiFi 802.11ac for faster connections with compatible wireless routers. In fact, the claim is up to three times the speed in addition to greater range, over WiFi 802.11n. Apple has enabled beam-forming for more targeted wireless connections, again as long as your router supports it. The company's own AirPort Extreme and AirPort Time Capsule do, but we were able to test the iMac with a third-party 802.11ac router and back up across the wireless network around twice as fast as over the older connection type. Apple also includes Bluetooth 4.0.
Specifications
If the outside is unchanged, the big differences in the 2013 model wait until you turn the iMac on. Apple has updated the range with Intel's fourth-fen Core i5 and i7 "Haswell" chips, paired with new graphics options, and a boosted version of its own Fusion Drive storage technology.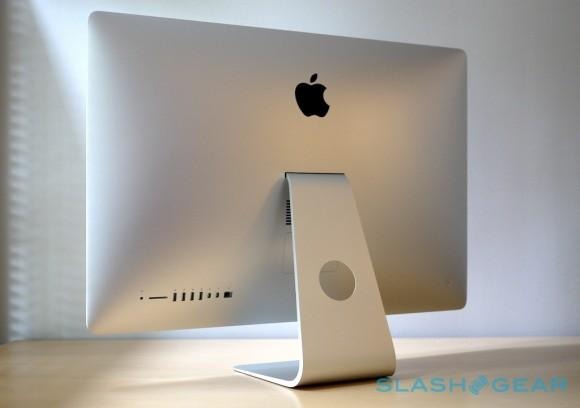 The entry level 27-inch iMac has a 3.2GHz quadcore Core i5 (with up to 3.6GHz Turbo Boost) while the higher-performance preconfiguration has a 3.4GHz quadcore Core i5 (up to 3.8GHz Turbo Boost). Our review unit has been upgraded to the 3.5GHz quadcore Core i7 (up to 3.9GHz Turbo Boost), which is an order-only option. 8GB of DDR3 memory is included as standard, and can be either upgraded through Apple's own store to up to 32GB, or – by popping off the small hatch on the rear of the iMac – fitting your own choice of third-party memory.
As for the 21.5-inch iMac, that kicks off with a 2.7GHz quadcore Core i5 (up to 3.2GHz Turbo Boost) with a 2.9GHz quadcore Core i5 (up to 3.6GHz Turbo Boost) in the higher performance model. Again, there's a Core i7 option for online orders, this time running at 3.1GHz (up to 3.9GHz Turbo Boost). Like the 27-inch iMac, the 21.5-inch has 8GB of memory as standard, but it lacks the user-accessible memory upgrade panel. Instead, upgrading to 16GB of memory has to be done at the point of ordering.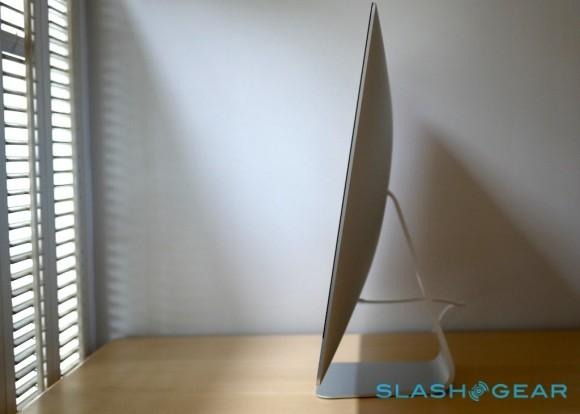 Just as with the processors, so the iMac's graphics have been upgraded across the board. All but the entry-level 21.5-inch model – which gets Intel Iris Pro graphics – have a GPU from NVIDIA's 700 Series range, with the 27-inch line starting off with the GeForce GT 755M with 1GB of GDDR5 dedicated video memory, and the higher-performance version having the GeForce GTX 775M with 2GB of memory. Our review model has the maxed-out NVIDIA GeForce GTX 780M with a whopping 4GB of its own memory to play with.
Apple introduced Fusion Drive in the 2012 iMac, its way of balancing the capacity of traditional hard-drives with the performance advantages of solid-state storage. The iMac has both types, and by dynamically switching data – whether your files, your apps, or some combination of the two – between the two, it can give the feeling of all-flash speed without the expense.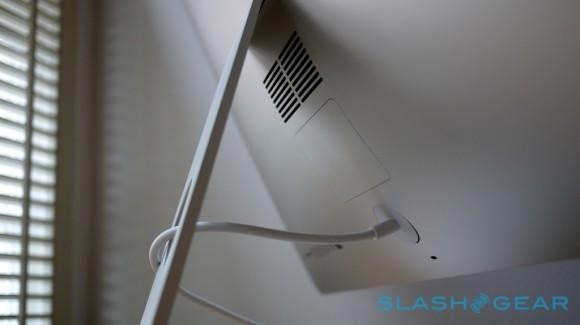 For 2013, the setup is effectively the same, but Apple has switched to using PCIe-based flash storage for a bump in performance. 128GB of flash is paired with either a 1TB or 3TB hard-drive and OS X intelligently moves files between the two, learning how the user works and deciding which files to bring over to the faster flash, and which are okay to be left on the slower, larger-capacity drive. There are also now options for 256GB, 512GB, or 1TB of all-flash, though they're unsurprisingly expensive options.
Unfortunately, you still get a 1TB traditional hard-drive as standard on both the 21.5-inch and 27-inch iMac (5,400rpm on the former; 7,200rpm on the latter). It unsurprisingly becomes the bottleneck holding back what's otherwise a very high-powered machine. If you were going to tick only one option box on the iMac order form, the Fusion Drive option should be it.
Performance
As you might expect, with a 3.5GHz Core i7, NVIDIA GeForce GTX 780M graphics, and 8GB of memory, our review iMac doesn't exactly stand around. Benchmarks only tell part of the story, of course, but they give an initial idea of where a computer is coming from, so first we turned to Geekbench.
[sgbenchmark id=216 show=score]
There, in the tests of processor and memory performance, the 2013 iMac scored 15,129. That's roughly 1,000 points more than last year's Core i7, unsurprising given Intel's goals with the Haswell architecture were more focused on making longer-lasting notebooks and ultraportables than they were raw performance. That pays dividends in the long-lasting MacBook Air, but is harder to demonstrate on a desktop.
[sgbenchmark id=216 show=system]
The gentle improvement in computational performance continued as we tested using SunSpider, the JavaScript benchmarking tool of browser performance. The 2013 iMac completed the test in 115.5ms (faster is better), versus the 133.3ms of last year's model. In Cinebench, a test of processor of graphics performance, the new iMac scored 7.83 points in the CPU category, a small step up from 7.32 points last year.
However, the improvements in graphics power were more clearly evident in Cinebench, with the new iMac scoring 58.08 fps versus its predecessor's 42.72 fps. That's more than enough grunt for games and video processing, and it's helped even more by the switch to PCIe in Fusion Drive.
The write performance of the new Fusion Drive is almost exactly the same as the old model, coming in at 318.9 MB/s in Blackmagic's Disk Speed Test versus 2012's 318.7 MB/s. However, read rate shoots up by more than 67-percent over last year, now managing 686.4 MB/s against the 2012 iMac's 409.6 MB/s.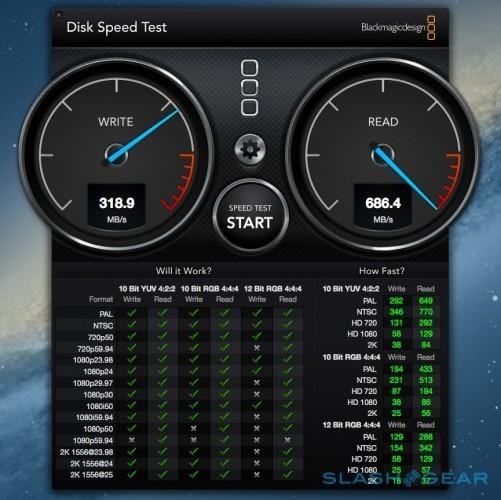 The upshot is a system that feels that extra bit perky during use. Apps, even heavier titles like Aperture and iMovie, load without lag, and even when handling huge numbers of image galleries, iPhoto shows no tendency to slow down. The 128GB of dynamically-assigned flash in Fusion Drive means that there's effectively room for everything you might want to be doing at any one point in faster solid-state storage, and that really pays dividends. We exported a five minute 1080p video in 6 minutes, 50 seconds from iMovie, while the 720p version exported in 3 minutes 6 seconds.
Value
Apple's 21.5-inch iMac starts off at $1,299, or $1,499 for the higher-spec version. The 27-inch iMac starts at $1,799, or $1,999 for its higher-spec version. Head into the options list, and Fusion Drive now starts from $200 – versus $250 last year – for the 1TB upgrade; alternatively, you can have up to 1TB of all-flash storage, though that will cost you an extra $1,000.
Our review model, with the Core i7 processor upgrade ($200), 3TB Fusion Drive ($350), and NVIDIA GeForce GTX 780M 4GB graphics ($150) comes to $2,699 in total.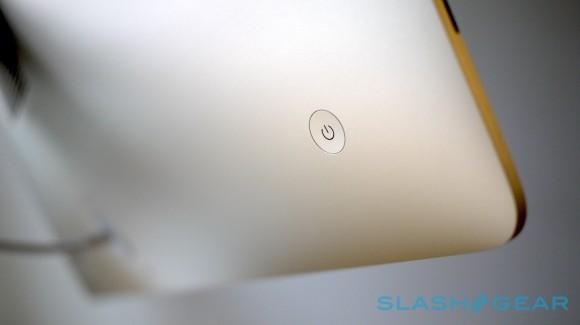 Of those options, the one we'd insist every iMac buyer should select is the Fusion Drive. If you're opting for the 21.5-inch model, it's worth giving serious thought to the 16GB memory upgrade, too: yes, it costs $200, but the absence of user-accessible ports means there's no option to increase it later on. Those with a 27-inch iMac can always opt to switch out the memory themselves at a later date, however.
Upgrade potential isn't, really, though the primary goal of an all-in-one machine. Apple has a few competitors on the Windows 8 side offering all-in-ones, and none are designed with much of a mind toward DIY upgrades. The upshot, certainly in the iMac's case, is the resulting design and compact footprint: a full computer – a powerful one at that – in less space than many monitors.
Wrap-Up
First things first: if you want a computer that's amenable to hardware tinkering, an all-in-one is not the way to go, iMac or otherwise. Apple's gamble was that its users would rather have compactness, power, and premium design, even if it meant accessing the inside of their iMac (or, indeed, MacBook Pro) was less straightforward, and the market seems to have proved it right. For a large section of the computer-using population, getting elbows-deep in a PC case holds little to no appeal.
Compared to 2012's iMac, the 2013 model is a step up in all ways. Even if you stick to the more affordable end, our must-have upgrade, the Fusion Drive, is now $50 less than it was a year ago; you can now also specify it on the entry-level iMac, which wasn't an option before. Yes, we know you don't get that instant gratification of walking out of an Apple Store with your new purchase, but you'll thank us later on.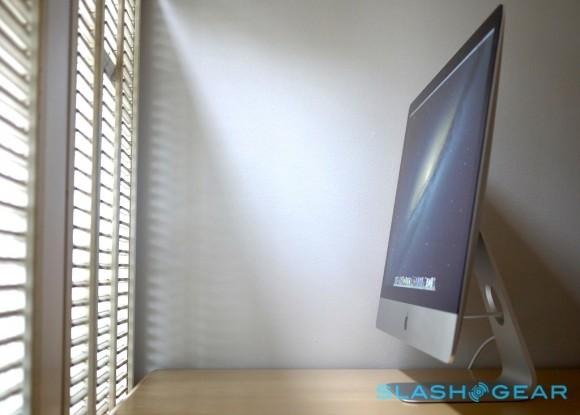 Meanwhile, power users have their pick of an options sheet that doesn't limit you to half-hearted graphics or weedy processors. Intel's fourth-gen chips show only moderate improvements over before, but the new NVIDIA 700 Series GPUs offer a neat step up, and turn the iMac into a more than capable gaming machine.
More affordable at its best, and more capable at its maximum: that seems a pretty good way to sum up the 2013 iMac. Apple's all-in-one not only looks the part but delivers on performance when the right boxes are ticked, and whether you're a gamer, a multimedia editor, or just love browsing, the combination of speed, design, and screen performance make it an excellent option.