Apple Awarded Patent for Solar-Powered Devices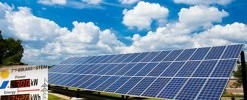 Solar power is becoming a common addition to some gadgets. Yet, it's mostly tied to accessories that charge our more important devices, rather than being an integral part of them. That looks to be changing for at least one company, as Apple has recently been awarded a patent for solar-powered devices. Generally speaking, the patent describes solutions for charging devices that range from smartphones, to laptops and tablet devices, courtesy of solar power.
The general description of the patent goes into detail about the devices that would be included, which describes about as generally as possible any of the devices aforementioned. It goes on to say that these things could be charged from several different sources, and that solar power would be part of that method. This particular patent was originally filed by Apple way back in the first quarter of 2009. Rumors about a solar-powered Apple-branded device haven't been as rampant as others, but they are out there, and this awarded patent would suggest that the company is certainly looking into the possibility.
[via TechCrunch]