Android Ice Cream Sandwich and Texas Instruments Collaboration Promised for Fall Rollout

Before we begin, note that we said this same thing back in June on the first. It appears that Texas Instruments will be first in efforts to graphically represent their support for Android's newest operating system, Android Ice Cream Sandwich, a system Google promises will meld the handset version and the tablet version of the Android mobile OS together with two layers of lovely chocolate sandwich bits. What Texas Instruments has done today is show one frame of a slideshow (shown below) to publishers that its representatives are calling a promotional image that Texas Instruments will use for events "in the fall." This more than likely means that Ice Cream Sandwich will indeed be released before the end of the year and that we'll see some powerful new chipsets coming out with TI before 2012 arrives as well.
Earlier today we also heard news of NVIDIA's upcoming progression into the quad-core world of processors, certainly planning on chowing down on some tasty sandwiches in the process as well. As Texas Instruments shows their support in the form of an actual singular graphic, one must wonder if this means Google will be releasing their next Nexus device in the form of a Texas Instruments dual-core processor packing device or of it just means TI is planning on loving Ice Cream Sandwich no matter the circumstance. The love will be abundant.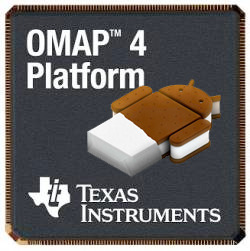 Texas Instruments currently has two competitive dual-core processors in the mix, but 4460 and the 4470, the latter bringing the heavy power into the future. The 4470 is rated at 1.8GHz, significantly higher than the 1.5GHz and 1.0Ghz processors we're seeing in handsets and tablets today. The faster memory is supported by a modified memory controller and this 4470 processor includes a PowerVR SGX544 GPU, this same GPU showing up in the upcoming OMAP5, TI's next generation chipset. The 4470 is expected to start showing up later this year and will be placed in devices inside the beginning of 2012.
Also note that its been stated that upcoming Amazon tablets will be using Texas Instruments chips, this being a big deal because NVIDIA's been running the Android tablet market thus far with their Tegra 2 dual-core chipset. What's suggested above lines up with previous rumors that the next-generation Nexus device running Ice Cream Sandwich will indeed not be running NVIDIA's quad-core processor and will instead very possibly be running Texas Instruments OMAP4 4460 processor – why on earth they'd choose to go with a generation before the most current generation processor is beyond sense – unless of course the newest chipset wont be ready for production at the time of the release of Ice Cream Sandwich, this meaning that the next generation Nexus device is right around the corner!