AMD ATI XPG external 1080p video card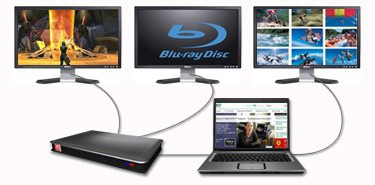 As well as the Puma platform, AMD have also launched their ATI XGP eXternal Graphics Platform at Computex.  In effect an external PCI Express 2.0 video card in a standalone enclosure, it relies on a self-latching, easy-connecting PCIe 2.0 cable and, once hooked up, can run up to 4 displays.  It also comes with HDMI with integrated audio, DVI and USB connections for attaching external peripherals.
The PCIe 2.0 cable supports a maximum bi-directional bandwidth of up to 4.0 Gbyte/s in each direction.  Inside the XPG box is an ATI Mobility Radeon HD 3870 graphics card, capable of high-definition 1080p output to multiple displays simultaneously.  It also supports ATI Avivo HD Technology, which claims to smooth video and still image HD playback, and the Unified Video Decoder (UVD) offering full hardware acceleration of video decoding. 
AMD are suggesting that the XPG setup would be ideal for power-users – such as gamers or those who do intensive graphics and/or video work – who want a compact notebook for travel but need high-performance once back in the office. 
For more details of the AMD XGP system check out the official product page.