AMD 1GHz single-core ultraportable chip in development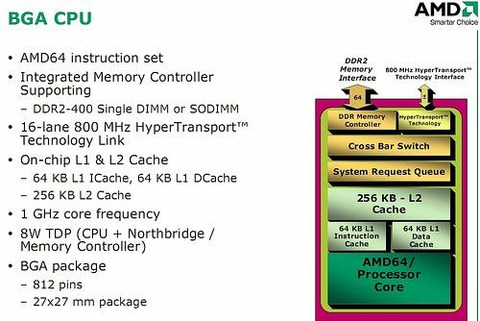 AMD are planning a new, single-core CPU running at just 1GHz, intended to rival Intel's Atom and VIA's Nano processors.  The chip, confirmed in a presentation slide from the company, would be 64-bit and support AMD's HyperTransport technology, but have a TDP of just 8W.
The chipset would include the main CPU as well as the Northbridge memory controller (happy with DDR2-400 RAM), though not the Southbridge or GPU.  Presumably AMD are intending it as a possible candidate for the latest budget ultraportables, although no hint of possible pricing has been given.
Nonetheless, the Atom's TDP still undercuts this new AMD chip, and that limits its practicality in the very smallest of ultraportables.  The N270 Diamondville Atom chip used in the Eee PC and MSI's Wind has a TDP of just 2.5W (excluding the Northbridge, which is separate).
[via UMPC Portal]