Ambilight gets competition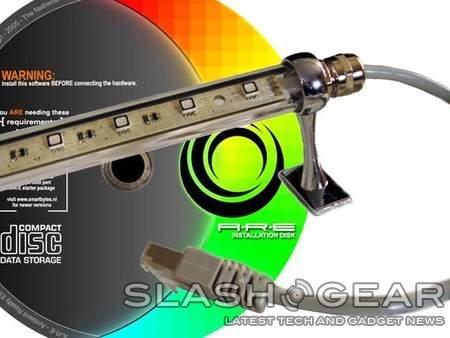 Philips Ambilight is one of those "clever, but does it really work?" concepts that, surprisingly enough, has received generally great reviews. Put simply, it matches the predominant tones on-screen as an LED colourwash on the wall behind the TV, giving the appearance of a bigger, more harmonious picture.Still, it's an expensive addition to an already pricey piece of home entertainment equipment, and of course only available on Philips' own sets. Far more useful, you might think, is an aftermarket system that could be used on any screen.
Ambient Reality Effects (A.R.E.), a Netherlands based company, believe they have just that system – up to four strips of coloured LEDs that, when hooked up to a Media Centre PC, flood the background wall with ambient light. Screen analysis software runs quietly in the background, monitoring what's being shown and mixing together the perfect blend of lighting to emphasise it.
The starter package – which includes the software, one LED strip, cables and power supply – costs 165 Euros ($211), with the SDK as a free download for people interested in integrating the technology in their programs.
A.E.R. [via pocket-lint]