Amazon Kindle Fire refresh details leak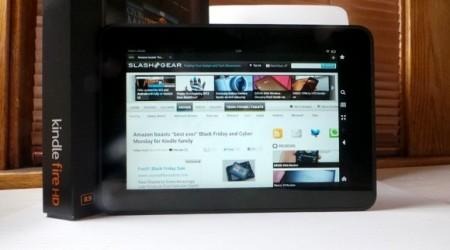 Amazon's current heap of Kindle slates have been out on the market for quite some time now, begging the question of when the company will release its second-generation lineup of Kindle tablets. It's reported that we'll see a refresh sometime later this year in time for the holiday shopping season.
According to Boy Genius Report, Amazon is gearing up to release three new Kindle Fire tablets. The first one will be the successor to the 7-inch Kindle Fire that's currently being sold for $159. The refreshed version is said to come with a new display that will sport a higher resolution of 1280x800, which is similar to the Kindle Fire HD.
Speaking of the Kindle Fire HD, it's expected that the high-res tablet will also get a refresh. This time, it's expected that the tablet will come with an impressive 1920x1200 resolution while still keeping the screen size at 7 inches. This means that it'll have a pixel density of 323 PPI — not the best in the world, but still quite impressive.
It's also said that the Kindle Fire HD 8.9. The current 8.9-inch tablet already sports a 1920x1200 resolution, but it's said that it will be bumped up to 2560x1600, making it one of the highest-resolution displays on the market, putting it in position to be a true contender to the iPad and the Nexus 10.
As for design, the new Kindle Fire tablets are said to get a few new design changes, including a more angular design that features a flat slope out to the edges, instead of a curved slope as seen on current models. Corners are also said to not be as rounded as they are now, raising the possibility that these new tablets will be more squared shape rather than roundish. Pricing is yet to be leaked, but we'll be keeping our ear to the floor in the coming months in order to find out more information.
SOURCE: BGR