Alpine iLX-107 CarPlay review: Siri goes wireless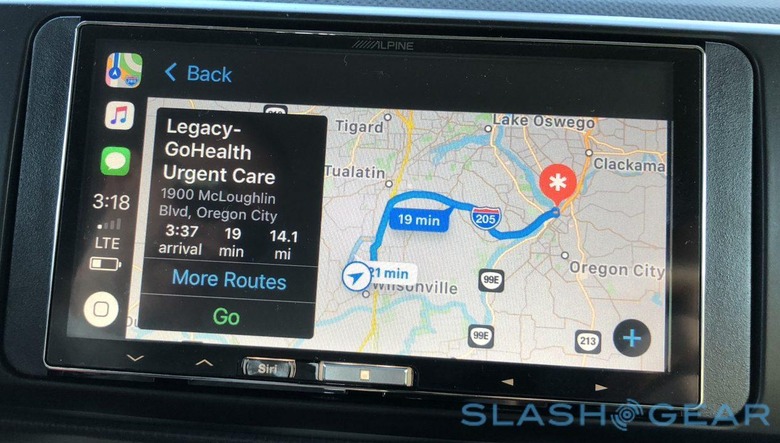 We may receive a commission on purchases made from links.
CarPlay isn't new. Introduced in 2014, it was Apple's first foray into the automotive space. It might be the precursor to Titan, or a standalone product meant as a stopgap for the time we're in, where Apple's own automated vehicle platform is still just a beta project. Either way, it's here. It's a tangible, working product. And for the first time, you don't need to wire your iPhone to the car to experience it. To test that, we took the Alpine iLX-107 for a spin. Literally.
Hardware
In-dash, the only thing you'll see from the iLX-107 is the screen. That's what we'll spend our time on with regard to hardware.
Some CarPlay devices utilize seriously bad screen technology. Alpine doesn't. The iLX-107 sports a 7-inch capacitive touch screen rather than a resistive touch panel, which makes it pretty snappy. It's not nearly as quick as an iPhone, but it's better than most in-dash touch screens.
It's a bright display, too. The only real interruptions are a large 'home' button and a dedicated Siri button below the display. The home button gets you back to the device settings, not the CarPlay home screen. Pressing the Siri button launches Apple's digital assistant, which is ready to listen to your query. A few other capacitive buttons for volume control and menu navigation also exist, but they only pop up when the display is on.
In addition to the CarPlay unit, Alpine includes a microphone. Unless your car already has an active listening mic for phone calls and the like, you'll need to mount this. Our installer says the best place is above the windshield, about where oil-change technicians put those annoying stickers. A microphone is equally annoying, but infinitely more useful.
The hero here is Bluetooth. Alpine buried Bluetooth in this unit for wireless CarPlay, and it's special. You don't need to take your phone out of a pocket or bag; a few seconds after you start your vehicle, it syncs with the phone and away you go. Like the Apple Watch, the Alpine iLX-107 makes your iPhone feel like a pocketable supercomputer that controls everything else in your life.
Another nice touch is an included GPS antenna. It's stronger and better than the one in your phone, so CarPlay uses it and sends that data to your phone. It makes for a much more responsive Maps experience, which is crucial.
Software
Here's the thing about CarPlay: as a platform, it doesn't necessarily add to your in-car iOS experience. It just makes it better. CarPlay is also seamless, and apps are front and center – and also better in some cases.
The best example is Maps, which is bolder and brighter on the 7-inch display. It's a slightly tweaked interface, and utilizes more familiar plus and minus buttons or arrows. Scrubbing through the map while driving is best when using directional arrows. The bottom left of the display always shows your next destination, and defaults to home if you have nowhere to go.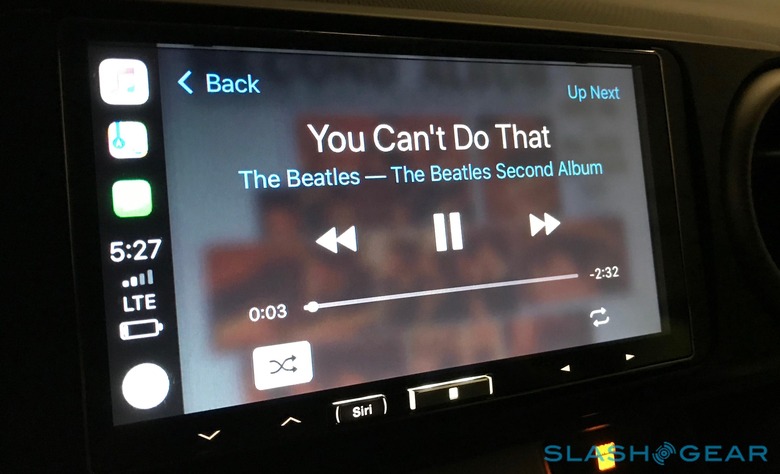 Music is also nicer. I use Apple Music, and some slight tweaks to how you discover artists or albums in your library really make CarPlay a winner. You can scroll, slip through a list using directional arrows or bring up a keypad to type out the first letter in an artist or album to quick-advance to that spot on the list. It's handy.
Background, non-CarPlay apps also feel more useful. Fantastical is my go-to calendar app. If I'm headed somewhere, I always add the destination in Fantastical. On the iPhone, a notification to leave for an appointment launches me into Fantastical, where I can choose to head into Maps. With CarPlay, Maps automatically surfaces my next destination. It's much more sleek and modern.
CarPlay navigation is really clever on Alpine's iLX-107. You always have your three most recent apps on the left of the screen, so dipping and diving between Music and Maps (just an example) is smooth. Alpine did an excellent job of thinking about how a driver would actually use apps in the car. While there's not a lot of fiddling that can be done with CarPlay itself, Alpine's UI is the best there is. The phone's battery indicator on-screen is also a nice touch.
Siri still runs the show
And that's not great. We're hoping Siri gets a lot smarter before the HomePod drops this December, but as-is she's got a lot to learn. Literally!
While driving, Messages is voice-only. If you get a message, Siri offers to read it to you. It's understandable, but also antithetical to the rest of your iOS or macOS experience. People use colloquialisms and emoji all the time, and Siri just doesn't quite understand it.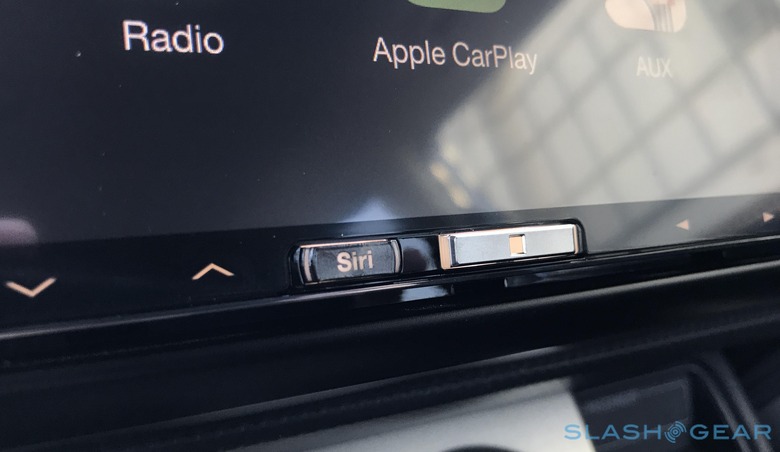 You can choose to respond via voice, but there's no way to read the message on a CarPlay screen. You also can't send emojis; even when you learn Siri's code-names for emojis (she will read them to you if someone sends you an emoji), she still defaults to text. So saying 'smiling face emoji' won't actually send the smiling emoji.
When synced, CarPlay and the iPhone cannot be used independently. If you're using Maps on your CarPlay device, you're in Maps on the phone. If you pulled out your phone to use an app not available via CarPlay, the CarPlay home screen pops up on the unit. It's meant for distraction-free driving, but can be mildly annoying at times.
Its saving grace here is that it can make good use of the dual-screen experience. Maps offers general overview directions on the phone, with turn-by-turn on the CarPlay screen. If you have your phone mounted to a dash, it's a nice one-two punch.
With a microphone right by my face, Siri has no trouble hearing me. Other units don't offer this, and I suspect it's why Siri feels limited there. My Scion xB test vehicle assumes a lot of road noise, and Siri had no issue hearing me. I must say I had one strange issue where Siri simply stopped listening for a few days, but some IT-guy 'turn it off and back on' fiddling with the iPhone and CarPlay seemed to remedy the problem.
Siri is still not perfect, and context is the biggest hurdle for CarPlay. I asked it where all the Starbucks in my area were, and it had no idea what to do. I said 'get me directions to Starbucks' and it defaulted to the closest location. I didn't want to go to that particular Starbucks, and it's a time when a list or suggestions would have been more appropriate.
You also won't get web results in CarPlay – again, distraction-free driving.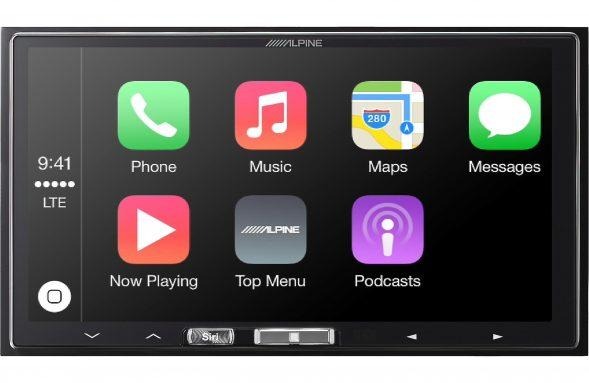 Verdict
There are two parts to this conclusion. First, CarPlay is just not iOS. You won't be able to use Facebook or send a Snap while driving. If you want to listen to music, use Maps or have some Podcasts – CarPlay is great. If you are the type who uses an iPhone as a hub for your vehicle, CarPlay is an easy aftermarket addition to talk yourself into.
And the Alpine iLX-107 isn't cheap. At $900 (I've seen it for $700, but $900 is the MSRP), it's one of the more expensive upgrades you'd readily consider. Add installation and it's a good $1,000 or better.
As an aside, we do suggest sourcing a local Alpine dealer to install the iLX-107. They probably have a better idea of what you need; if I had gone to a big-box retailer to have this unit installed, they'd probably ask where I wanted to mic mounted, and my answer would have been something that affected my experience.
Another point we should make: CarPlay uses cellular data from your phone. It does allow multiple devices to link to it, one at a time, so it's also possible to have a passenger control the action. Switching users requires the vehicle to be stopped, though, so decide who's in control before you leave for that road trip.
The iLX-107 is top of the heap, though. You can add a backup camera if you like, and wireless CarPlay is sort of magical. It's as if the platform were meant for the car, rather than being some sort of second-screen for an iPhone – which is exactly how I feel plugging it in with other units. The screen is also the best I've ever used with CarPlay or any other in-dash 'infotainment' system, both in hardware and the interface.
The best endorsement I can give is this: I'm buying one. Alpine sent me this unit for review, but I'm sold on its CarPlay experience and will be purchasing an Alpine iLX-107. It's well worth the investment, especially since it works so seamlessly with iOS, a platform I use to navigate life in general.