Allwinner has dirt cheap Remix OS laptops in the works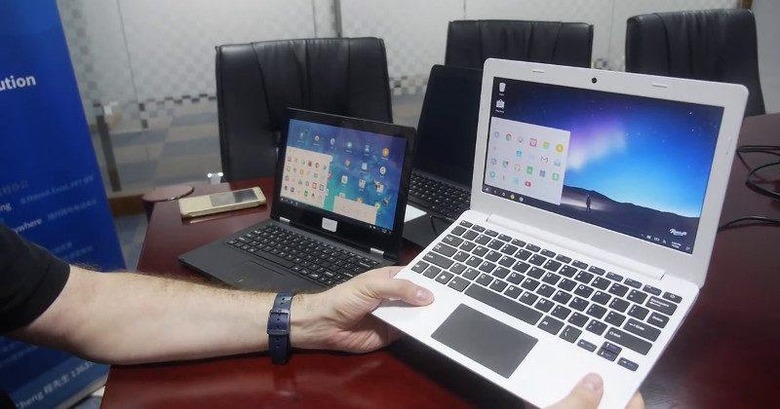 Ever wished there was an Android-powered laptop that was a wallet friendly as most Chromebooks are? Well, if there really is a market demand for that kind of device, Allwinner might make your dreams come true. Sort of. The chipmaker was found to have reference designs for at least three low-power laptops that will be running Remix OS, a version of Android that has been designed and tuned for a desktop, or laptop, experience. And how much would these laptops cost? They start at $79, which could make them the cheapest consumer laptops, regardless of OS.
They're not going to win races, mind you. Allwinner doesn't exactly have a glowing reputation when it comes to performance, but it's name is well known among low-cost, developer-friendly boards and devices. In short, they are in the best position to put out this kind of low-cost, developer-friendly, but probably niche device.
The laptops are powered by an Allwinner 64-bit quad-core A64 processor, or a 32-bit octa-core A83T chip. The displays, whether the smallest 11.6-inch or the largest 14.1-inch, goes only up to 1366x768 in resolution. Hardwware configurations start at 1 GB of RAM and 8 GB of storage, though those can go up all the way to 2 GB of RAM and 32 GB of storage. There is also one model that has an 11.6-inch touchscreen and bends over like a Lenovo Yoga.
Those who felt burned by the Pixel C's disappointing software need not worry. These laptops all run Remix OS, which has been proven to deliver on its promise of a desktop Android experience. There might be some rough edges here and there, but the jump from version 1 on the original Jide Remix Ultratablet to 2.0 on the Remix Mini just shows how much the Android spin has grown. Jide and Allwinner have actually collaborated before, with the Remix Mini running on the chip maker's processor.
That said, the sweet $79 price actually depends on so many factors, it could very well end up at $120 or so should the laptop actually go to market. So far, Allwinner hasn't revealed yet how it plans to go about it, if at all. Chances are, it will try out the idea through crowdfunding first. Should Allwinner scrap that whole venture, you could still try running Remix OS on a laptop, as Jide recently released the OS for x86 computers as well.
VIA: Liliputing