All-new 2017 GMC Acadia first drive - puts all midsize SUVs on notice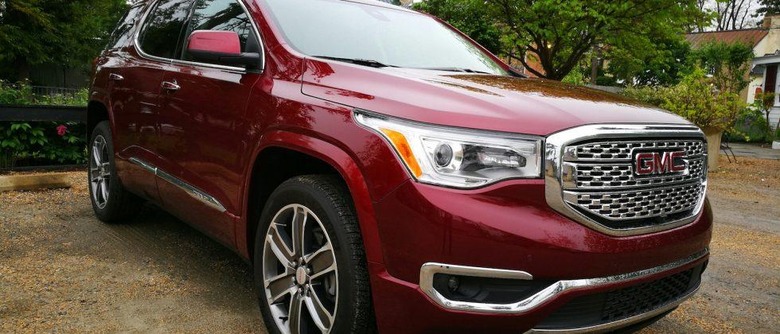 Hey, Toyota, Ford, Nissan, Honda, Audi, and yes even Cadillac: GMC's out to eat your lunch with the all-new 2017 Acadia. Targeting a wider group of buyers that spans the everyman through to thrill seekers and those looking for a premium experience without paying out for a luxury brand. GMC also went as far as taking aim at Jeep's Grand Cherokee with the five-seat, All Terrain version of the Acadia. Question is, with such big plans and broad ambitions, can GMC succeed?
There's certainly the breadth of range. The all-new Acadia is available in six trim levels, with either a new 2.5-liter DOHC 4-cylinder or a 3.6-liter V6, both with a six-speed automatic transmission. All-wheel drive is available at all trim levels aside from the SL, which is front-wheel drive only.
My take-away from driving several versions of the car boil down to the new Acadia being more refined, more versatile, and altogether more balanced. Indeed, after selling the first gen-Acadia for the last ten years, the GMC team behind the new car say they're confident they've arrived at the most well-balanced Acadia yet. Instead of locking the designers and engineers up in a room somewhere – or, worse still, allowing a wind tunnel to dictate the look – GMC actually turned to current owners and potential buyers to get an insight into what they love, hate, and would like to see in the new car.
"Right-sizing the Acadia requires an all new design and engineering"
Anyone buying a GMC goes into that process eyes wide open with expectations of premium, precision, and reliability, at least that's what the automaker tells me. That being said, the sense I get from GMC at the same time is that, over the years, the Acadia has always been somewhat the odd boy in the full lineup.
Too big to play in the midsize SUV category, its potential buyers cross-shop with the likes of the 4Runner, Q5, Highlander, or Pathfinder. That size also starts to encroach on its close cousin, Traverse.
For this new car, though, the switch to the same GM C1XX platform as the new Cadillac XT5 means it'll go head to head in both size and price. On the new platform, the Acadia is 7.2 inches shorter and 3.5 inches narrower, and has a 6.4 inch shorter wheelbase.
"The Acadia design looks more of muscular car than the outgoing model – it looks more aerodynamic because it is, it looks lighter, it is, it looks more agile, it is" Matt Noone, director of GMC Exterior Deign.
Design overall is a big improvement over the first-generation Acadia. The front end with its upright grill has an air of confidence that borders on outright aggression, while the rest of the car escapes the excess of character lines or wind-tunnel-smoothed surfacing that affect many rivals.
While it doesn't necessary stand out from the crowd, it's on par with what's on the market today, and that's not a bad thing. The family resemblances make a few key appearances, like the cut of the rear window.
The entry-level Acadia starts at $30,000, the All-Terrain at $40,000, and the top-of-the-line Acadia Denali FWD is $45,845, though as tested it topped out at $52,185 complete with GM's adaptive suspension, a $1,200 option.
Sport mode in the Denali doesn't necessary mean you can drive like you're in a sports car, but it does firm up the suspension and tighten the steering around corners. It also pushes the all-wheel drive to more rear bias, as well as tweaking the throttle and transmission settings. All in all, I found it to be unexpectedly satisfying as I cruised through Virginia's back country roads. The ride was neither too harsh nor prone to excessive body roll, which is a big deal for anyone prone to carsickness and who can find trucks wallow too much for comfort when pushed.
Switching to the SLT trim without the adaptive suspension, meanwhile, and the regular setup proved more than sufficient for a comparatively short drive along the highway, city, and backcountry roads. It's obvious that if you're going to do more spirited driving – admittedly a minority interest in what's an SUV after all – the Acadia without the option won't feel quite as planted.
If you're keeping count against the Acadia's most obvious stablemate and competition, it puts the highest-spec truck smack between the Cadillac XT5's Premium ($51,895) and Premium Luxury AWD ($54,390) trims. Probably best to drive both, then, and do some soul searching as to whether you're a Denali or a Caddy person.
New engine: 2.5-liter DOHC 4-cylinder SIDI
Shedding the weight! That's right, the new Acadia shed 740 pounds, and that's a huge amount in the car world. As well as being smaller overall, there's 280lb shaved from the vehicle structure and 100lb cut down inside the cabin by using lightweight acoustic materials for dampening.
Less heft means GMC can "right size" the engine, automaker speech for slotting in a smaller powerplant for an uptick in economy without, on paper at least, sacrificing performance.
In fact, with the new 2.5-liter 4-cylinder you're looking at an estimated EPA showing of of 21 mpg in the city, 26 mpg on the highway, and a combined 23 mpg for the FWD, versus the 3.6-liter's mpg of 18 city, 25 highway and 21 combined. GMC tells us that it's capable of doing 0 to 60 mph in a little over 9 seconds, which isn't too shabby, either.
The smaller of the two engines gets start-stop functionality, cutting out when you're at a standstill, while the V6 uses Active Fuel Management or cylinder deactivation, essentially downgrading it to a V4 when at cruising speeds without accelerations or light load.
During my testing of the 4-cylinder, I got a combined average of 25.1 mpg on a 54.9 miles stretch and 25 mph for 272.9 miles.
Those who can't imagine a truck without a V6 under the hood get a refreshed 3.6-liter, that's both more powerful and efficient than the outgoing car. It offers an estimated 4,000 pounds of towing capability as part of an optional towing package, along with an estimated 310 horsepower and 272 lb.ft. of torque.
Both engines feature direct injection and variable valve timing, and are paired with a six-speed automatic transmission and electronically controlled drive mode selector. It's the same gearbox in each, though tuned differently for each drivetrain.

GMC made both engines available, and I found the 2.5-liter 4-cylinder the more interesting of the two. Present in FWD SLT-1 trim, it's more than capable of getting you around town, though it get a little louder – mainly because it's revving higher, working harder – when climbing hills, passing slower cars, or roaring up a freeway onramp. Other than that, though, you're fine. The new V6, meanwhile, is smooth as butter and super quiet. It's no racecar engine, of course, but there's certainly enough torque to get going at a rapid pace.
It's important to note that opting for an All Terrain or Denali trim Acadia means only the 3.6-liter V6 is available. It's an important decision to make, too, since only the All-Terrain model gets GMC's advanced twin-clutch torque vectoring.
The interior looks good and genuinely feels good too
The new Acadia's interior is still relatively spacious considering the reduction in size. It has a well thought out layout with more usable space and good visibility. GMC isn't known for luxury – that's saved for Cadillac – but that being said you get a Caddy-level of premium feel in the Denali, though less so in SLT and SL trims. GMC is keen to point out what it describes as "authentic materials" at the key touch points, and your fingers notice that fact.
For me, on the verge of ditching our dated Honda Odyssey, I need that all-important third row for when we have guests or mothers-in-law in town. In a perfect world, then, the Acadia's third row would accommodate a full grown adult or two comfortably, but sadly that perfect world doesn't exist.
That being said, it's adequate for children or teenager. In the second row you get the option of a bench seat accommodating three adults or a pair of captain's chairs. Since the All-Terrain model is sportiest of the trims, GMC expects owners to be more adventurers than they are people haulers; as such, five passengers is the most you can pack in this trim.
The second and third rows lay relatively flat for hauling all the "stuff" you somehow accumulate, effective turning the Acadia into a van with plenty room for me – at 6'2 – and a companion should we decide to take the truck camping or hauling lumber. Speaking of lumber, GMC says that the fabric it used is notably more durable than what you'll find in its competitors cars.
As for road noise, thanks to the new acoustic material the Acadia Denial is noticeably quieter, with little road, wind, or exterior noise making it inside courtesy of three additional sound-insulation absorbers including thicker floor carpeting.
Safety features and connectivity technologies
Auto safety tech has moved on dramatically since the last Acadia was new, and the 2017 truck has a wealth of active technology to keep you, passengers, and those on the road around you in one piece.
Front Pedestrian Braking, Low Speed forward Automatic braking (standard on the SLT-2 and Denali), Forward Automatic Braking (available only on the Denali), Following Distance Indicator, IntelliBeam automatic headlamp high-beam control, Surround Vision camera system, Forward Collision Alert, Lane Keep Assist with Lane Departure Warning, and Lane Change Alert with Side Blind Zone Alert can all be had.
Most of these have been carried over from other GM-group cars, but Rear Seat Reminder is an industry-first worth highlighting. Every year, there are far too many deaths from heat, after children are accidentally or deliberately left in cars. For me this hits a little closer to home because I live in Arizona, and it breaks my heart every time I hear about it on the news. Rear Seat Reminder is so simple yet equally so brilliant, it makes me wonder why it's taken this long for an automaker to implement something like it.
How does this work? There's a sensor on each of the rear passenger doors; if either one was opened within 10 minutes of the engine being started, you'll get five chimes and a warning on the Driver Information Center (DIC) when you shut off the engine.
Tricia Morrow, of GM's Global Vehicle Safety, makes it clear that you as the driver are still ultimately responsible for the safety of your children, and that while Rear Seat Reminder helps with that, it's not infallible: it's unable to detect the difference between kids, dogs, or your lunch. GMC turns it on by default, though owners without kids can turn it off in the vehicle's settings.
As for the rest of the dashboard tech, for the driver, the display facing them depends on the trim. The Denali gets the largest center display, while the SLT and All Terrain make do with smaller panels; I drove the Denali first, which I found I regretted later because it ruined me. The driver displays on the other trims are much smaller, framed with the fuel and temperature read-outs, and personally I'm not a big fan of this placement.
Like other recent GM vehicles, there's OnStar with 4G LTE and WiFi hotspot support as standard, in addition to various apps you can download for adding features to the infotainment system.
For anyone planning on doing any towing, meanwhile, the Tow Vision Trailer system should help make hitching easier by using the rear-vision camera. Just as regular reversing gets useful lines to guide you into a space, the towing system overlays dynamic guidelines to help you line up the Acadia's hitch with a trailer, as well as allowing you to check up on the trailer while you're driving.
What is professional grade? According to GMC, it's being bold, capable and precisely crafted. Does the new Acadia live up to the high expectation? Yes, though with reservations because – due to the weather not cooperating – we weren't able to take the All Terrain Acadia out "off roading", and GMC didn't have tests to demonstrate towing capability.
The all-new 2017 Acadia is a prime example that a premium package doesn't necessarily have to be big, too. "Right sized" in this case means perfect for everyday use, particularly what has become the natural habitat for the midsize SUV: spending most of the week in town, before venturing further afield for leisure time. It's a hotly-contested segment, but the new Acadia is well-equipped to stand out with its combination of driving dynamics and quietly-assured quality.