AgfaPhoto OPTIMA 830UW: water, frost & shock-proof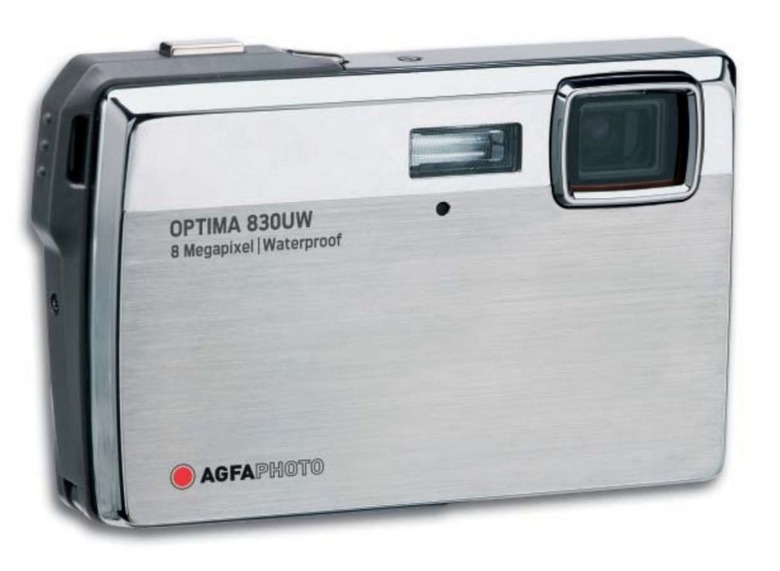 While the poster-kids of PMA might be expensive DSLRs, there's plenty of budget fun to be had too.  AgfaPhoto believe they've a good example of that latter category, with the point-and-shoot waterproof, frostproof and drop-resistant AgfaPhoto OPTIMA 830UW.  
The OPTIMA 830UW has an 8-megapixel sensor, 3x optical zoom and ISO 1600 sensitivity, together with 21 scene mode programs, but the clever stuff is in its hardy silver metal casing.  That's frostproof to -5 degrees C (22 degrees F), waterproof down to 10m (33 feet) and can survive a drop from one meter (3.3 feet).
There's also an image stabilizer, just in case you're shivering from the cold temperatures or the proximity to sharks, together with Smile Detection.  The preview display is 2.5-inches.
The AgfaPhoto OPTIMA 830UW is available now, priced at $349.95. 
Press Release:
PMA 09: AgfaPhoto presents a digital camera for nature and sports fans

The AgfaPhoto OPTIMA 830UW is ideal for diving, hiking and skiing

Las Vegas (USA) / Uhingen (Germany), March 2nd, 2009. Only a few days are left until AgfaPhoto releases the new outdoor camera AgfaPhoto OPTIMA 830UW. The new camera will be launched at the PMA in Las Vegas, from March 3rd through to March 5th, 2009, in the South Hall at booth A 271.

Waterproof, frost-proof and shockproof

The extra sturdy, but lightweight digital camera is an ideal companion on the go, delivering a great performance in every one of your favorite sports and activities. It can be used for diving up to a depth of ten meters (33 feet) and, needless to mention, also takes pictures in the rain. The camera is also fit for winter, because it is frost-proof up to a temperature of -5°C (22°F). Even a fall doesn't throw the AgfaPhoto OPTIMA 830UW off balance, as it is shockproof for a fall from a height of one meter (3.3 feet). The AgfaPhoto OPTIMA 830UW comes with a built-in image stabilizer, which guarantees that real-life action shots don't get blurry. Taking unique souvenir photos of ski trips and sleigh rides is a cinch. For this purpose you may also want to use the panorama function, which is ideally suited for wide views from mountain peaks. With the included software "Zoner PanoramaMaker", it's easy to make great 360-degree shots on your computer. And to show the fun with so much outdoor action, there is the "Smile Detection" function, ensuring the right focus just when everyone is smiling.

Even more top technology in a sporty outfit

The AgfaPhoto OPTIMA 830UW has a 2.5-inch wide TFT display, with 3X optical zoom, 8 mega pixel resolution, high photo sensitivity of up to ISO 1600, and 21 scene mode programs, such as underwater or night shot modes. The camera leads the pack not only with its technology, but also with its sporty silver metal casing.

The AgfaPhoto OPTIMA 830UW is available immediately for only $349.95 dollars (MSRP including VAT).

The AgfaPhoto brand:

AgfaPhoto is the world-renowned brand for Consumer Imaging Products. Right from the start, AgfaPhoto has stood for quality and smart solutions in the Consumer Imaging sector. The operation of the products is childsplay and this enables everyone to enjoy successful pictures with AgfaPhoto. AgfaPhoto is the personal companion that enables consumers to experience the world of images in all their exciting facets more intensely and convert those special moments in life into permanent memories for sharing. These are the claims and assurances of the AgfaPhoto brand. Under this brand promise, AgfaPhoto offers attractive Consumer Imaging products such as digital cameras, single-use cameras, digital picture frames, storage media, films and batteries.

www.agfaphoto.com