Age of Ascent aims at world record for largest video game battle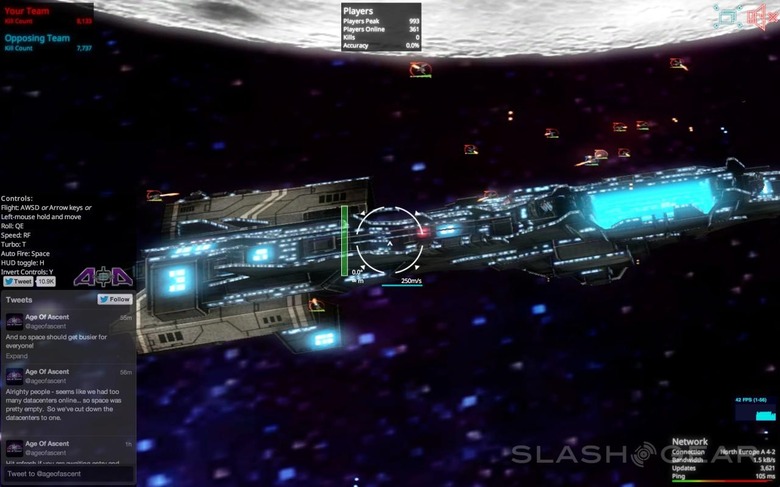 As attempts at getting people to pay attention to your crowd-funding venture go, aiming for a world record with the Guinness book of world records isn't the worst idea you could have. The team at Illyriao Games are attempting to break the world record for "World's Largest Videogame PvP Battle" today starting at 7pm GMT / 3pm Eastern / noon Pacific – at the time of this article's writing, they've got 376 players online with a peak of 993.
Apparently about 49 minutes before this article was made, the team had a problem with "too many datacenters" being online at once. As the group is aiming to take the record away from the incumbent holder of largest video game battle this afternoon, they'll need to have servers ready to roll. To do this, the team is relying on Microsoft's Azure service to do the dirty work.
This is a similar situation to what's happening now with Titanfall. Because Titanfall is all online, they're relying heavily on Windows Azure to keep them in play. Without Microsoft's datacenters staying up and reliable, there is no game.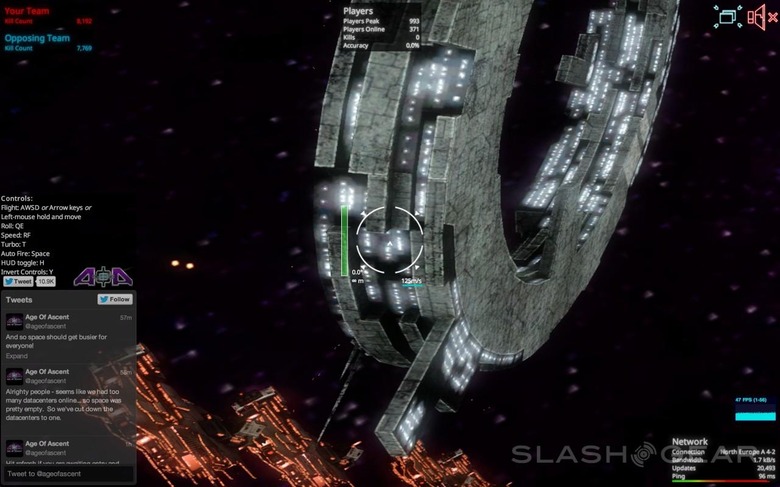 Inside Age of Ascent, the game is all about being a "full sandbox MMO", made real here this week in Alpha mode. This demonstration made today requires that players work with a WebGL-capable web browser: Google Chrome, Firefox, Opera, and IE11 will work. Safari will not work.
Users wishing to have a peek at the game and potentially take part in the world record break should head over to http://alpha.ageofascent.com/public_alpha_preview.htm and dive in now. Also note that between the time this article was started and when it was published, over 300 more ships have joined the fight – at this rate they'll have broken the record within minutes.
UPDATE: Missed! According to the official Age of Ascent Twitter, the group missed the record by a bit. "Hopefully you saw a bit of what AoA is about – regardless of missing the record – and I hope you'll consider backing the kickstarter!" The team has also let the public know that "the technology worked (though a bit of rubber banding and surging when we started merging traffic) so that's good news." We'll see more of this game in the near future!