Activision details three Black Ops II special editions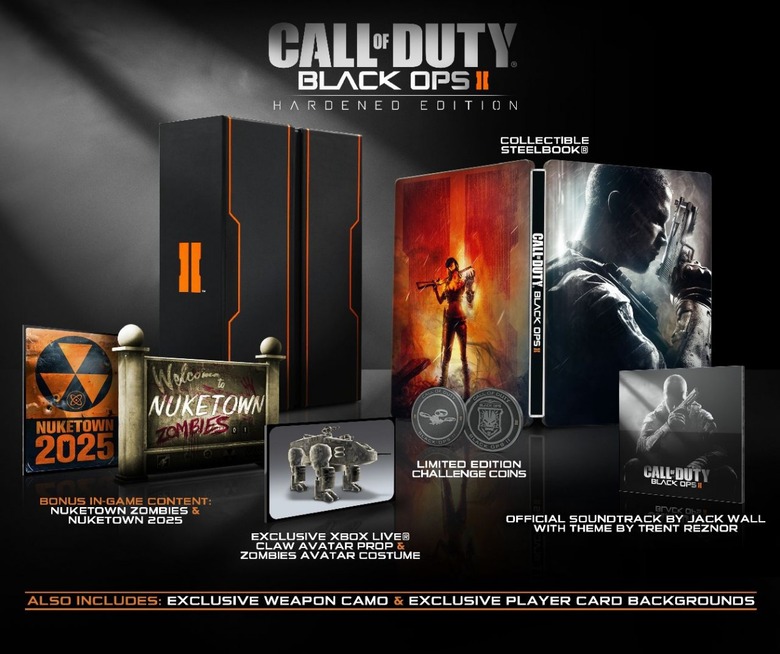 With all of the hype surrounding Black Ops II, a collector's edition was inevitable. Activision has done us one better, though, and announced a total of three collector's editions for the game. The expected Hardened Edition and PC Digital Deluxe edition are present, along with the Care Package Edition, which comes packed full of goodies for the die-hard Call of Duty fan.
Starting off with the Hardened Edition, you'll be getting the game (naturally), along with the Nuketown Zombies map and the Nuketown 2025 map. Also included in this package is a 2-sided steel book for your game disc, a copy of the Black Ops II soundtrack, two limited edition challenge coins "that serve as your key to exclusive digital content," two player card backgrounds, and a multiplayer weapon skin. Those buying the Xbox 360 version will get a CLAW Avatar prop and a Zombie Avatar costume, while those on PS3 will be getting a dynamic multiplayer Turbine theme and a dynamic Zombies theme. The Hardened Edition will set you back $79.99, which isn't too bad a price considering the bonuses you're getting.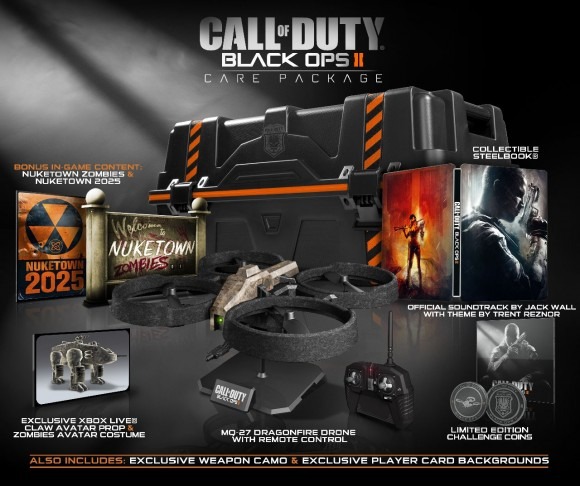 The Care Package Edition is almost exactly the same as the Hardened Edition, only with this one you're getting a rather expensive bonus: a remote controlled MQ-27 Dragonfire Drone. The drone is a pretty excellent addition, but be prepared to shell out a significant amount of money for it, as the Care Package Edition comes in at $179.99. Also detailed today was the PC Digital Deluxe Edition, which comes with all of the bonuses featured in the Hardened Edition, but instead of Avatar items or dynamic themes, PC players will get a download code for Call of Duty: World at War. The PC Digitial Deluxe Edition also costs the same as the Hardened Edition – $79.99.
Strangely enough, a subscription to Call of Duty Elite doesn't appear to be included in these special editions. After including an Elite membership with Modern Warfare 3's special editions, we assumed that Activision would do the same with Black Ops II, but that assumption was apparently wrong. Will you be picking up one of these Black Ops II special editions, or is it the standard edition for you?
[via Activision]