Acer reveals Veriton Z2620G and Veriton Z2610G slim all-in-one PCs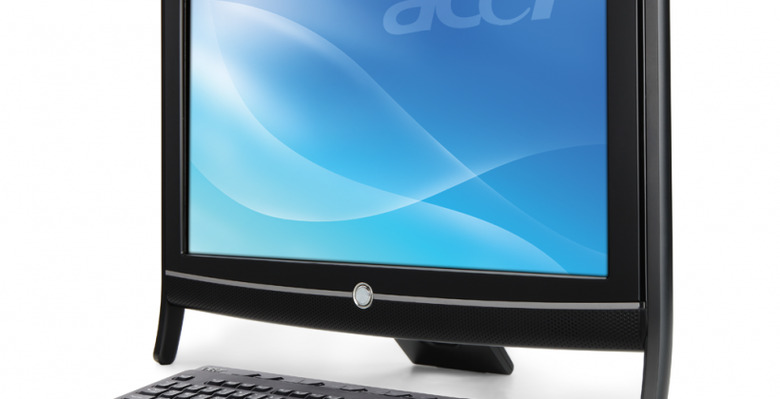 In addition to the all-in-one PCs revealed earlier this morning in the Z series, Acer is presenting this week their first official glimpse of two all-in-one PCs under the Veriton name, Z2620G and Z2610G. While the Z series devices released this morning are mostly for entertainment it would seem, the Veriton duo here looks to be set for business. Ideal for "anywhere that space conservation and presentation are a priority" says Acer's Commercial Systems Business Manager Leila Axelle Robert, and with a 20-inch display on each of these units with a slim display cutting down on bulk, they certainly are that.
The first of two machines, the Acer Veriton Z2620G, features an Intel® Core™ i5-2400s quad-core chip (6MB cache, 2.50 GHz with Max Turbo Frequency up to 3.30GHz) with nothing less than NVIDIA GeForce GT 520M for graphics. This device is the more expensive of the two devices and starts at $849.99. Both devices have the same monitor and basically the same set of insides beyond the processor, and we'll get to the rest after the second unit listed next.
The Acer Veriton Z2610G, the less expensive of the two machines here, runs on an Intel Pentium G620 dual-core processor (3MB cache, 2.60GHz) and has slightly less fantastic Intel HD Graphics. This unit starts at $649.99. Both units are available in a black and silver chassis and have a lovely 20-inch widescreen LCD display.
The display on both of these units has a 1600 x 900 pixel resolution as well as 4GB DDR3 SDRAM with the option to upgrade to 8GB through its two open memory slots. You'll also have a 500GB SATA hard drive for optimum space, a SuperMulti optical drive, and Acer Proshield for data safeguarding. Proshield comes with BIOS import and export, an encrypted hidden drive, and a virtual file shredder for those of you that love to toss in all your virtual letters without opening them. Data recovery is handles by Acer's One-Button Recovery function which has access to your original factory default or the last system backup you initiated.
Both of the Veriton units in this post are available in the USA via Acer authorized retailers now and come with a one-year limited warrantee. Both units come with Adobe Reader, Windows 7 Professional, and of course, Internet Explorer.