Acer Predator 17 Gaming Laptop Review: Big Red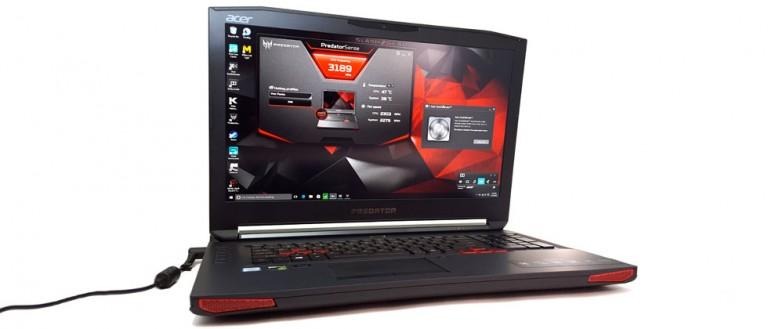 The Acer Predator 17 is not just a good first-shot from a relatively new gaming line, it's a darn good notebook in and of itself. This laptop is large enough to give you a full gaming experience without being so bulky you'll never move it from your desk. This laptop is also clearly a gaming machine, but doesn't look like you decided on your hardware's look when you were young and foolish. In short – this is the gaming laptop you want if you're not afraid to go big, but don't want to drop cash on just any ol' run-of-the-mill flashy gamer unit.
Hardware / Design
Acer isn't being shy with this Predator line of gaming products. They look the part, that's for certain. I'm not the type of person to shy away from loud aesthetics, and this Predator notebook certainly has them, but Acer has done a good job of bringing on a mix of muted, matte blacks and bright red accents.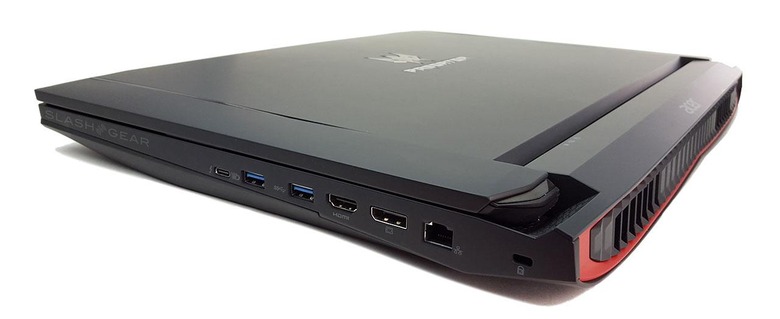 Above: Ports on the right. Below: Ports on the left.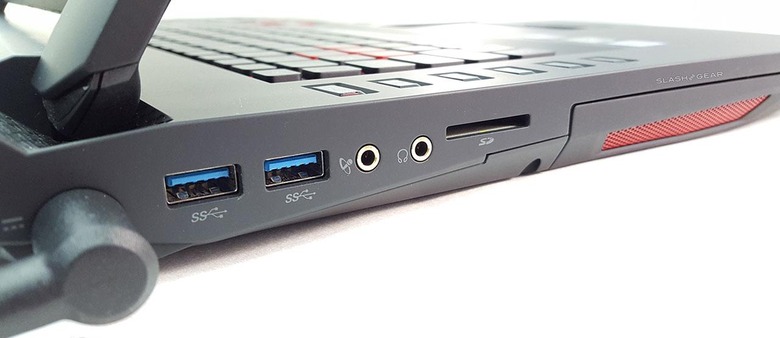 While there are a few tiny LEDs we'd like to be able to shut off if we had the option, the look of this device is sharp without being distracting. People won't step up to you in a coffee shop to ask you what laptop you're using – unless they stop to speak about its size, of course.
While this notebook is large, it's not overly heavy at just over 8 pounds.
My wife recently used an HP workbook from several years ago that was significantly thicker and heavier than what we're gaming on today – THAT was a hulking hunk of a laptop.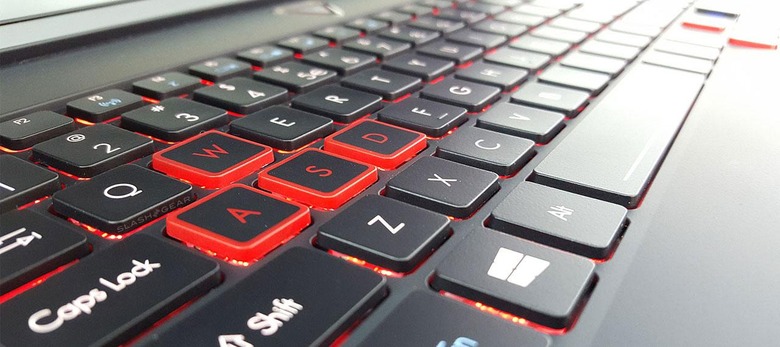 Compared to some of the thinnest gaming-aimed laptops on the market today (like the Razer Blade line, for example), this Predator 17 isn't at all thin or light. But you'll know what you're in for before you see this device – you'll know exactly what you've dropped your cash on when you get up close and personal with this large piece of gaming modernism.
We had no issue playing games as modern as Metal Gear Solid 5 and as "old" as Metro: Last Light. Of course we're not generally playing everything on High, since that's not the intent with this notebook – but we certainly could.
Again, this gaming notebook isn't the sort of thing you're going to buy if you're planning on getting the most visually spectacular gaming experience of your life – for that, get a tower and a VR headset. Instead, this laptop is ready to roll for basically every other sort of gaming, be it competitive, casual, or anything in-between.
Display
The Predator 17 gaming notebook we're working with here has a 17.3-inch Full HD (1920 x 1080 pixel) IPS (Active Matrix TFT Color LCD) display with a 16:9 aspect ratio. With a 6th-gen Intel Core i7 processor and NVIDIA GeForce GTX 980M graphics, this size display is not particularly difficult to deliver high performance to.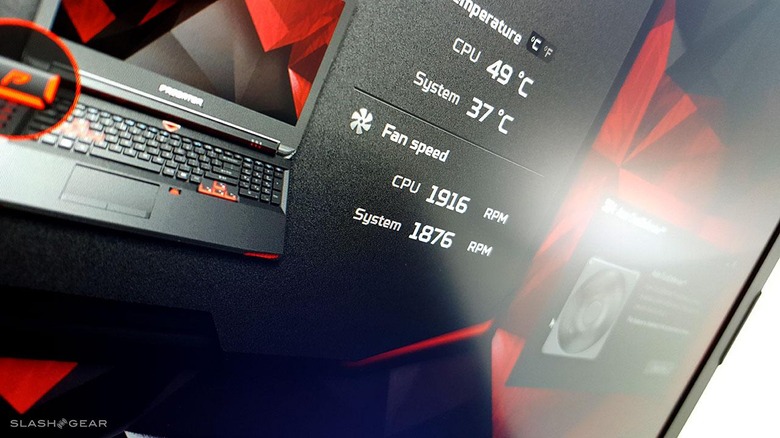 It's clear here that Acer intends this notebook to be used by competitive gamers – or at least those gamers that wish to practice their skills on the go with as much power as their backpack will carry.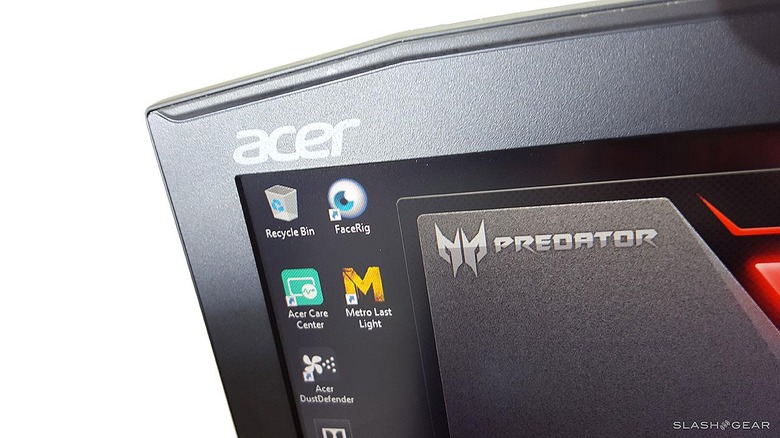 Notice: While there's a fairly standard amount of glare with the pane in front of the display here, there's nary a viewing angle we cannot see the screen at.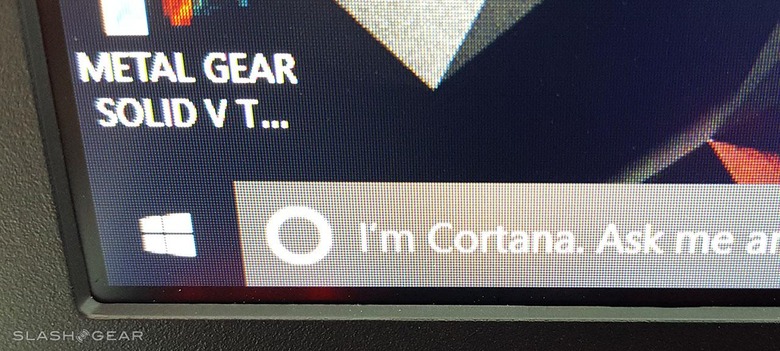 This isn't the Samsung ATIV Book 9 Pro. It doesn't have the most eye-searingly sharp display on the market – it's not meant to. This notebook was made to game, and for that, it's great.
With G-Sync, we're able to hook up with a G-Sync-enabled monitor to enable near-perfect visual display, devoid of stutter, tearing, or any kind of lag noticeable by the human eye. This technology continues to impress us, from PC towers down to notebooks such as these.* It's crazy. It works great.
Temperature / Noise
When you're using this device for non-gaming purposes, you'll rarely hear the fans. The laptop will remain cool, at or below 30 degrees celsius (or around 86 degrees fahrenheit) inside – and well below that on its outside panels. Once you start playing some heavy games, you'll start to hear the fans in a big way.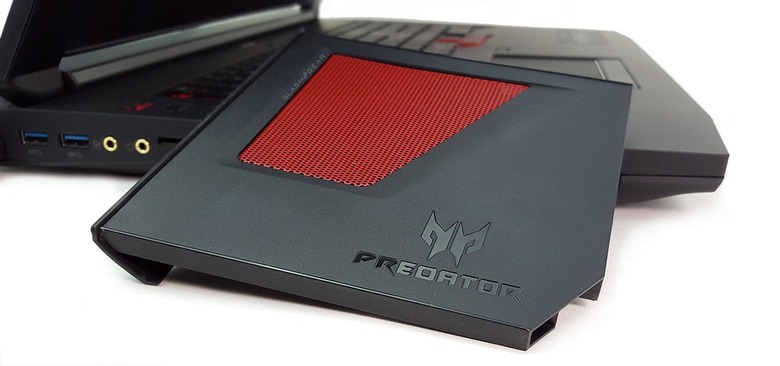 Above: the removable, replaceable Cooler Master fan included with the notebook. You can have this fan in or your Blu-Ray player, one at a time, plug and play.
If the fans can do their job, and do it right, at this time in history we don't really care how loud they're going to get. We're using either headphones whilst gaming or cranking the volume up to max – either way, the fans aren't going to matter so far as sound goes.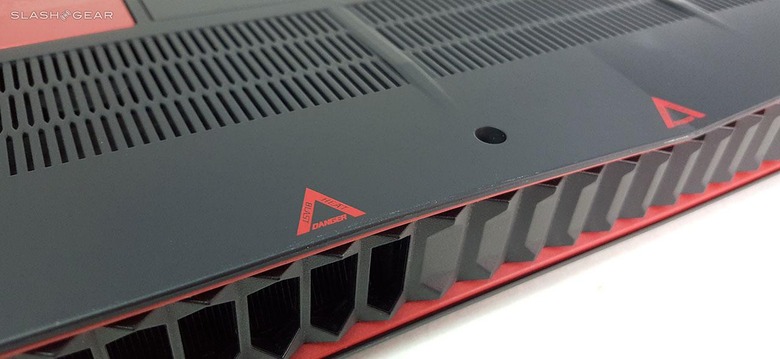 If you have a quieter computer that also stays as cool as this Predator 17 does, at the performance levels we're seeing here, we'd love to see it. We're expecting the sounds we're hearing now to continue until a better mobile cooling solution is delivered at scale.
Meanwhile Acer employs features like "Predator Dust Defender" that tells your fans to switch directions every once in a while to avoid dust. We might be stuck with fans, but at least our fans won't be stuck with dust.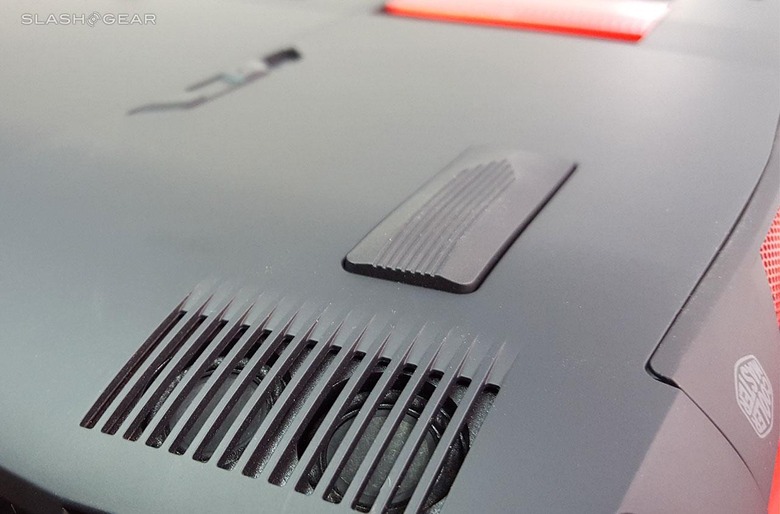 Above: Downward-facing speakers. Below: Subwoofer (also on the notebook's bottom).
As far as AUDIO goes – that's the sound you WANT to hear – this Predator machine is elite. The sound system on this notebook, regardless of the fact that several of the speakers are facing downward instead of up and/or forward, is top notch. You can very easily turn this Acer machine's speakers up too loud, that's for certain.
Pricing
What struck us as surprising here was a 2-year warranty straight from Acer. When you buy this device, Acer has your back. That's the kind of support you expect from custom-made gaming PC companies, not big-name manufacturers. Acer even has a dedicated support line specifically for their Predator devices, so you're speaking with people who understand the gaming-centric language you're speaking.
The base model Acer Predator 17 will cost you a cool $1,599.99 USD, coming with Windows 10, 6th gen Intel Core i7, NVIDIA GeForce GTX 970M GPU, and 3GB GDDR5 VRAM. You'll also get 16GB DDR4 Dual Channel Memory, 128GB SSD, and a 1TB 7200RPM SATA Hard Drive.
The model we've got goes by the name Acer Predator 17 G9-791-79Y3, and will cost you $2,599.99 USD. For that you'll get Windows 10, 6th gen Intel Core i7, NVIDIA GeForce GTX 980M GPU, and 4GB GDDR5 VRAM. Also inside this model is 32GB DDR4 Dual Channel Memory, 512GB SSD, 1TB 7200RPM SATA Hard Drive, and the ability to swap in a 6x Blu-ray Disk drive (for which you can swap in a Cooler Master fan (branded Predator FrostCore unit) when you're not in need of a Blu-ray drive).
*Some models do not come with NVIDIA G-Sync support – the one we're reviewing here does.
Wrap-up
This machine is a monster. It's not made to bring you the same graphics and experience as your top-powered gaming tower, it's meant to give you the ability to win at the games you play competitively whilst on the go. Or on your couch. Whichever.
Whatever way you look at this device, just so long as you're gaming, Acer has knocked it out of the park. If you wanted a smaller laptop, buy a smaller laptop – this one is made for people who want to hit that sweet spot between being mobile and having a full PC gaming experience at the same time.