Acer C7 Chromebook expanded for K-12 educational market with two new models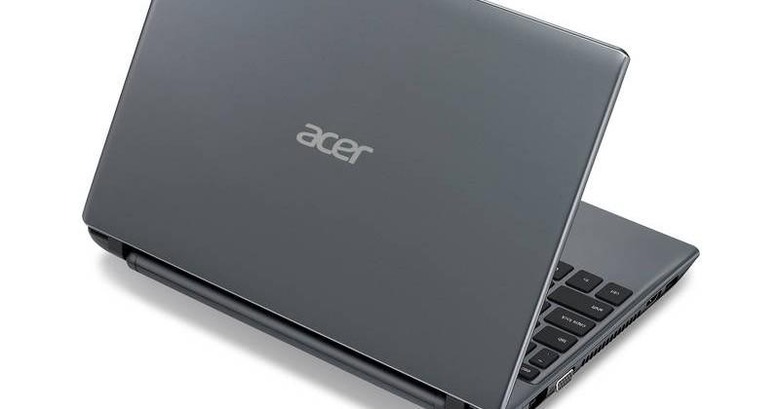 Acer has expanded its C7 Chromebook line for the educational market, tossing in some small hardware changes and tacking on a starting price of $259 ESP. The models are being aimed towards all levels of the K12 market – students, teachers, and administration, with Acer saying its combination of features offer the kind of things such an environment requires.
There are two new models as part of the educational expansion, with both of them featuring a 16GB SSD, as well as a six-cell battery that has a reported life of 6 hours. The lesser of the two models, the C710-2826 has 2GB of RAM, while the higher end model, the C710-2815 has 4GB of RAM. Boot time is said to be 8-seconds, with instant resume from sleep mode.
Under the hood, both models run an Intel Celeron 847 dual-core 1.10GHz processor, and feature dual-band 802.11 a/b/g/n. The LCD is an 11.6-inch HD Widescreen CineCrystal with an LED backlight and resolution of 1280 x 720. Video output is comprised of an HDMI slot and VGA, while connectivity includes 3 USB ports and an SD card slot. There's also an Ethernet port for wired Internet connections.
Said Acer's VP of US Commercial Sales Gregg Prendergast, "Our new Acer C7 Chromebooks deliver exactly what the K-12 education market and so many businesses require — solid performance at an affordable price with up to 6-hours of battery life. Acer C7 Chromebooks will help our customers at schools — students, teachers and administrators — as well as our business customers, get to work and be productive right away for longer."
There's a Kensington lock for physical security, and educational buyers will have access to Acer Premier Care, as well as an option for Acer Educare Warranty Program. Both models come with a limited parts and labor warranty. The 2GB RAM C7 model is priced at $259, while the 4GB RAM C7 Chromebook model is priced at $279.
SOURCE: Market Wire