Acer Aspire Predator first-impressions: serious gaming goes mainstream?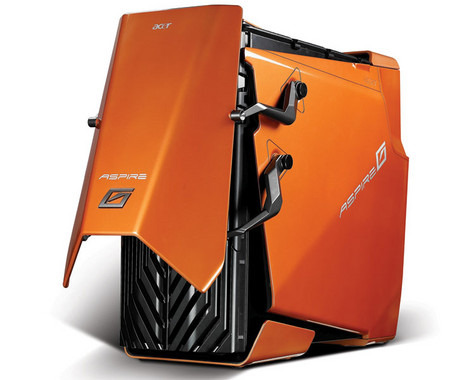 When Acer launched their Aspire Predator gaming PC range on Wednesday, little did they realise that bit-tech were lurking in the wings waiting to clinically dissect their offerings (and literally dissect what turned out to be an unexpectedly fragile drive-cage door).  Acer are apparently aiming the Predator line at the high-street, rather than the more usual "online niche" systems which it believes intimidates and confuses new buyers.  While many have prematurely dismissed the Acer as a gimmick – not least because of the eye-ache paint-job and mechanised codpiece – first-impressions seem pretty good.

For a start, out-of-the-box specs are reasonable: a minimum of 4GB DDR2-800MHz RAM, dual 640GB hard-drives and both Blu-ray and DVD-RW.  All four machines – Sniper, Trooper, Crusher and Eliminator – have SLI-enabled dual graphics (topping out at a pair of GeForce 9800 GX2s in Quad SLI).  There's also a user-friendly CPU watercooling system, guaranteed for 5.7 years.
Even upgrades are permitted without impacting on the warranty, and Acer have labelled all the factory-fit parts with barcodes to make replacing them straightforward.  The four systems are priced at €1,699 ($2,668), €1,999 ($3,140), €2,999 ($4,710) and €3,999 ($6,281).  Acer also offer a color-matched 24-inch 1,920 x 1,200 widescreen monitor for €449 ($705).  Bit-tech don't come away entirely convinced – they rightly point out that those prices are high for a traditional retail purchase – but they're at least impressed enough to look beyond the silly codpiece.