Acer 15-inch Ultrabook in the works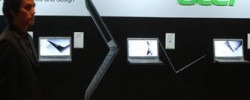 If you like the thin ultrabooks that are starting to hit the market in greater numbers, but want a larger screen keep an eye on Acer. Acer is reportedly set to launch a new ultrabook that packs a 15-inch screen. At the start, Acer was only offering ultrabooks with smaller 11-inch or 13-inch screens. The sales have apparently been good enough that the company is now ready to step into the larger screen market.
The ultrabook with the 15-inch screen is being produced by Pegatron according to a DigiTimes source in the supply chain. Perhaps the best news about the 15-inch ultrabook is that the machine is said to be coming to market for $699 making it a cheaper ultrabook. Many of the ultrabooks so far have been closer to $1,000 or more.
Acer ultrabooks are made by ODM supplier Wistron. By the end of the year, the sales of the existing models are expected to be around 250,000 to 300,000 units. A larger screen ultrabook will help lure those that want portability with more screen space. Perhaps the machine will break cover at CES in January.
[via DigiTimes]