AAXA P4 Pico Projector Review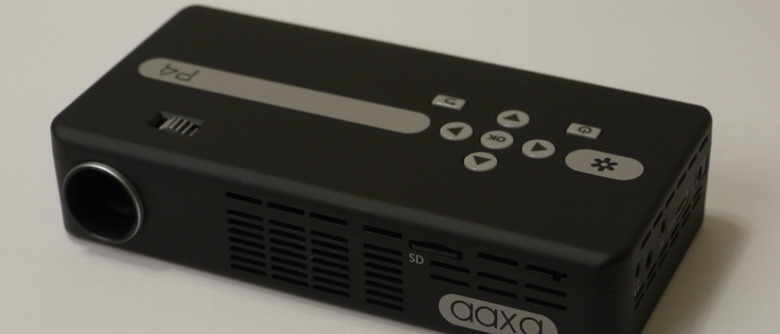 We've seen our fair share of pico and pocket projectors here at SlashGear, but recently we've had the pleasure to work with and review one of the most portable and brightest of them all, a pico with an 80 lumen engine — the AAXA P4 Pico Projector. There are many different uses for a portable projector and whether they are an expensive toy, or a needed accessory is up to you. Head on down for some pictures and hands-on video of this little projector in action.
The recently announced P4 from AAXA is a big step up from previous models such as the AAXA P2, and many similar priced projectors from the competition. Offering extremely crisp colors, great brightness, and being fully portable with a built-in battery makes this a perfect companion for any business minded individual.
Hardware
While many competing projectors might have better battery life its the 80 lumens of brightness and array of options that sets the P4 apart from the pack. Being labeled the "worlds brightest pico projector" gives it some big shoes to fill — and it didn't disappoint.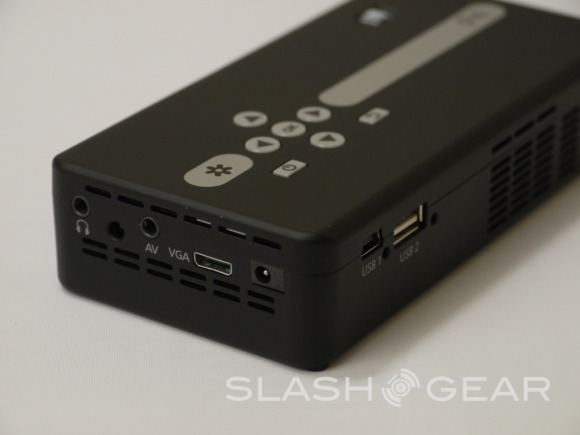 The AAXA P4 Pico Projector is powered by a 750 MHz Windows CE mobile processor, and is plenty bright too. It gets an 80 lumen high-contrast optical engine by way of Texas Instruments DLP. It features AAXA's vibrant color technology and the LED should last for up to 20,000 hours. Some of the other specs that make the P4 special include: 2GB of built-in memory, 1280×800 VGA input, micro-SD slot for extra storage (up to 32GB), composite video input, 1-watt stereo speakers, 3.5mm headphone jack, and even 720p video support.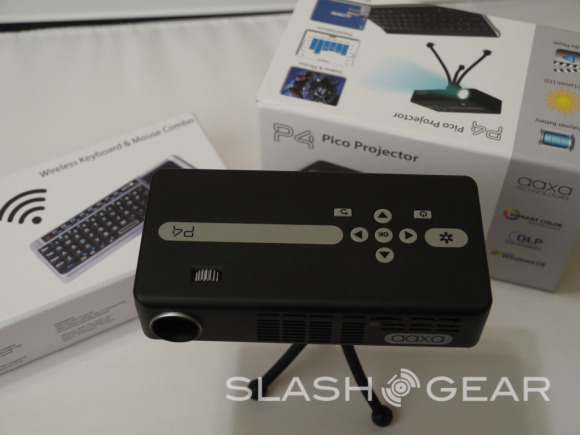 Included with the projector AAXA has provided a mini tripod as well as your usual charging and USB cables. The box also provides a mini to full-sized USB, VGA and AV input and more. The included remote (as seen in the video below) is a nice touch but is extremely cheap and gives off a bad impression.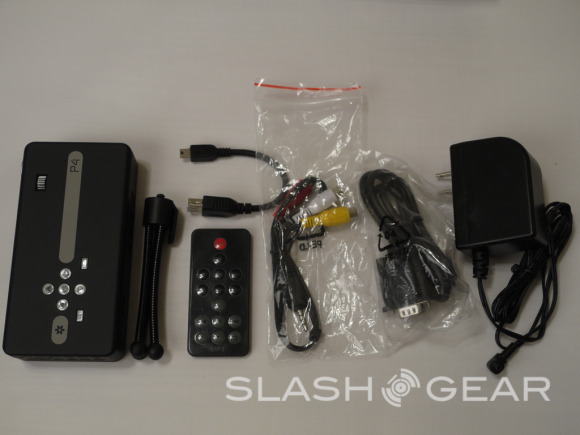 The actual projector itself is very durable and feels great. It's covered in a soft-coat matte black design and all the ports and buttons are extremely durable. Nothing feels cheap about this premium projector — and it shouldn't for $399. The buttons on top make navigation easy and simple but the remote is a much better option. I would love to have a better included remote but that's just me.
AAXA P4 Pico Projector unboxing
Software
Now the software side of things will be completely based on the buyers overall needs and usage. With Windows CE 6.0 on board we have plenty of options with mobile applications. With Office Mobile, Microsoft Word, Adobe PDF, and tons of Windows CE based games the options are fairly open. With the P4 AAXA doesn't recommend you enter Windows too much unless needed and has a basic overlay to keep things straightforward and simple.
Setup is basically non existent unless you need to use Windows CE apps. The standard media player for pictures, and video is simple to navigate — although is pretty bland. From the start screen you can stream any movies from internal or external storage within seconds, the input settings are easy to access and dead simple. Those needing to start presentations will need to launch Windows CE and that takes a bit longer with a warning you must agree to on every start-up seems extreme.
Performance
While I've only used a few cheaper and much dimmer projectors in the past, everything about this projector was impressive in terms of performance. The 80 lumen engine is extremely powerful and is by far the brightest portable projector I've seen to date. the 750 MHz processor churns out 720p video with ease and my demo shows some impressive output watching AVATAR on a good 40" size. Fast forwarding through videos or presentations is extremely fluid and there seems to be zero stutter or lag. The only downside to the performance is only about 75 minutes of battery life. To make things worse there isn't a notification or indicator and once the battery is up you get lights out — no warning.
I can explain performance but instead I'll just let you all watch the hands-on video demonstration. I start off showing the basic UI in a fully lit room before turning out the lights. The 80 lumens keeps things bright enough that a dark room isn't required — but sure makes it nice. You'll be able to use in a lit room with zero problems should the situation present itself.
AAXA P4 video demonstration with light/dark room
As you can see from the video preview the output is extremely bright and impressive, even from a good 6 ft away from the wall. The manual focus makes things very easy for quick adjustments and changes. From the AVATAR scenes in the clip to my Modern Warfare 3 trailer screenshot below you can clearly see just how great the colors are. Thanks to AAXA's vibrant color technology the colors are exactly that — vibrant.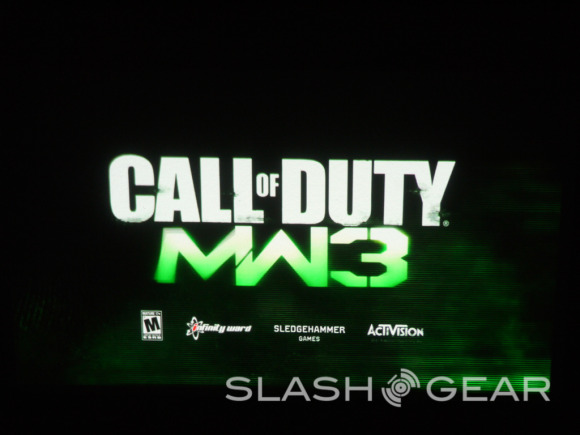 Wrap-Up
I've seen this projector in action for over 2 weeks now. I used it to stream a few clips while visiting family for my extended holiday vacation and everyone was pleasantly surprised by the sound and image output. With 1 watt stereo sound its nothing special but gets the job done. You wouldn't expect such an incredible bright and vivid picture from this small pocket-able unit — but it does impress.
Battery life is rated for 75 minutes of usage but while outputting 720p video that time dropped significantly and it lasted around 60 minutes for me. While that isn't very long, completely battery powered is the key here. Being small and weighing under a pound, being fully portable and battery powered makes this perfect for business situations where a full fledged projector isn't possible. To conduct a full presentation with this quality all on the go with no wires is what sets this apart from the others. For those needing a bigger, longer lasting device for those weekly earnings reports AAXA also has some larger micro projectors to suite all needs.
For a fun toy the pricing is a bit steep but for the on-the-go businessman or professional it should find a place easily in your laptop bag of gear.
The AAXA P4 Pico Projector runs for a pretty penny at around $399 but it's currently on sale for $339 for a limited time. Get your own today by clicking here.