A-data Mickey Mouse head flash drive - has lightning fast reflexes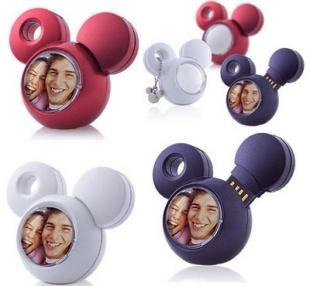 You wouldn't think that such a generic looking flash driver would be worth the sum of its parts, but I assure you it is. If you can get over having to pull your flash drive from the white head of Mickey, you can get 30MB/s read speed for cheap.
It holds 2GB of data on its little ear that you remove from the head of Mickey and it offers up an average transfer rate of 30MB/second and a burst rate of 20.8MB/second. As an added bonus, if you are actually a fan of Disney or Mickey Mouse, you get a keychain that holds your data and looks like the iconic ambassador from the Magical Kingdom.
Otherwise you could buy it for its data transfer rate, remove the ear and trash the rest and call it a deal. Its available now, at NewEgg for $23 which isn't a bad price for a 2GB flash drive, especially one with such a high transfer rate.
[via everythingusb]