These 3 Colors Are Banned From Ferrari's Lineup Forever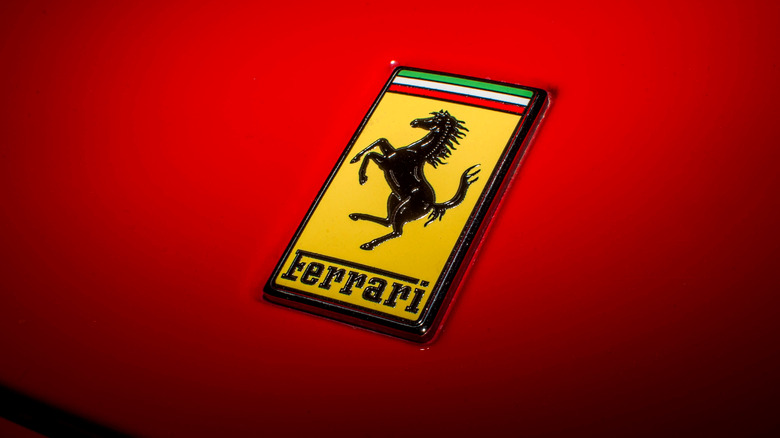 Tanase Sorin Photographer/Shutterstock
Ferrari has become famous for its draconian rules about buying and owning its vehicles. It has a reputation to uphold, after all. The automaker has earned both the cachet and the clout to drop the ban hammer on celebrities, keep employees from buying new models off the showroom floor, and have a list of "do's and don'ts" that make Santa's "naughty or nice" list seem short by comparison. So when it comes to color, one almost certainly has to think Ferrari would have a say in that as well. And you wouldn't be wrong.
Ferrari painted its first car (the 125 S) in 1947 in the new famous shade of red called "Rosso Corsa." But why? The former Fédération Internationale de l'Automobile (FIA) mandated that all racing cars be painted with a color code based on the country from which they came. For example, German cars were silver-grey, those from France were blue, and Italian racers were red. It stayed this way until 1968.
"Racing red" soon became iconic to the brand, so Enzo Ferrari kept it. It's an interesting historical note that the now legendary color choice wasn't his decision but one he was forced to adopt. Ferrari has since introduced dozens of shades of red, including Scuderia (lighter than Corsa), Roma, Bordeaux, cherry, Monza, Mugello (darker than Corsa), and Vivo. According to Barnebys Magazine, the only colors to remain constant on a Ferrari are the yellow and black found in the famous Prancing Horse emblem.
Not everything is pretty in pink
As recently as the early 1990s, 85% of all new Ferraris made were painted some color of red. By 2011 that number had plummeted to 45%, and by 2015, it was a mere 35%. Colors like grey, silver, black, and white have become much more popular in recent years. In a 2017 interview, Ferrari Australasia CEO Herbert Appleroth told news.com.au that "Every Ferrari is customised, personalised or bespoke" because Enzo Ferrari never wanted two cars to be identical. And while the company goes to great lengths to create a unique vehicle for every buyer, there's only so much it's willing to bend, especially when it comes to color.
The Italian sports car company will never paint one of its vehicles pink, or any shade even remotely close to it on the Pantone color chart, like salmon or rose. "It just doesn't fit into our whole ethos to be honest," said Appleroth. "It's a brand rule. No Pink. No Pokémon Ferraris!" While Ferrari can't stop people from painting a car after purchase, it is frowned upon, and it could have some consequences — not least of which is preventing a buyer from ever getting their hands on another new Ferrari. 
Paint jobs aren't the only problem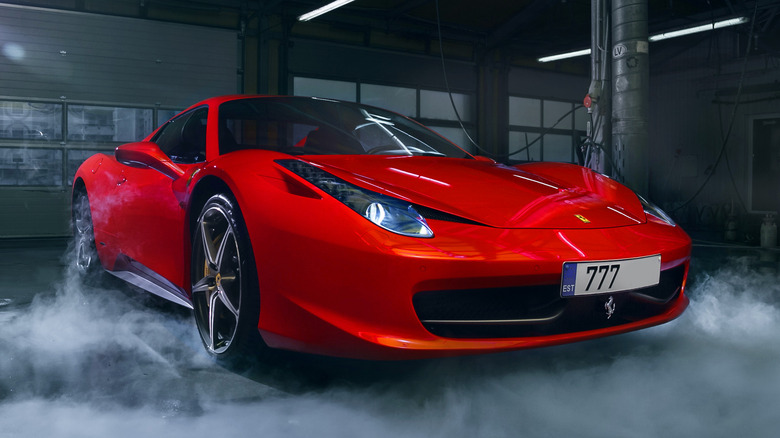 BoJack/Shutterstock
It's not just the color pink that can land you in trouble with the iconic sports car maker. EDM megastar Deadmau5 didn't quite create a Pokemon Ferrari, but he did come close when he had his Ferrari 458 Spider coated in a meme-inspired custom vinyl wrap. The Ferrari became a "Purrari" after the Canadian musician had it decorated with images of Nyancat — which, if you're unaware, is an 8-bit rendering of a cat with a pop tart for a body and a rainbow firing from its backside. The Ferrari then appeared in the infamous Gumball 3000 rally and was then listed for sale on Craigslist for $380,000 (via Stites & Harbison). 
The results were certainly eye-catching, and one group of people whose eyes were caught by the Purrari worked in Ferrari's legal department. The company sent Deadmau5 an allegedly strongly worded cease and desist letter, and the Ferrari was reverted to its original state as a result (via Twitter). According to tweets the musician sent at the time, part of the problem was the "custom floor mats and the custom Purrari badges." Deadmau5 also confirmed that he had undone all of the modifications following Ferrari's complaints, and the car was a "regular 458" again. 
However, the story had another weird twist. In what is clearly a shot at Ferrari, Deadmau5 purchased another car from its Italian rival, Lamborghini. The Lamborghini Hurrican was customized in a manner similar to that of the controversial 458 before being christened the "Lamborghini Purrican." Unlike its fellow sports car manufacturer, Lamborghini seemingly had no issue with the custom wrap, and Deadmau5 was free to drive around in his new meme mobile. The musician did just that until around 2017 when he sold the vehicle with the custom wrap still in place.