$99 Apple TV update gets iPhone OS, 1080p HD and cloud-storage?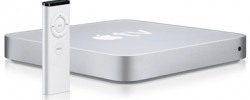 Details of Apple's upcoming Apple TV platform refresh have emerged, with Engadget claiming to have heard from a trusted source that the Cupertino company is planning a new, $99 set-top box that would use iPhone OS and cloud-based storage.  In fact, the new Apple TV sounds a lot like a headless-iPhone: it's described as having minimal ports, basically just power and a 1080p HD video output, as well as using the same 1GHz Apple 14 CPU and 16GB of onboard storage.
Those users wanting to host media files locally will apparently be able to use an Apple Time Capsule to do so, but Apple are supposedly pushing for streaming content.  That will be via a hosted service not dissimilar to Amazon's streaming system.  While it will run iPhone OS, like the iPhone HD and iPad, it's not yet known whether Apple will be enabling App Store access, or indeed how it would handle scaling software available through the store to an HDTV set.
To be honest, this sounds a lot like what Avi Greengart was hinting at in his recent column: an obvious value proposition to those who have already bought into the Apple ecosystem.  Rather than the unnecessarily complex existing-gen Apple TV, which keeps price high but is generally only used for the sort of multimedia services that a modern smartphone can handle, the new $99 Apple TV would be cheap and streamlined.  Will we see some sort of remote streaming system, or some integration of Lala tech in iTunes Live?  The possibilities are endless.