The Electric Car Charging Problem Is Worse Than You Realized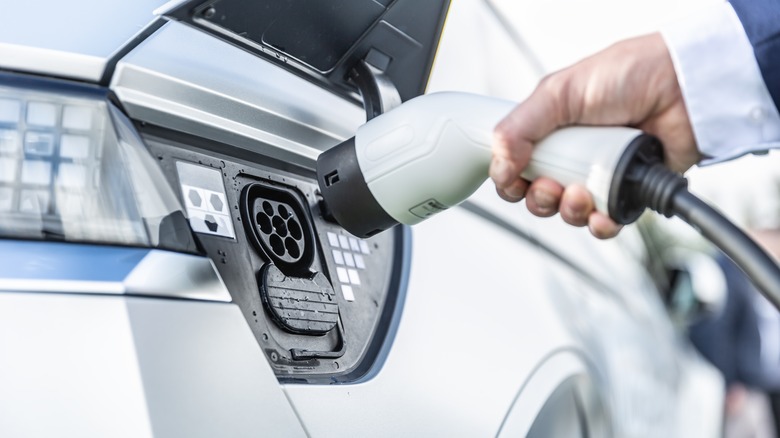 Marian Weyo/Shutterstock
Electric vehicles are becoming more and more mainstream every day. The success of Tesla has made Elon Musk the world's richest man while rival EV companies like Lucid have the backing of the Saudi Arabian royal family. Traditional car companies are shifting their focus to electric cars too. Ford is offering electric versions of some of its most popular vehicles — even gas-guzzling muscle cars like the iconic Mustang and workhorses like the F-150 have electric alternatives. And then there's Dodge which is retiring its two muscle car lines, the Charger and Challenger, in 2024. Dodge's gas-powered muscle is set to be replaced by at least one EV — they've gone so far as to unveil a concept car which was met with a mixed response.
The manufacturers are backing the electric concept, the government is stepping up tax incentives, and customers are demanding new EVs. Sales of electric vehicles increased by almost 200% between quarter two of 2020 and the same financial period in 2021. The manufacturing shift toward EVs, production of gas-powered cars ending, tax incentives, and infrastructure projects means the number of electric vehicles in the United States is only going to increase. 
But not everyone is 100% happy with their electric vehicle purchase. There have been some significant issues in an area that has long been a concern for EV skeptics. Although charging has improved over the last few years, and top-of-the-line EVs can now get hundreds of miles of range in minutes, customers are noting several significant issues with their cars' charging systems.
There have been some major charging issues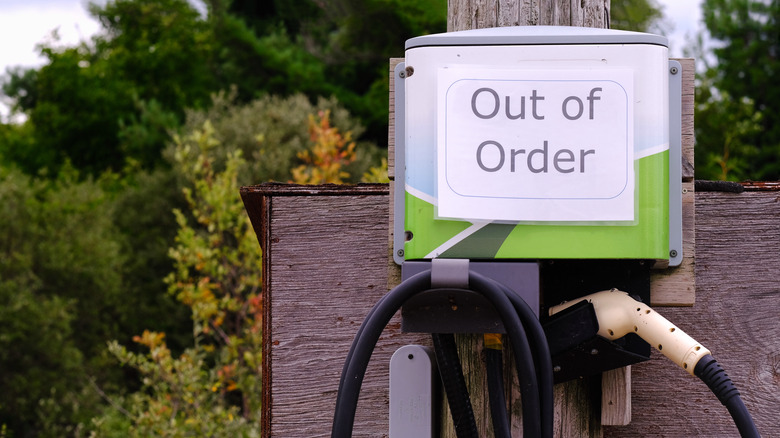 VisualArtStudio/Shutterstock
Despite advances in charging, battery life, and overall EV efficiency, charging is still one of the biggest problem areas the vehicles have. Consumer research firm J.D. Power recently surveyed over 11,500 EV and plug-in hybrid vehicle owners, and discovered those in areas with a high number of EV owners found charging facilities to be "inadequate and plagued with non-functioning stations." This is the second year the organization has surveyed EV owners, and it claims that satisfaction levels have dropped in the 12 months between the studies.
Brent Gruber, executive director of global automotive at J.D. Power, claims public charging stations aren't keeping up with the growing number of EV drivers. According to Gruber, "Not only is the availability of public charging still an obstacle, but EV owners continue to be faced with charging station equipment that is inoperable." Gruber went on to call for more stations in areas with "gaps" and along "heavily traveled routes." He also demanded the new stations be reliable.
Conversely, customer satisfaction was highest in states with a low rate of EV ownership — like those in the Midwest. The majority of owners surveyed were also said to be "relatively satisfied" with the current charging process. However, those that were dissatisfied mostly seemed to have the same set of issues. The study shows that 20% of those surveyed ended up not charging their vehicle during a visit to a public charging station. Most of those who left without charging did so due to "malfunctioning equipment," or the station "being out of service." Owners tended to be happiest with Tesla level two and Tesla Supercharger stations, while Volta came second and ChargePoint came third in the level 2 station rankings.
Infrastructure is improving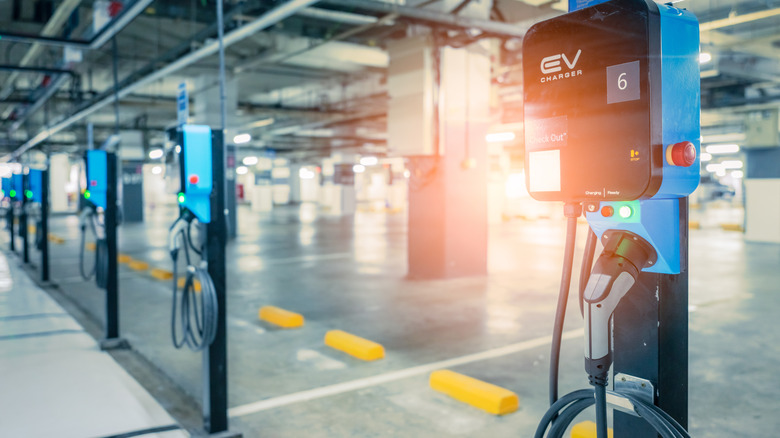 Fahroni/Shutterstock
As bad as the problem is, it may only be short-term. In total over 50,000 electric vehicle charging stations are operating in the United States. This is around one-third of the number of gas stations in operation in the country — but that figure is expected to change over the next few years. There are a number of plans in motion to expand access to electric car charging facilities nationwide. 
Tesla will soon allow owners of any electric vehicle to use its network of supercharging stations within the United States. Elon Musk's company has already trialed similar schemes in Europe, some of which saw drivers crossing national borders to use the charging facilities. According to Tesla, in around five minutes its superchargers can provide enough juice to send one of its electric cars 75 miles. The charging systems could also offer up to 1000 miles of range in under an hour — though no electric car on the market has the battery capacity to test that claim. The best high-end commercially available EVs currently max out at around 500 miles of range.
Tesla isn't the only company looking to improve the EV charging situation in the United States. Electrify America, which already has over 750 charging stations dotted across the country, plans to add another 10,000 ultra-fast chargers at 1,800 stations. Other large companies working on EV infrastructure projects include Siemens, Volkswagen, and ChargePoint. General Motors is also partnering with EVgo and truck stop chain Pilot in an attempt to add 2,000 additional charging stalls. The stalls will provide over 100 miles of range in under 20 minutes. GM and EVgo are also teaming up to bring over 3,000 fast chargers to cities.