The Most Expensive Car In Max Verstappen's Car Collection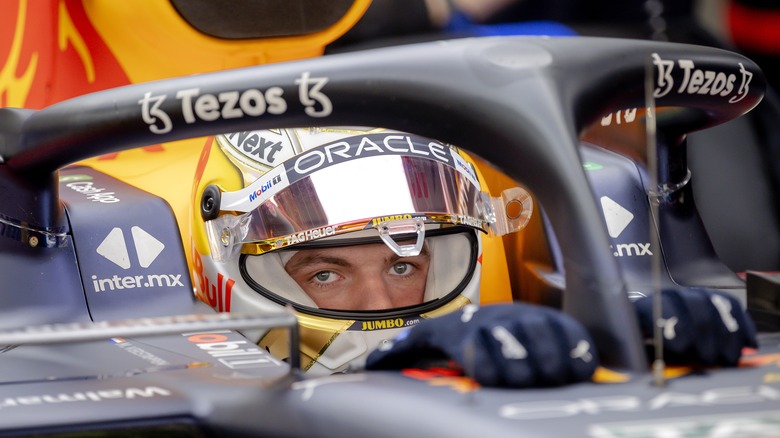 Anp/Getty Images
Reigning Formula One world champion Max Verstappen was born to race — he's the perfect example of a racer with "gasoline pumping through his veins." Max is the son of former F1 driver and professional racer Johannes Franciscus "Jos" Verstappen and Sophie Kumpen. According to Red Bull, Max's mother, Sophie, was also a successful kart driver, and it didn't take long for young Max Emilian Verstappen to get bit by the racing bug.
Born on September 30, 1997, in Hasselt, Belgium, Verstappen won the 2005 Belgium Championship Mini (VAS) and took home the crown. If you do the math, Max was only eight years old, and he won all 21 races en route to winning his first championship. By 2013, young Max "had won just about everything karting had to offer," said Red Bull. After placing third overall in the FIA Formula 3 European Championship at just 16, Verstappen became the youngest Formula One driver in history (17 years old) when he joined Scuderia Torro Rosso in 2016.
After just four races, Verstappen moved to Red Bull Racing and won his first F1 Grand Prix in Spain. By 2021, Verstappen became F1 World Champion after beating Sir Lewis Hamilton at the highly controversial Abu Dhabi Grand Prix (via The Guardian). With such an impressive resume of race victories and a brand-spanking-new contract worth a whopping $55 million per year until 2028, according to ESPN, it's easy to fathom how Verstappen has amassed an impressive collection of hyper-fast and uber-expensive supercars.
Racing lifestyle means fast cars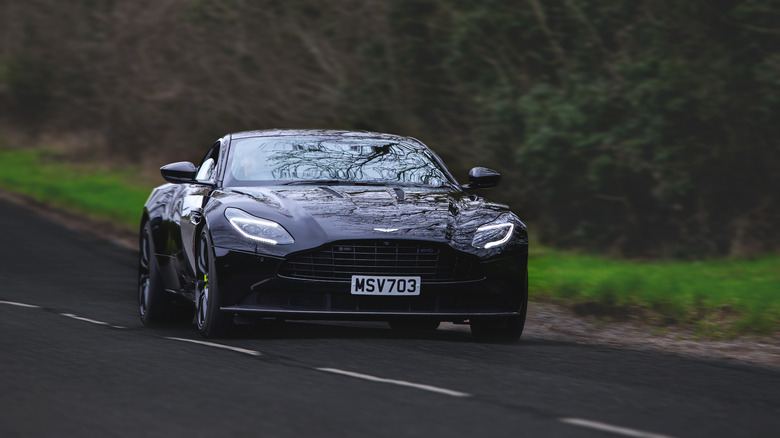 Martyn Lucy/Getty Images
Max Verstappen has a penchant for British automaker Aston Martin, said SCMP, and he currently has four Aston Martins in his collection. When not pushing the limits in his RB18 Formula 1 racing car, Max Verstappen rolls around town in an Aston Martin DB11, Aston Martin DBX SUV, Aston DBS Superleggera, or an Aston Martin Vantage. He also has a limited-edition Ferrari Monza SP2 ($1.8 million), a Ferrari 488 Pista ($330,000), a Porsche 911 GT3 RS ($188,000), and a Mercedes-Benz C63 S AMG ($75,000), according to Hot Cars.
Hot Cars adds Verstappen's car collection is worth more than $6 million, a considerable sum of money for the average person. In addition, Verstappen has a track-only Renault Sport R.S.01 Interceptor ($316,732) and a classic Porsche 911 worth about $400,000, which he bought to celebrate his first F1 win. That said, we're not even to the best part yet.
More money, more cars (and then some)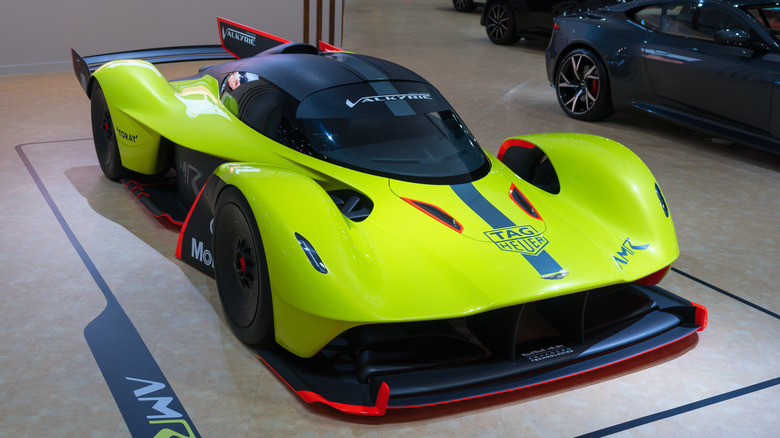 Supermop/Shutterstock
Max Verstappen is soon adding a new Aston to his garage, and it'll cost more than all of his other Astons combined. We're talking about the Aston Martin Valkyrie, a genuine racing car for the road. The Valkyrie hypercar (formerly called the AM-RB 001) is fitting for a Formula 1 driver, as it packs a naturally-aspirated Cosworth V12 engine and an electric motor developed in cooperation with Red Bull Advanced Technologies. Capable of pushing 1,160 horsepower and 664 lb-ft. of torque to the tarmac, the Valkyrie's Cosworth V12 can spin to a heady 11,100 rpm and make peak power at an astonishing 10,500 rpm.
The Aston Martin Valkyrie is essentially a road-going racing car, and it has the numbers to make any supercar owner take notice. The model goes from 0 to 60 mph in 2.5 seconds and has a top speed of 250 miles per hour. Meanwhile, the AMR Track Performance Pack adds titanium brakes, track suspension, an aero-optimized carbon body kit, and bespoke livery. With prices starting at around $3 million and with production limited to 150 road cars, the Aston Valkyrie is, hands down, the most expensive car in Max Verstappen's collection.
But if we're talking about other vehicles — like airplanes, for instance — Max Verstappen takes the cake with his Dassault Falcon 900EX private jet. According to Auto Evolution, Verstappen bought the plane from Virgin owner Richard Branson in 2020 for around $16 million, and that's only the beginning. Maintaining and gassing up the jet reportedly costs $1.2 million annually. We guess nothing "Gives You Wings" better than an actual airplane.