TikTok Is Losing Its Mind Over This iPhone And iPad Copy And Paste Trick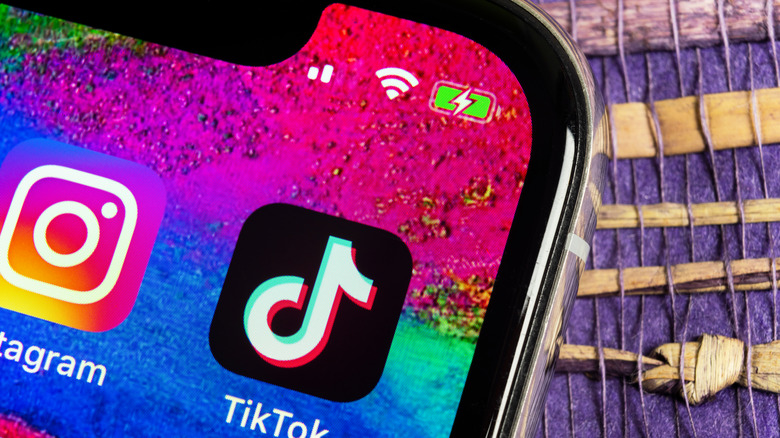 BigTunaOnline/Shutterstock
TikTok has emerged as an unexpected treasure trove of information and wisdom. While it has a dedicated center for educational videos, you can find instructional videos and how-to's around a myriad of topics without even asking. TikTok is especially obsessed with iOS and iOS tricks, and a recent viral video by the Korean TikTok influencer @happymelmelr is taking TikTok by storm, with more than 440,000 views and almost 47,000 likes. The video displays a person lifting an image from their iPhone and dropping it onto an iPad Pro. The ease with which they pluck and dump the photograph from one device to another is almost magical. But, there is a rudimentary iOS trick at play here — Universal Clipboard, which is part of Apple's Continuity and Handoff features.
Apple offers Continuity and Handoff functionality among all devices connected to a single Apple ID. Using Continuity, users can easily transition from working on one device to another and resume what they were doing on the former. It allows users to accomplish actions such as:
receiving call notifications or messages from your iPhone on your Mac

using the iPhone's data connection as a Wi-Fi hotspot on Mac

taking photos or scanning documents on the iPhone or iPad and viewing them on Mac

browse websites, draft emails, or mark up images on the iPhone and continue doing the work on a Mac.
Set up Universal Clipboard on Apple devices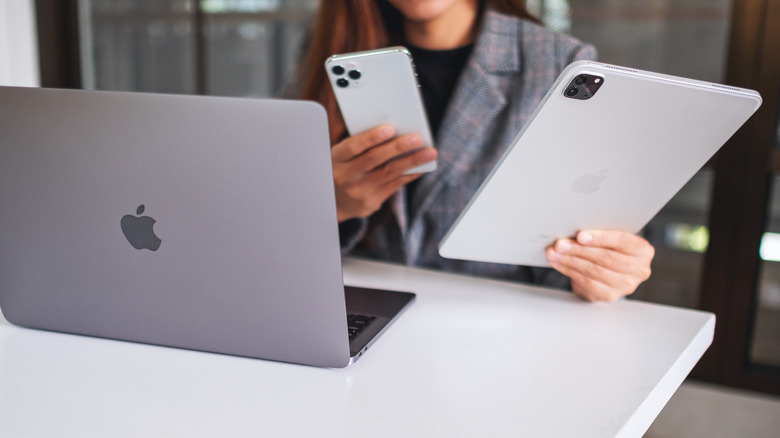 Farknot Architect/Shutterstock
One of the most exciting features of Apple's Continuity suite is Universal Clipboard. Using this feature, you can copy or cut text or images on one Apple device — say, an iPhone — and seamlessly paste it onto another device — a Mac, for instance — in just a couple of seconds. To get started with Universal Clipboard, make sure your iPhone, iPad, and Mac are at least running iOS 10, iPadOS 13, and macOS 10.12, respectively. On your iPhone or iPad, head over to Settings > General > AirPlay & Handoff, and turn on Handoff. To do the same on your Mac, go to System Preferences and locate the option that says "Allow Handoff between this Mac and your iCloud devices."
To copy and paste from one Apple device to another, you must also ensure that Bluetooth is enabled on all devices and they are within the Bluetooth range — around 30 feet — of each other. All Apple devices on which you want to use this feature must also be running on the same Apple ID. With these things set up, you can chop-chop your way into copying anything from one device and pasting it on another.
How to replicate the TikTok trick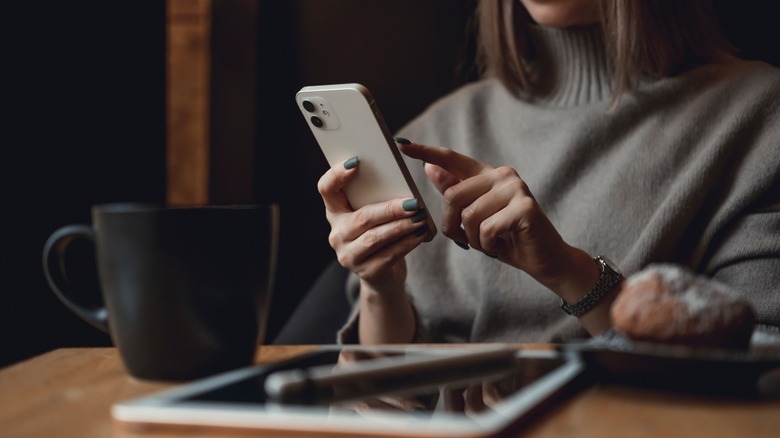 sergey causelove/Shutterstock
We learned that Apple offers a seamless way to transfer text or images among devices. While you can long-press on text or an image to copy, cut, or paste it, the elegance and style in physically picking up an image from one Apple device and dumping it on another are unparalleled. This is especially a cool trick if you are looking to impress your friends with your wizardly geekiness. To copy an image from an iPad or an iPhone, you must pinch inward with three fingers. Meanwhile, you need to pinch inward twice to cut an item instead of copying it. To paste the copied object, you just have to perform the opposite gesture, i.e., pinch outward with three fingers. To ensure the trick works, you must not spend time pinching in on an iPhone or iPad and pinching out on another.
Once you have mastered the trick, you can also learn about macOS' Universal Control, which lets you use the same mouse to control multiple Mac computers and iPad devices. If your Mac and iPad are kept side-by-side, you can flip the mouse icon from the Mac to the iPad just like you would on a multi-display setup. Besides using the same mouse icon on more than one device, you can also drag and drop files fluidly.