3K launch $399 Eee-rival ultraportable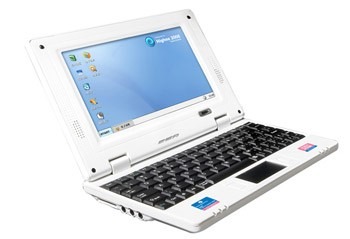 Does the world need another ultraportable?  3K Computers certainly think so; the OEM manufacturer has unveiled their Longitude 400, a sub-2lb mini-PC in the same style as the original Eee.  With a 7-inch display, "full sized" keyboard and Linux OS, it's tricky to find much to differentiate this $399 notebook from its rivals.
Rounding out the hardware side of things there are three USB ports, 1GB of internal flash storage and 512MB of RAM.  Together with the frugal 400MHz processor it should be enough for basic office apps, internet browsing and email.  The major criticism has to be storage; the 1GB in this initial model is most definitely on the scant side, although it's expandable via an SD card slot.
However the Longitude's key problem remains the Eee, which in 2G Surf form undercuts it by $100 while offering twice the storage.  Both have 10/100 ethernet ports and WiFi; however ASUS has a recognisable brand name too.  We're more likely to see 3K Computers shifting their UMPC as a rebadged OEM device, I think.
[via CrunchGear]