2020 Nissan Frontier Packs New 3.8L V6 And 9-Speed Auto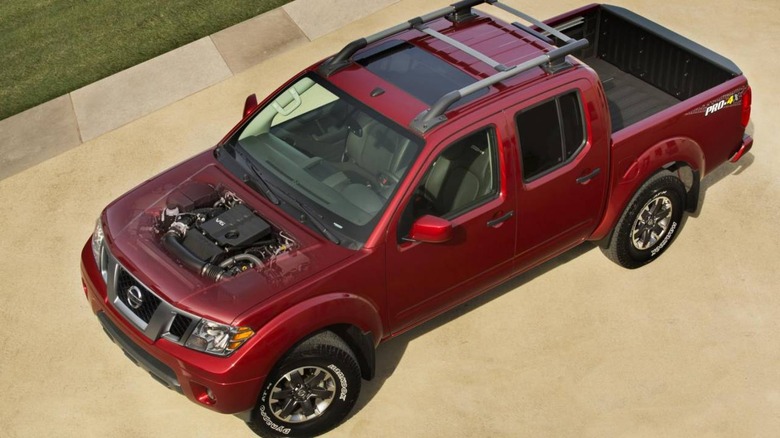 Nissan has debuted the 2020 Nissan Frontier pickup truck. On the outside, it looks like the Frontier has looked going back for many years. Under the hood, the truck has an all-new 3.8L direct-injection V6 engine that is paired up with an all-new 9-speed automatic transmission. Nissan says that the new engine and transmission combo are both key elements of the next-gen Frontier pickup coming soon.
The 2020 Frontier is the last model year of the current generation pickup. Nissan says that it features best-in-class horsepower and has improved fuel economy and emission performance. The truck will go on sale this spring.
Nissan says that the 3.8-liter V6 and 9-speed automatic uses 93% new or redesigned parts, and the power plant was tested extensively in North America. Assembly for the new engine happens at the advanced engine facility in Decherd, Tenn, along with the V8 that is used in the Titan.
Nissan brags that the new V6 has 49 hp more compared to the previous Frontier V6 and fuel economy is predicted to increase as well. The 9-speed transmission is designed to maximize efficiency and provide enhanced acceleration feel. As part of the celebration of the new engine for the Frontier, Nissan had a man called Brian Murphy on hand that has a 2wd, 4-cylinder, 5-speed manual Frontier King Cab he purchased in 2007.
The truck has a million miles on it as of January 27, 2020. Nissan gave Murphy a new truck. His old truck was serviced at the same dealership where he purchased it new. It had several replaced parts over the years, but the engine and transmission ran strong.