2019 BMW X7 First Drive: Unexpected agility in a 7-seat luxury SUV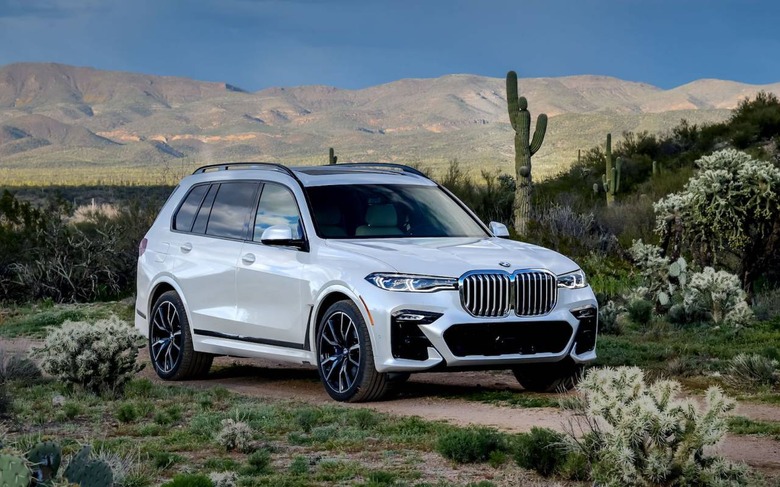 The first ever 2019 BMW X7 is, without a doubt, built to satisfy the cravings of modern car buyers. We all know that SUVs – or sport utility vehicles – are the current darlings of the car buying crowd; you have to be a brave automaker to not have an SUV of some sort in your lineup. With BMW, there have been many SUVs to pick from – unless, that is, you needed a bigger people hauler. It's about time that the X7 made its debut, then, casting a huge net in the sea of potential SUV buyers.
The new BMW X7 is not your average family SUV. It isn't only the youngest and seventh offering in BMW's family, but it also happens to be the biggest and most luxurious. You can credit the Audi Q7 for being the first German SUV with seven proper seats, yes, but even the current Q7 only has a 117.9 inch wheelbase, whereas the BMW X7 stretches that to 122 inches. It not only equates to a more spacious interior for the second and third-row passengers, but the longer wheelbase also helps with a more comfortable and luxurious ride.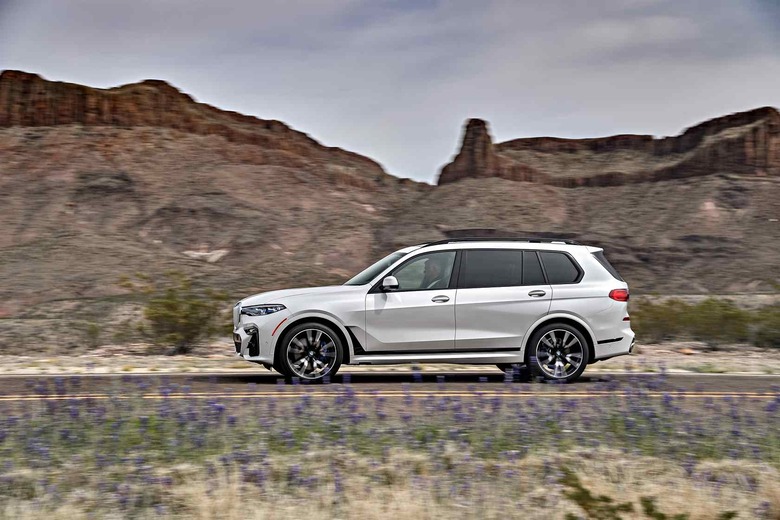 BMW is marketing the X7 as an ultra-luxe yet still practical SUV. Indeed, the automaker prefers to call it an SAV, or "sports activity vehicle," and it's not far from the truth. The SAV term was first coined for the BMW X5: whereas other SUVs prioritized being rugged, athletic, and borderline industrial in their nature, the E53 X5 was the exact opposite. No, it's not what you would call an off-road vehicle, but that's because it's primarily designed for swift highway driving with the elevated seating and sense of presence an SUV delivers.
The new BMW X7 follows that same philosophy. It doesn't pretend to be an off-roader, and frankly I highly doubt any owner would take it beyond a gravel road at worst. BMW does offer an xOffroad package, raising the X7's ground clearance, adding an off-road specific differential lock, front skid plate and under guard, and user-selectable off-road modes. But let's be real here: if you want a serious off-roader, it's best to look elsewhere. Instead, the BMW X7 is aiming for a younger and more affluent audience, who wants nothing short of seven seats and near-Rolls-Royce levels of luxury.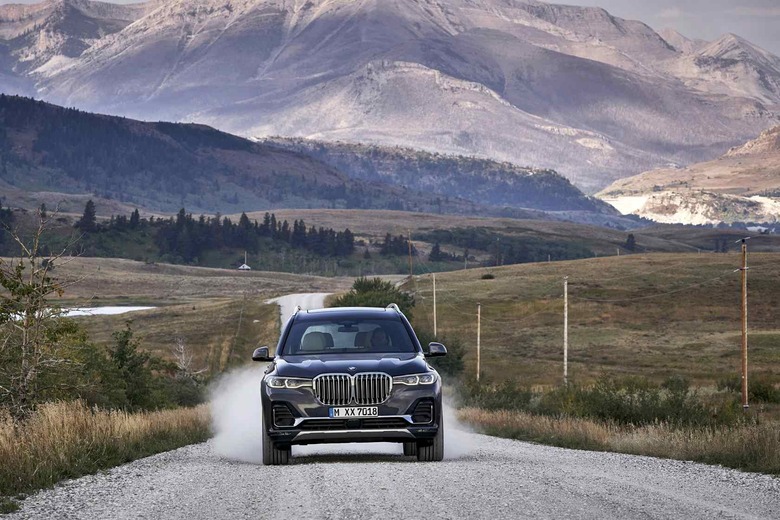 The most prominent design feature of the 2019 BMW X7 is the extra-large kidney grille, which extends over the edge of the equally-massive hood. There's no way to unsee it, and there's no middle ground here. You either love it or hate it. I happen to love it; it's bold, and it oozes dominance on the road. The goal is, in BMW's words, to give the vehicle an undeniable sense of presence. From the looks of it, BMW has succeeded marvelously, although I can't help but think of a glammed-up hippo every time I check out the front of the car.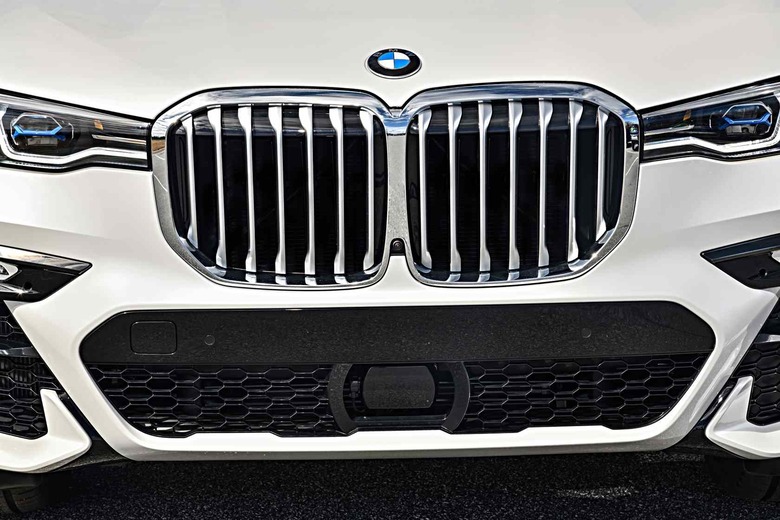 I'd argue that the new BMW X7 looks its best when viewed from the side. The 16 foot 10 inch length is spectacular. It has an undeniable poise on the road, and it looks great on the move. When seen from behind, the greenhouse appears stylishly tapered from on the outside, while maintaining the roominess on the inside. Having more legroom in this class of vehicle isn't just a luxury but a must have; happily the X7 offers more than enough room in all three rows of seating. The rear door is longer and larger than the front doors to improve accessibility when entering or stepping out of the third-row seats. In smaller SUVs, the third seats are simply novelties: mainly just money makers for car manufacturers, and really only good for small children or fluffy canines. The same definitely can't be said for the X7.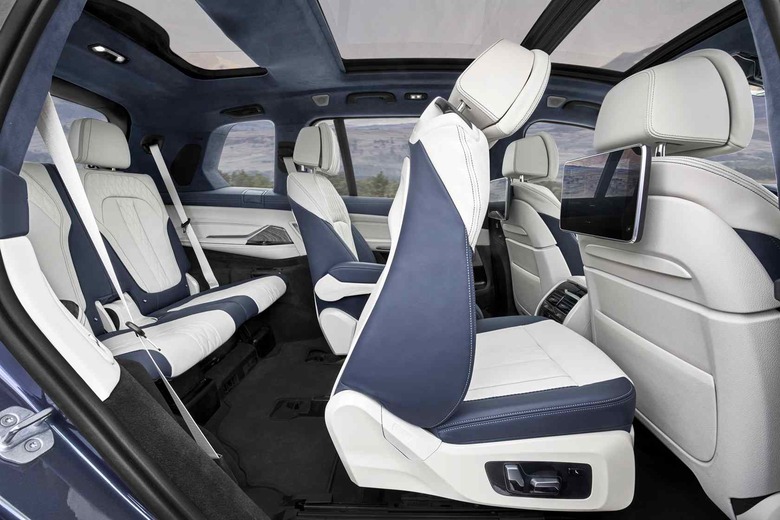 Despite the length, height, and girth of the new BMW X7, it still manages to convey a dynamic presence. There's no mistaking this vehicle is engineered to be a people-mover from the ground up. Contrary to what others might think, though, the X7 is not just a raised and toughened 7-Series. While it borrows some of the luxury features of that sedan, it does so in a way that's still athletic, just what the target audience is looking for.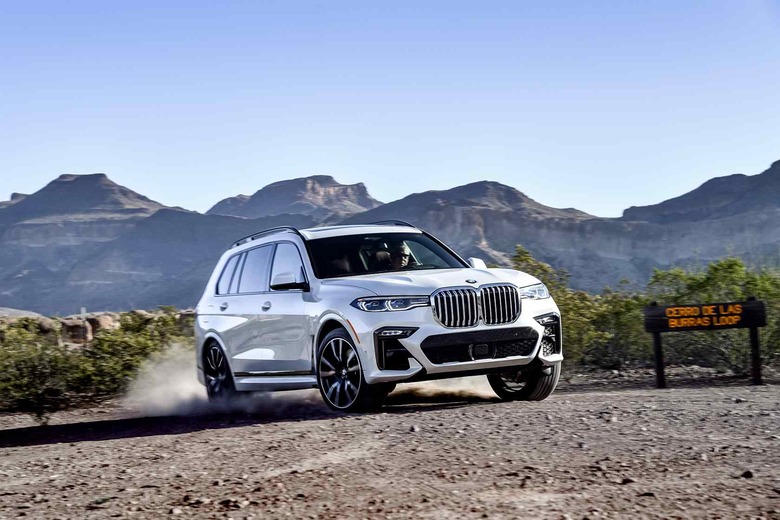 While head-on the X7 might resemble the Hollywood star of the hippo world, it still has a pair of sharp-looking and hi-tech eyes. As standard, BMW equips it with LED headlights, but choosing the BMW Laserlight option gives you blue X-shaped elements inside the headlights. They're good for almost 2,000 feet of visibility on the darkest of roads.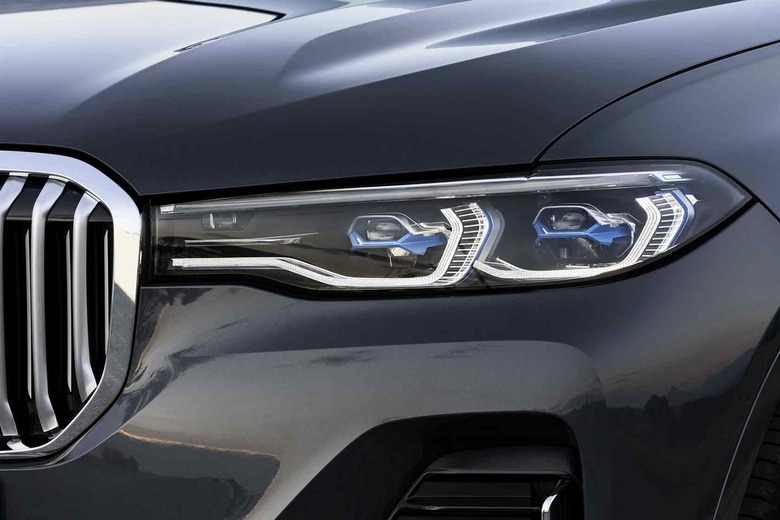 At the rear, the BMW X7 offers a surprising bonus. It comes with an automatic split tailgate for effortless loading of camping gear and sports equipment. For tailgaters, the lower portion serves as a bench to sit on. Still, if you need to haul a lot of stuff, just make sure to not overcommit on passengers. Cargo space is a paltry 326 liters when the third-row seats are up. Push a button to fold them down and cargo space improves to 750 liters. Looking for maximum shopping capacity? You get 2,120 liters of space with the third and second-row seats folded down. The two captain's chair configuration is the most comfortable second row option for people-moving, while the three-passenger bench can neatly fold down, creating a flat surface for cargo.
BMW's premium and well-appointed cabin has an array of sumptuous cowhide options and soft-touch materials. Standard on the X7 is synthetic leather upholstery, but my test vehicle came with a leather-covered dashboard, leather upholstery, and suede headliner. The feeling of space is further enhanced with the standard tri-panel panoramic glass sunroof. You can't call a vehicle a 'luxury SUV' if it doesn't offer a glass roof for the third-row seats, and in the X7's case each glass panel comes with electric shades. For additional dollars, you can get the Sky Lounge panoramic glass roof, equipped with 15,000 illuminated graphic patterns. If Rolls-Royce has the Starlight Headliner, BMW envisions its own magical sky by embedding LED lighting in the panoramic sunroof.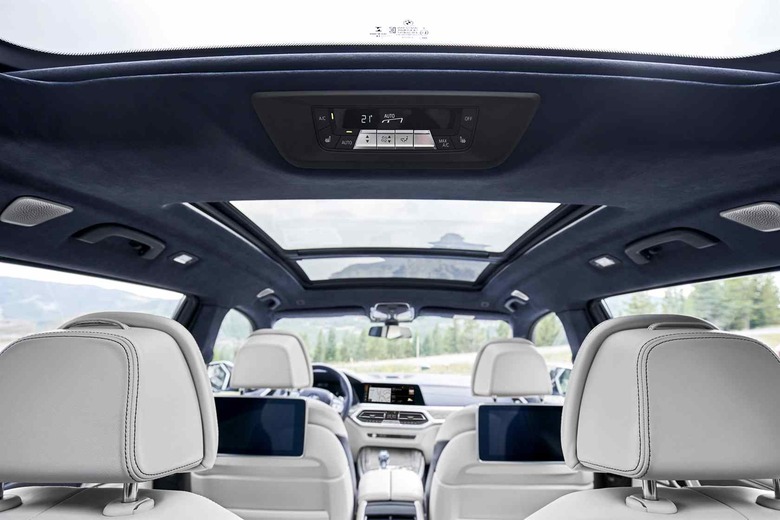 Want more lighting? The BMW X7 goes a step further by offering a welcome light carpet and dynamic interior lights. I've seen ambient lighting in other cars, but I can't help but wonder how BMW managed to make it better in the X7. Maybe it has something to do with the strategic placements of the LED lights inside the interior, or maybe it's how the lights on the doors will flash and turn red when opened. Again, this type of attention to detail is what makes a vehicle truly special. What I don't understand is why BMW did the same for the ambient lighting in the third row, which also flashes red when any of the four doors are open.
In the US, BMW will offer the SUV in xDrive40i and xDrive50i guises. The former receives a turbocharged 3.0-liter inline-six motor with direct injection, good for 340 horsepower and 330 lb-ft of torque. The latter gets a turbocharged V8 motor that produces 462 horsepower and 479 lb-ft of torque. Both motors are connected to an eight-speed automatic transmission and intelligent xDrive all-wheel drive. The inline-six is enough for most buyers, including myself. But, if you really want a big family SUV to haul a small mountain, the xDrive50i should satisfy all your whims. European versions of the X7 get powerful and torque-rich diesel motors. The xDriveM50d, in particular, produces 400 horsepower and 760 Nm of torque.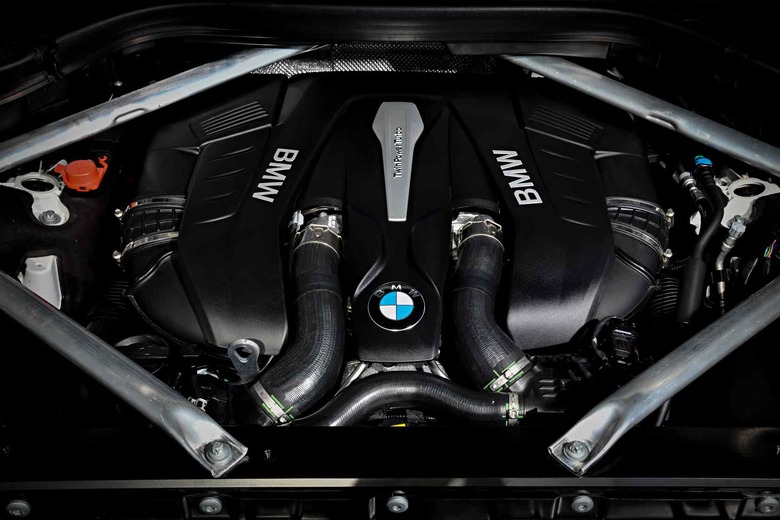 That's a whole lot of turning power, but the US' gas engines aren't lacking. Particularly impressive is how the BMW X7 accelerates from a standstill. During our road trip from Phoenix to Las Vegas, I had to either be in cruise control or constantly watch my speed, lest I inadvertently coax the X7 up into license-losing territory without realizing it. The xDrive40i can rush from 0 to 60 mph in an impressive 5.8 seconds, while the xDrive50i can achieve the same feat in 5.2 seconds. In the realm of gargantuan road barges, this is quite the coup, especially if you consider the xDrive40i achieves an EPA-estimated 25 mpg in the combined cycle. The xDrive50i is not bad in this regard, either with decent fuel economy of 21 mpg.
Driving the new BMW X7 is a fairly sublime experience. It's one of the quietest and most luxurious SUVs to-date, yet it also happens to be agile and light on its feet, despite the standard 20-inch wheels. Most of the silence is attributed to strategically-placed insulation materials and the standard acoustic glass windshield. If you prefer monk-levels of isolation, BMW is offering double-pane acoustic side windows as an option as well. Ride comfort is enhanced by the standard air-sprung and adaptive suspension system with electronically-controlled dampers. It delivers a good compromise between ride and handling, but it is clearly biased more in providing comfort rather than a firm and sporty feel. The steering is typical BMW. It's not as telepathic as in the M cars or the X5, but road feel is generous without the excess heft usually associated with seven-seat SUVs.
The 2019 BMW X7 is destined to be a big hit in the SUV-hungry North American market. The xDrive40i starts at $73,900, while price as tested comes in at $100,995 for the six-passenger configuration. The xDrive50i starts at $92,600, but the one I tested cost much, much more. Indeed, the X7 xDrive 50i in six-seat form I spent most time in was priced right at $120,945. Opting for the seven passenger configuration, with the bench second row, saves you a few thousand dollars, but still lands at $117,645.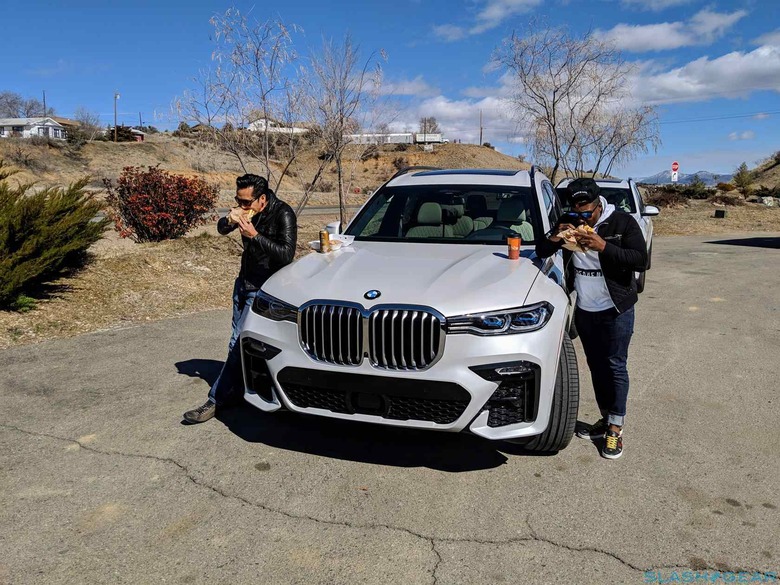 That's a lot of money for a family SUV, but then again it's nothing compared to the base price of a Rolls-Royce Cullinan or Bentley Bentayga. Granted, the BMW X7 is catering to a different niche, but I think it actually makes considerably more sense in the real world.
That's because value isn't about what you can afford, it's about what you get. What you get with the X7 is as close as you'll ever get to the Rolls Royce Cullinan, but with the practicality for everyday use. That's worth every penny for the right buyer in this segment.