2018 Lexus LS 500 First Drive: The luxury of identity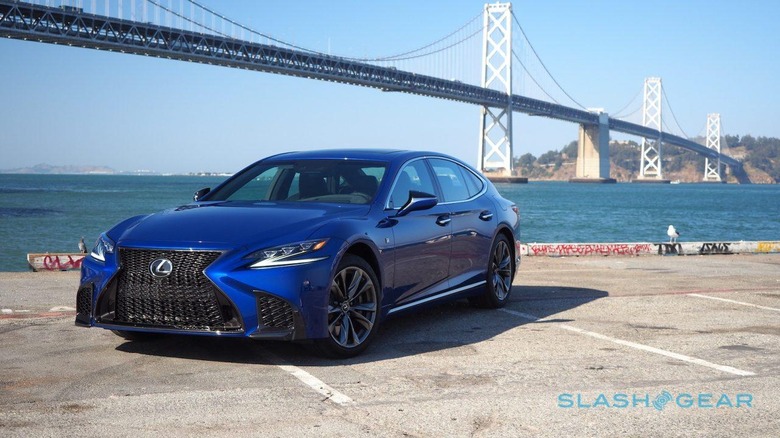 If it's usually your thirties when you discover your real identify, you could argue the 2018 Lexus LS 500 and LS 500h are ahead of schedule. The fifth-generation of the automaker's flagship luxury sedan arrives just before the car's thirtieth birthday, promising more refinement, more technology, and – arguably most important – more character. If the original LS defined Lexus as a luxury upstart in 1989, the new LS finally sees the automaker come to terms with its Japanese roots.
It's no stretch to say that some generations of LS have been anonymous in their design. This, after all, is the car that for several years was the vehicle-of-choice for the clandestine agents in the BBC series "MI-5" when they wanted to remain surreptitious around London.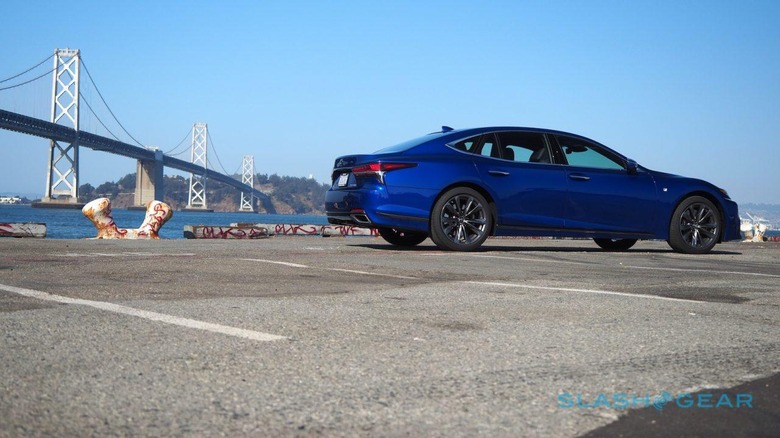 Lexus' answer was the addition of a controversial grille in 2012, officially keeping the sedan in line with the "spindle" design of its range-mates, but quickly compared to the gaping maw of the Predator. It also added an F SPORT edition to the line-up, with tuning to the suspension as well as a more aggressive body kit. Still, one of the lingering complaints – the quality of the interior compared to Lexus' German rivals – remained.
It's all change for the fifth-generation LS. The spindle remains, but it's more curvaceous than before: a bow-sided hourglass more akin to the cinched waist of an elegant ballgown than the battle grimace of an interstellar warrior. Chief designer Koichi Suga says the 2018 LS was "forged from passion" and the car's more flowing lines and curves reflect that. It leaves it looking smaller, too, even though it's actually a little longer and wider than before, albeit lower.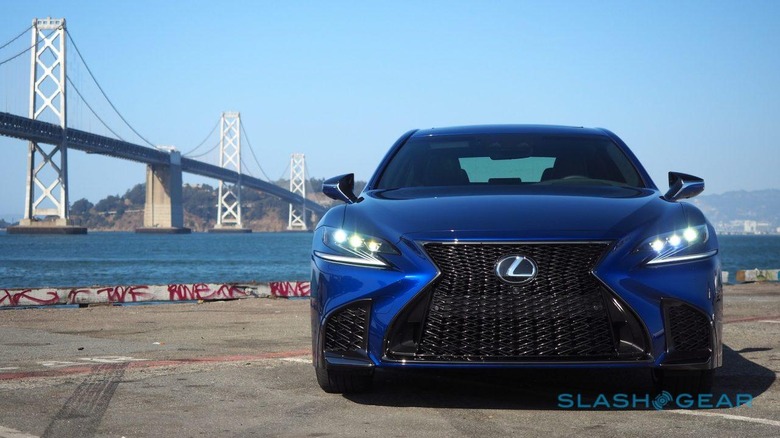 Some key considerations remain. Rear seat headroom proved to be a particular obsession, and the wheelbase grew 1.3-inches, predominantly stretching legroom for those in the back. As a result there won't be an "L" long-wheelbase version, at least for now.
There's a heritage story to be told, too, something Lexus has at times struggled to achieve. If the first LS was Toyota's attempt to out-German the Germans, each subsequent car has tried for an uneasy balance between directly competing with Mercedes-Benz, BMW, and Audi, and honoring the automaker's own Japanese heritage.
So, Lexus turned to master craftsmen to develop traditional decorative glass panels, which it used as the molds for interior door trim. Rather than just wrapping sections of the cabin in leather, it used origami-style folded fabric. The woodwork is laser-cut, bonded woodgrain slices for symmetrical grain, nestling among swathes of grooved aluminum that echo the blades of a tea whisk. One woman spent eight hours a day, for six whole months, computer-generating the surfaces on the grille: 5,000 of them on the regular LS, and 7,000 on the F SPORT.
It's possible that Lexus has gone a little overboard. Indeed, the interior of the LS can be an overwhelming place, full of shapes, curves, overlaps, and layers. Happily there's been a focus on choice as well as craftsmanship: none of the cars I sat in were entirely subtle, but there were certainly more sedate trims compared to the Japanese glass and origami options.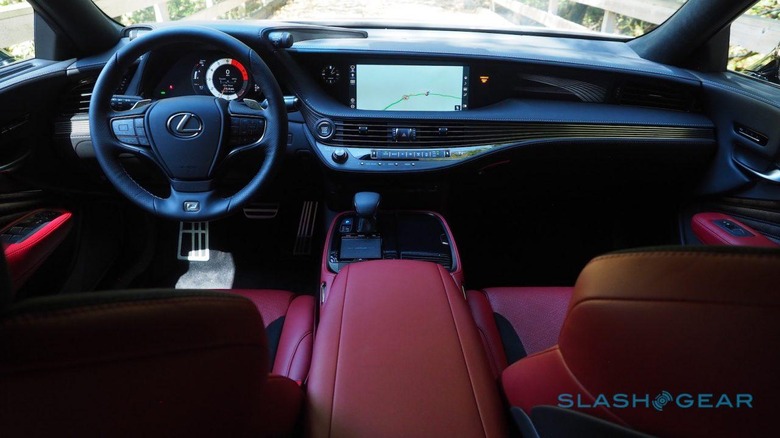 Either way, it might run the risk of feeling tacky had Lexus not taken a noticeable step up in materials and the quality of its fit and finish. As the Lexus LC coupe demonstrated, the automaker is absolutely capable of putting together a cabin that's aeons away from that of your Toyota. Happily, that has translated over to the new LS.
It's not a completely clean sweep, mind. Lexus gives its new dashboard a vast display atop the center console, but then squanders its potential with its Enform infotainment system.
Enform looked dated on the old LS, and it looks positively archaic on the new car. Where Mercedes, Audi, and BMW give you crisp graphics and smooth transitions, Lexus' system is visually clunky and overloaded with iconography. As in the LC you get a touchpad in the center console with which to navigate the UI. It's better than the joystick other Lexus cars use, but with its bizarre achievement of being somehow both too sensitive and not sensitive enough, that's still faint praise.
The experience is all the more frustrating given how much time you'll spend navigating through the UI. The 2018 LS isn't short of physical buttons for things like HVAC and multimedia, which is welcome, but most of the electronics rely on digging through Enform to access them. A second control panel, this time a touchscreen, lives in the armrest between the rear seats and has a better interface, and I can't help but wish it had been carried forward to what those in the front use.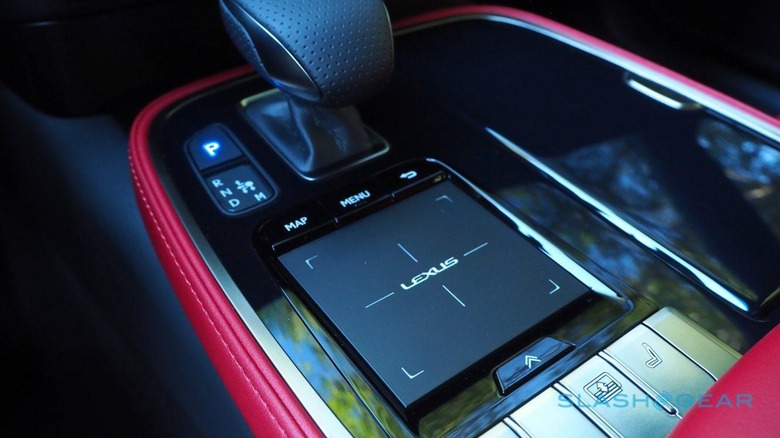 It's a shame, because Lexus hasn't stinted on technology. The Lexus Safety System+ is standard, with pre-collision with pedestrian detection, adaptive cruise control, lane-departure alerts and lane-keep assistance, and auto high-beams, together with a 12-speaker Pioneer audio system. Go digging through the options list, though, and there's plenty to choose from.
A 23-speaker, 2,400W Mark Levinson audio system with 7.1 surround sound that uses speakers embedded in the cabin's roof sounds tremendous. The four-zone climate control uses sixteen sensors spread across the four main seating positions to track occupant temperature, adjusting both the HVAC, seat heating and cooling, and steering wheel heating to maintain a comfortable level. The driver's seat is 28-way adjustable, with five massage programs and a clever easy-exit system that partially deflates the outer side cushion.
An Executive power rear seat has a fold-out ottoman with adjustable leg-rest angle and extra seat recline, together with massage. Both moonroof and panoramic moonroof options are offered, plus a hands-free power trunk with both open and close features, and a vast color head-up display. More cameras than the average TV studio give a full 360-degree perspective along with close-ups of the corners of the car.
The Lexus Safety System+ Advanced Package adds in pedestrian alerts and active steering assistance that can help swerve the LS around someone who has wandered off the sidewalk and into your lane. It also gets front cross traffic alerts and – courtesy of better front and rear radar coverage and a stereo front-facing camera array – road sign recognition. Lexus is talking up its ability to track road markings, too, with Lane Tracing Assist, that can minimize steering input required to keep the LS in the center of the lane.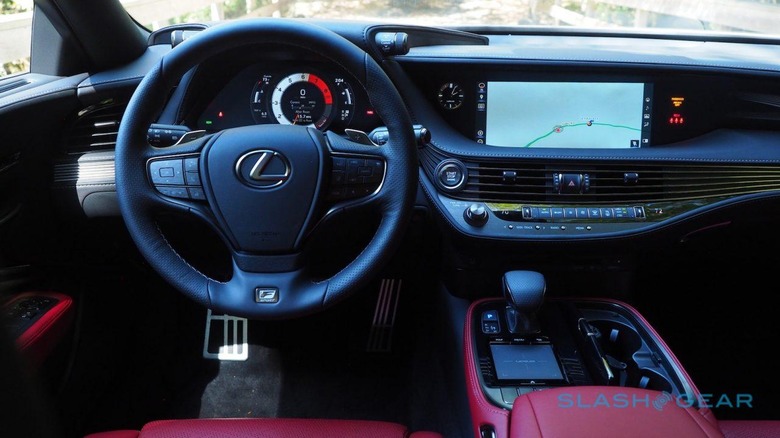 What it isn't is the semi-autonomous driver assistance that Audi, BMW, and Mercedes have begun offering, among others. The 2018 LS can keep you dead center in the road, but Lexus is clear that it's a "co-driving" system and that you still need to have your hands on the wheel. A few fingers should be enough to satisfy the sensors, but this isn't Tesla Autopilot or Cadillac Super Cruise.
Happily being behind the wheel of the new LS isn't as somnolent as was at times the case with previous generations. Lexus has two engines for the 2018 model year, a 3.5-liter V6 with 416 HP and 442 lb-ft. of torque, and a 3.5-liter hybrid with 354 HP. Both can be had in rear-wheel drive or all-wheel drive forms; the LS 500 gas-only car has an F SPORT option and a Performance Package option.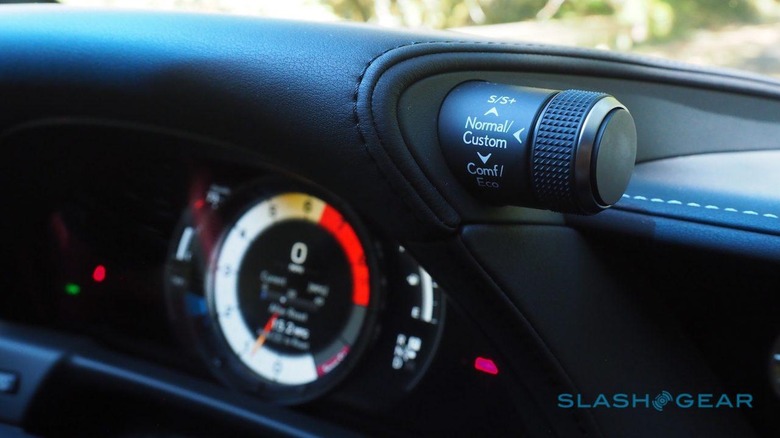 I spent time in both LS 500 and LS 500h, and came away generally impressed. The former has a 10-speed automatic with closely-spaced ratios, and isn't shy about gear changes. There's a smooth surge of power when you apply your right foot, though I'm not entirely convinced that the car really needs so many gears. Switch from normal mode to Sport or Sport+ using the dial mounted up on the side of the instrumentation binnacle and things get more eager. Just as the LS looks smaller from the outside compared to the outgoing car, it shrinks around you a little more from behind the wheel, too.
As for the hybrid, though it's not the first time the LS has offered an electrified powertrain, Lexus does expect a much higher percentage of buyers this time around. It too promises a 10-speed transmission, though it's achieved with some engineering and electronic magic. In fact, there's what amounts to a four-speed automatic which then simulates ten gears by chopping those four speeds into individual chunks.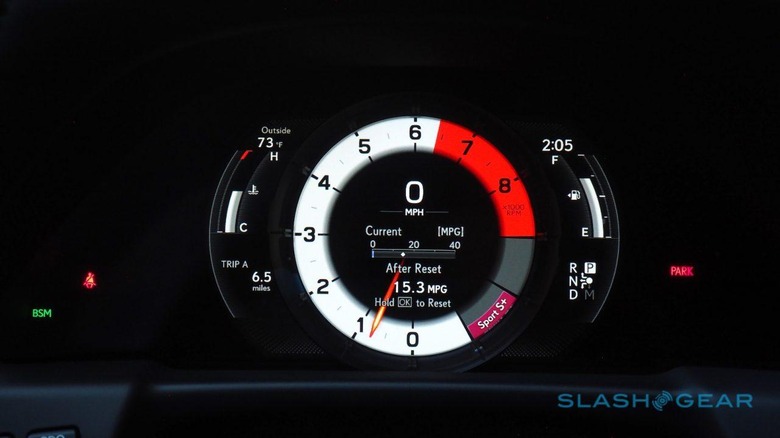 The result, Lexus says, is the "rhythmic shifting" of a regular car without the rubber-band feel of a CVT. As with its gas-only counterpart, I'm just not convinced it's required, however, though it does pay dividends when it comes to economy. Lexus is quoting 25 mpg in the city, 33 mpg on the highway, and 28 mpg combined with the RWD hybrid, adding up to the potential of 600+ miles from a full tank of gas. You lose a little of the urgency of the more powerful car – 0-60 mph comes in 5.1 seconds, rather than 4.6 – but it's a hushed, smooth place from which to do your bit for Mother Earth.
Not, though, entirely as smooth as I might have expected. The firmer suspension of the F SPORT is one thing, and Lexus will offer an air suspension option atop the standard adaptable variable suspension with its 650 levels of damping force adjustment, but I'm going to blame the standard-fit run-flat tires for being a little less cosseting than regular versions. Lexus says they're more accommodating than most of their ilk – they even have certain alloy wheel designs that use clever hollow rims and resonator chambers to dissipate vibrations more effectively – and that's probably true, but I'd still wager most rear-seat passengers would prefer a standard spare and squishier rubber.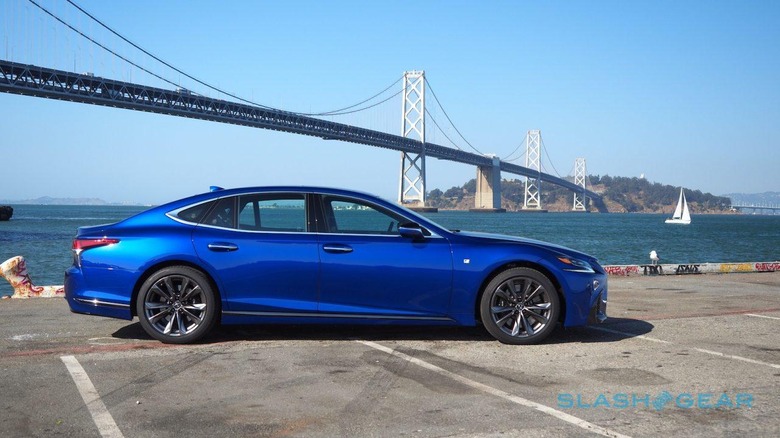 Compared to the German cars, Lexus is counting both on a more memorable car and a competitive price to distinguish the new LS. Sales will start at an aggressive $75,000 when the car arrives in dealerships come February 2018, and the automaker expects almost three-quarters of all cars sold to leave the showroom under $80k. At that point, you're still $10k behind a base-spec S-Class.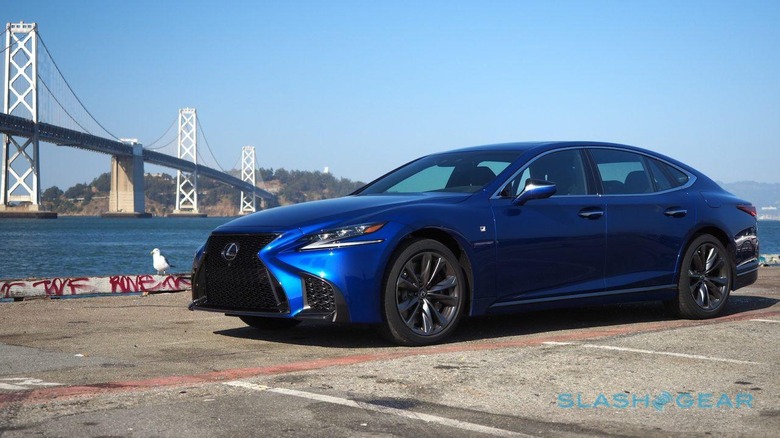 All the same, I suspect badge appeal will mean Audi, BMW, and Mercedes keep many of their sales. Lexus' predicted conquest rate – the number of buyers it converts from rival automakers – is 40-percent, and I think that's realistic. I just expect it to be brands like Acura, Infiniti, Lincoln, and Cadillac to bear the brunt of those losses.
If the old LS bordered on the forgettable, the new 2018 LS 500 and LS 500h are anything but. You may not like the grille, or the interior design, but at least Lexus has taken a stand, and it leaves the new cars feeling much less like formulaic interpretations of luxury. There are idiosyncrasies still, but competitive pricing and near-obsessive attention to detail make these the most appealing LS models in thirty years.