2014 Jaguar F-TYPE official from $69,000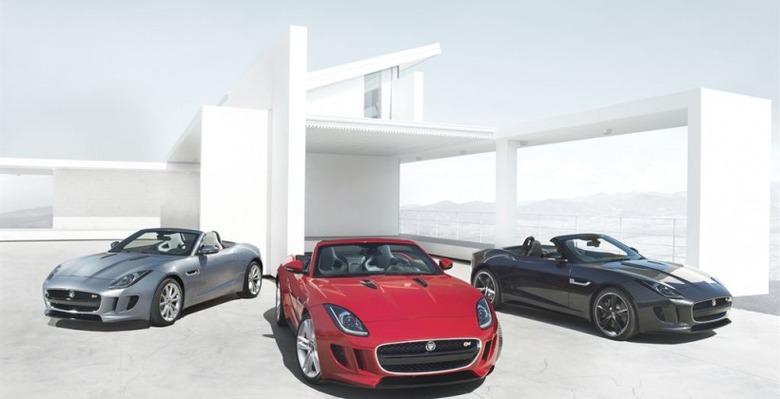 We've known it's coming, but Jaguar's new 2014 F-TYPE convertible still wowed at its official debut at the Paris Auto Show, a two-seater slice of achingly handsome design and finessed performance. The road-going evolution of the 2011 C-X16 concept, the new Jaguar will be available in three models – the F-TYPE, F-TYPE S and the F-TYPE V8 S – delivering up to 495PS and a top speed of 186mph, with the 0-60mph dash in as little as 4.2s.
The entry-level F-TYPE uses Jaguar's new 3.0-litre V6 supercharged petrol engine, good for 340PS, 0-60mph in 5.1s, and a top speed of 161mph. In the middle comes the F-TYPE S, with the same engine tuned for 380PS and a climb in top speed to 171mph; it will run 0-60mph in 4.8s. The top-spec model is the F-TYPE V8S, with Jaguar's 5.0-litre, 495PS supercharged petrol engine.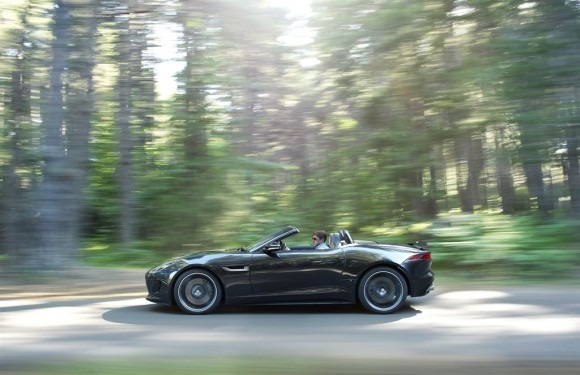 All three use a fourth-gen aluminum chassis, are front-engined, and rear-wheel drive. The gearbox is an eight-speed auto with a joystick-shaped SportShift in the center console and paddle-shifters offering manual override; Jaguar has taught the 'box a total of 25 different programs to suit different road conditions and driving styles, and it can spot when you're feeling more aggressive and tighten up its shifting accordingly. There's also limited-slip differential (mechanical on the V6; electronic on the V8), together with double-wishbone front and rear suspension, adaptive damping, and customizable dynamics to allow the driver to tweak ride, handling, and other elements.
Jaguar F-TYPE official video:
[vms 4659375821f7ca576f09]
You'll forgive us, though, if we spend a little time drooling over the looks (and the noise in the video above) however, with the F-TYPE weaving together details from Jaguar's past – the profile is reminiscent of older XK models, for instance – with a new, taut design language that sees the spoiler and door handles left flush with the bodywork until needed. Bi-xenon headlights get integrated LED daytime running lights, along with full LED lighting at the rear. The S and V8S versions get an "active exhaust system" which opens special valves over 3,000rpm to increase the aural cacophony.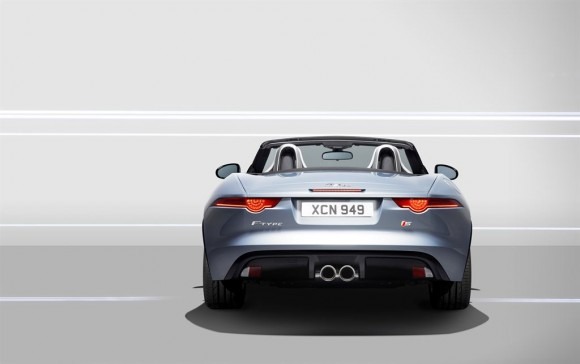 Inside, Jaguar describes the setup as "1+1" with the driver cocooned into a leather and aluminum nest of controls. A grab-handle splits the passenger seat apart, and Jaguar has even used different materials in both halves of the cabin, with the driver getting "a more technical finish." There's a sizable touchscreen in the center console (and another TFT display between the dials in the instrument binnacle), though key features like the ventilation and heating get dedicated rotary and switch controls underneath; the rotary dials each have status displays embedded in them. Buttons are finished in soft-feel matte black, and there's a choice of flat-bottom or alcantara finish for the three-spoke wheel.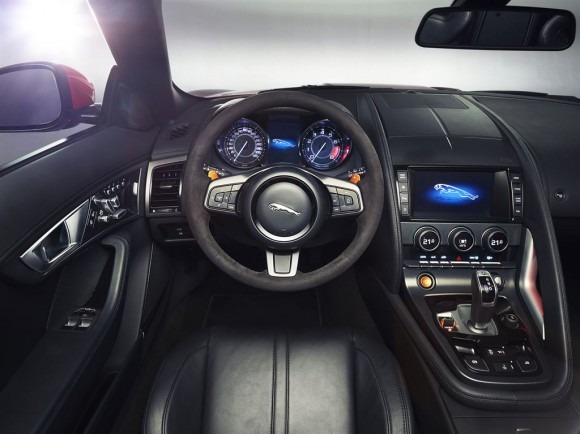 Jaguar has been slotting little motorized details into its recent cars – the XJ, for instance, has a gearshift knob that rises out of the center console when you start it up – and the F-TYPE is no different. In this case, the vents on top of the dashboard stay hidden until the climate controls system decides they're needed, rising up automatically. Three audio systems are offered, two using Meridian technology with either 380W spread across 10 speakers or 770W across 12 speakers.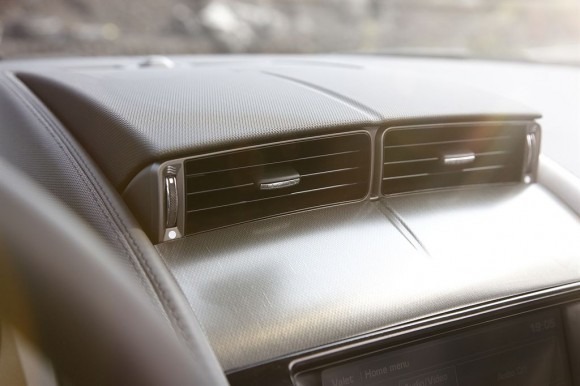 The fabric hood raises or lowers in 12 seconds, and can be used when the F-TYPE is moving at up to 30mph; Jaguar says by eschewing metal it can keep the car's center of gravity low, while a Thinsulate layer means thermal and sound insulation is akin to a solid roof. A coupé version of the F-TYPE is expected to follow on in due course. There's also stop-start engine shutoff, which Jaguar claims boosts economy by 5-percent, and which introduces a quick-start feature that quickly gets you moving again should you suddenly decide to take advantage of a gap in traffic.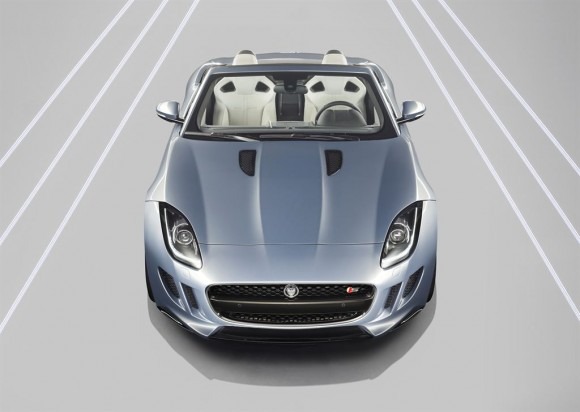 The new 2014 F-TYPE is expected to hit roads in summer 2013. Update: Pricing for the US and UK has been confirmed: the base F-TYPE will start at $69,000 or £58,500; the F-TYPE S will start at $81,000 or £67,500; and the F-TYPE V8 S will start at $92,000 or £79,950. You can find the US configurator tool here, and the UK equivalent here.