2 CD iPod Docking Station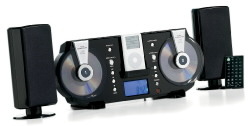 I can't believe how many iPod docking stations there are. It's crazy but I do suppose you must make something for everyone. Electro is putting out one that kind of resembles some "anatomy". It's symmetrical shape is actually made up of two speakers and two CD players.
You also get AM/FM radio capabilities and what good would it be without a remote and clock functions? Oh, with the input jack you could listen to other audio sources as well, if you wished.
This dock cost just under $200. Personally, that's a more than I'd be willing shell out for the thing but I'm sure it suits all the listening and "viewing" needs of some one out there.
2 CD iPod Docking Station by Electro [via Coolest Gadgets]