Twitter Isn't Happy About Who Elon Musk Was Sitting Next To At The Super Bowl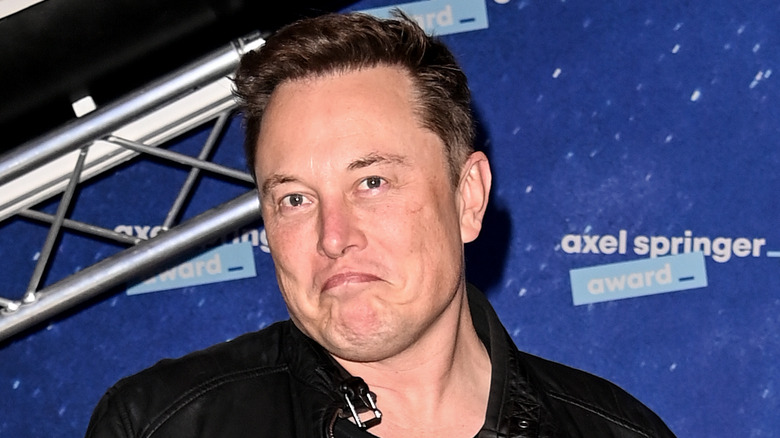 Pool/Getty Images
Tesla CEO Elon Musk is causing yet another stir after being spotted sitting next to media mogul Rupert Murdoch. In the past few months, Musk has lost the title of "World's Richest Man" to a Frenchman who sells luggage for a living. Most of his losses are due to Tesla's declining share price. The billionaire also acquired the social media platform Twitter for $44 billion, shortly before his finances dipped. The takeover was surrounded by controversy and has led to Musk becoming somewhat of a divisive figure. 
Although he has dropped a spot in the global financial rankings, Musk remains one of the most powerful and influential people on Earth. Sitting next to him is another divisive figure, who has arguably used his global media empire to influence public opinion and political outcomes for decades. Rupert Murdoch is the 91-year-old owner of NewsCorp, which in turn owns hundreds of newspapers and TV stations worldwide. His holdings include The Sun, The Times, The Wall Street Journal, The New York Post, Fox News, and Sky News. Until it was sold to Disney, Murdoch also owned 21st Century Fox and he also owned MySpace at one point.
Murdoch's political influence is such that he is often described as a "Kingmaker," and that's also the name the BBC chose for the first episode of a three-part biopic on him. In short, Murdoch is also an unfathomably powerful and influential man. So what were two of the world's most powerful people doing sitting next to each other in Phoenix? They were more than likely just enjoying the game. But that didn't discourage the people of Twitter, who went wild after an announcer pointed the pair out on TV.
Twitter is not happy with the seating arrangements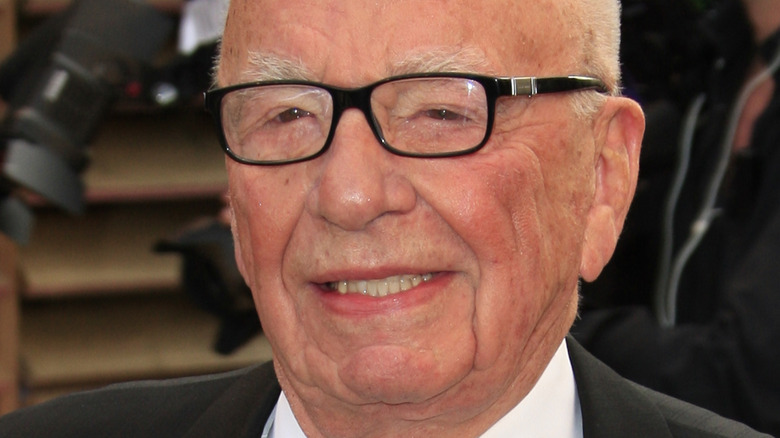 Kathy Hutchins/Shutterstock
Many people on Twitter have commented on the pair sitting together, with the majority suggesting that it may be evidence of some right-wing political affiliation on Musk's part. Musk has kept most of his political beliefs private, but tweeted several times in support of the Republican party before 2022's midterm elections. In some of those tweets, Musk claims to have previously voted Democrat, including voting for Hillary Clinton and Joe Biden. Musk also claims to have donated to Clinton's campaign.
One user, "DanzW0rld," responded to the commentary with the line: "Mans [sic] said "brilliant minds" and was talking about Rupert Murdoch and Elon Musk have some shame." Meanwhile, a user who goes by Jimmy posted the sarcastic take, "Rupert Murdoch and Elon Musk taking in the Super Bowl together. Two apolitical billionaires without similar agendas or beliefs just being dudes." Joining them was Pat, who commented, "The supervillain suite at the #Superbowl includes Elon Musk and Rupert Murdoch. Two people equally uninterested in free speech." Mike Ritter decided to have a bit of fun with it and tweeted the initially benign-sounding "Rupert Murdoch and Elon Musk enjoying #SuperBowlLVI" along with a shot of Hitler and Mussolini riding in the back of a Mercedes.
Rupert Murdoch and Elon Musk enjoying #SuperBowlLVII ! pic.twitter.com/ZkY7FPS0vK

— Michael Ritter (@MikeSteveRitter) February 13, 2023
This isn't the first time Musk has been spotted in an exclusive area at a major sporting final with an incredibly powerful global figure. Last year, the billionaire was seen at the World Cup final in Qatar alongside former adviser — and current son-in-law to President Donald Trump — Jared Kushner. It is also worth pointing out, these are major events with small VIP areas, so there's a good chance major political, media, and business figures will end up in close proximity in them.