2024 Ram 1500 REV Electric Pickup Truck Revealed: What You Need To Know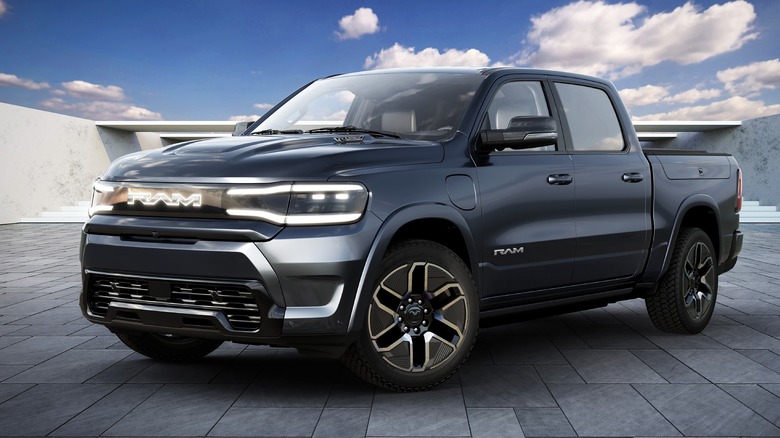 Ram
Ram has revealed its hotly-anticipated electric pickup truck, with the 2024 Ram 1500 REV expected to arrive in dealerships in late 2024. Unveiled ahead of Ram's big Super Bowl 2023 commercial, the new pickup EV is set to wade into a segment as competitive as the football game itself. Big names like Ford and Rivian already have their electric trucks on the market, while Tesla, Chevrolet, and others are preparing their own responses.
Though skepticism about whether pickup buyers would embrace electrification has continued, the first signs suggest that's definitely not a problem. The Ford F-150 Lightning, for example, has more demand than production capacity, and though the automaker raised the price considerably that apparently didn't impact sales and reservations. Meanwhile, Tesla's controversial Cybertruck continues to sit on several hundred thousand reservations, with Elon Musk promising production will begin soon.
The 2024 Ram 1500 REV — freshly branded last week, ahead of the Super Bowl — is an opportunity for one of the big three truck-makers to show its own vision of what electrification looks like for work-friendly haulers. It's a vision Ram previewed back at CES 2023, though the reality is turning out to be a little different.
Not as bold as the Ram concept truck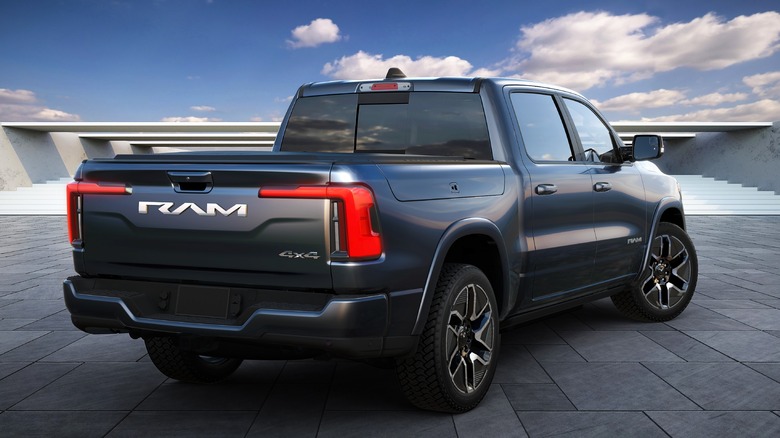 Ram
Back at the Consumer Electronics Show, the Ram 1500 Revolution BEV Concept teased a futuristic expression of the electric pickup, one which straddled the line between familiar and outlandish. One the one hand, it was more aggressive in its style evolution than Ford's F-150 Lighting, which intentionally stuck close to the regular F-150. At the same time, though, it's far less challenging a design than that of the Tesla Cybertruck.
The production 2024 Ram 1500 REV, meanwhile, takes a noticeable step back from that concept pickup. Far closer to the standard Ram 1500, it relies on an LED fascia to distinguish it, along with more angular rear lamp clusters. In silhouette, though, you'd be forgiven for mistaking it for the standard gas truck.
Those who were hoping for something more dramatic may be disappointed, but it's possible Ram is being more strategic than simply playing it safe. One of the advantages we saw Ford highlight with its own evolutionary design language was that the Lightning electric truck can use the same accessories as its gas and diesel F-150 siblings. A more stark diversion from the familiar styling would make it far harder for fleets to have internal combustion and electric trucks coexist, and for gas F-150 owners to switch to a Lightning without having to replace all of their aftermarket parts.
Some promising details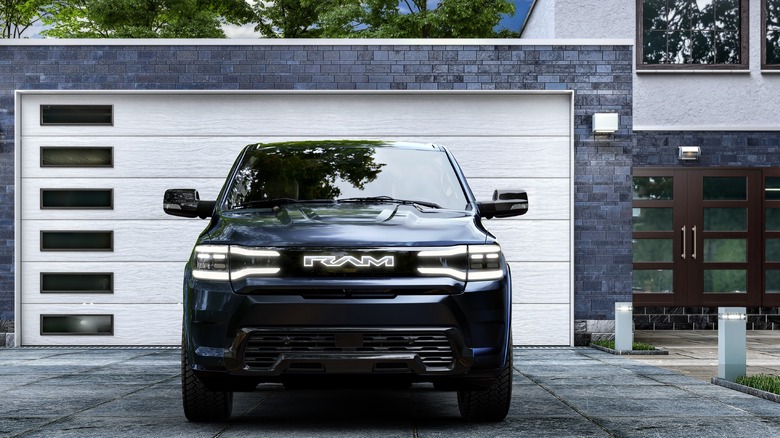 Ram
Ram has also revealed some — though not all — of the truck's details. There's a large frunk (or "front trunk" under the hood, with power outlets, while inside there'll be a mixture of touchscreen and physical controls. As well as a driver display and a large, portrait aspect center infotainment touchscreen, there'll also be a (likely optional) passenger display.
The 1500 REV will also offer vehicle-to-home and vehicle-to-vehicle charging, assuming the home is properly equipped, allowing it to power the house during an outage. Capabilities on the move, like towing capacity, horsepower, and torque, are yet to be confirmed. Still, Ram is promising to "set the bar in terms of capability, range, towing and payload."
Reservations for the 2024 Ram 1500 REV are open today, with a $100 refundable deposit promising "early access" to preorders when they open later in the year. Still, Ram warns, that doesn't mean you'll necessarily be getting a truck. "Participant's place in line is not a guarantee that participant will be able to order or purchase a Ram 1500 REV," Ram cautions. Deliveries are expected to begin in Q4 of 2024, with pricing to be confirmed closer to that point.