Toyota's Electric Car Is Back On Sale After An Embarrassing Setback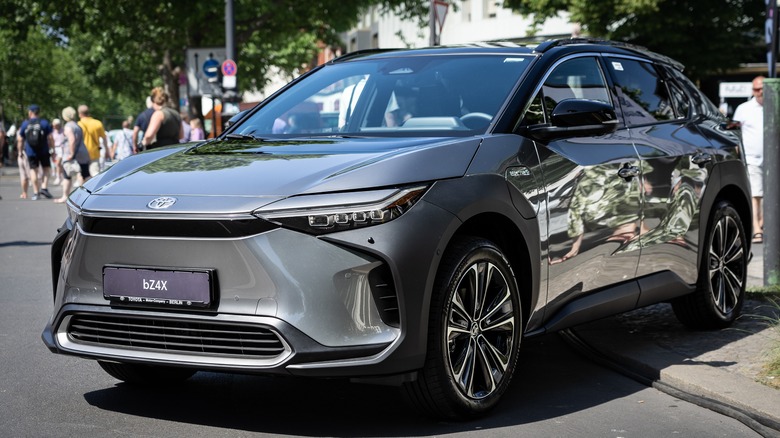 Sergey Kohl/Shutterstock
Toyota's first electric vehicle, the bZ4X, has been stuck in limbo for a while. While it certainly looks like an impressive EV, Toyota has had its fair share of trouble with the vehicle, and some of that trouble was actually potentially very dangerous to owners. Toyota had to recall 2,700 bZ4Xs due to major issues, putting a large dampener on its plans of expanding into the EV market and catching up to the many rivals that have already done so.
This is especially unfortunate because there is some pressure on Toyota to speed up its expansion into battery EVs. However, according to a statement made by Toyota itself, the company is still not convinced that is the best way to go. Many automakers are currently prioritizing EVs, and Toyota has also made a sizeable $5.6 billion investment into its expansion in that direction, but it believes there are other ways worth considering, too.
In the statement, the automaker said, "Toyota believes there is more than one option for achieving carbon neutrality." The company seems eager to try to meet the needs of various customers and doesn't put all of its eggs in one basket. Unfortunately, where EVs are concerned, it has definitely had a rough start, but it seems like things are about to get better.
The production is finally back on track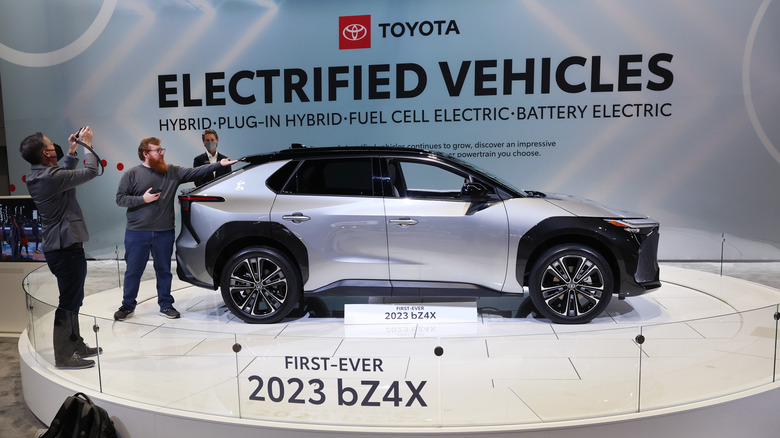 Scott Olson/Getty Images
Toyota was forced to recall 2,700 vehicles globally in June 2022. This happened because the bZ4X was found to present huge safety issues. Sales were halted and Toyota had to get right to work and fix the problem, which, according to Reuters, it managed to successfully overcome. After a three-month break, the problems have supposedly been fixed, and Toyota is finally ready to continue selling its first electric vehicle.
The recall notice said that turning sharply or braking suddenly could loosen a hub bolt, and thus potentially cause a wheel to come off the vehicle. There have also been problems with airbags in the EV; some were reportedly installed poorly and could fail or even possibly cause injuries. Both of these problems are definitely major enough for Toyota to take a step back and fix things, so it's a good thing for the consumers that it has done that. Toyota's chief technology officer, Masahiko Maeda, declined to disclose how much the recall had cost the company.
Reuters reports that Toyota replaced the faulty hub bolts and tightened them properly in the new versions of the bZ4X, meaning that future customers can drive risk-free. Unfortunately, the vehicle is now only available for lease in Japan and will return starting on October 26, 2022. We don't know when sales in the United States will be resumed.